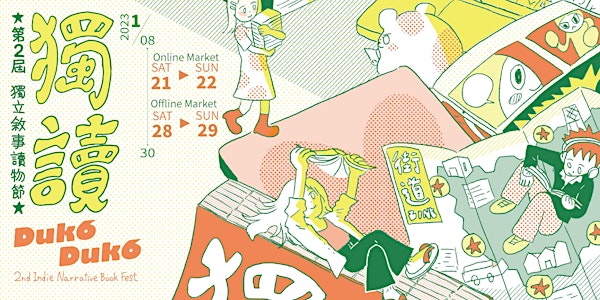 獨讀[Duk6Duk6]第二屆獨立敘事讀物節 The 2nd Indie Narrative Boo
《獨讀》獨立敘事讀物節 第二屆 載譽歸來!活動分為線上及線下市集,共超過90個本地讀物單位與你面對面交流;還有一連串延伸展覽及講座待你發掘!
When and where
Location
荃灣南豐紗廠M層 The Annex@The Mills M樓The Annex (7仔旁樓梯上) 白田壩街45號 荃灣, NT Hong Kong
Refund Policy
Refunds up to 1 day before event
About this event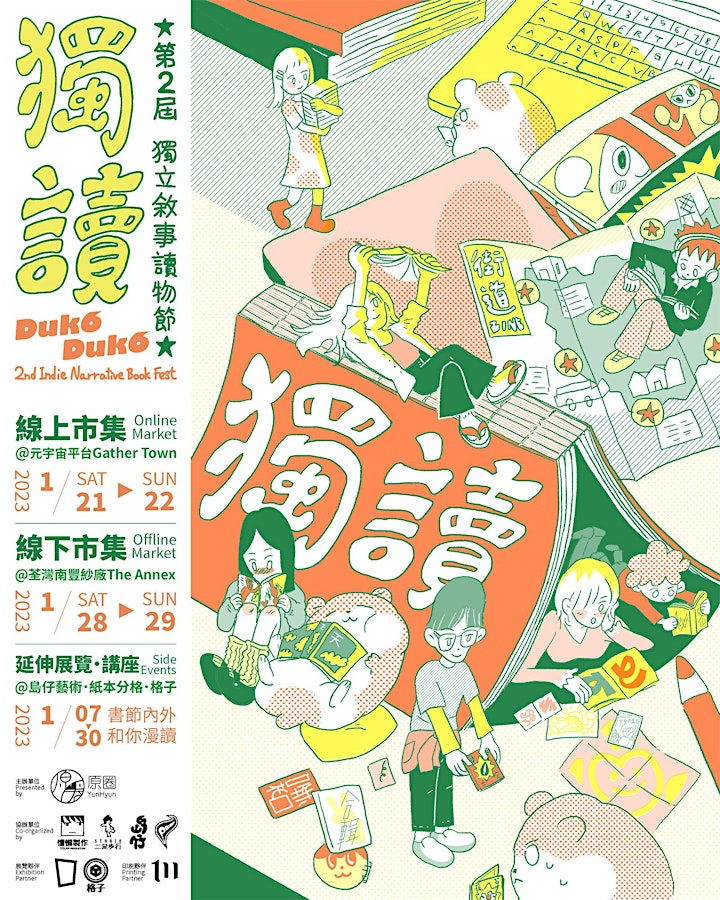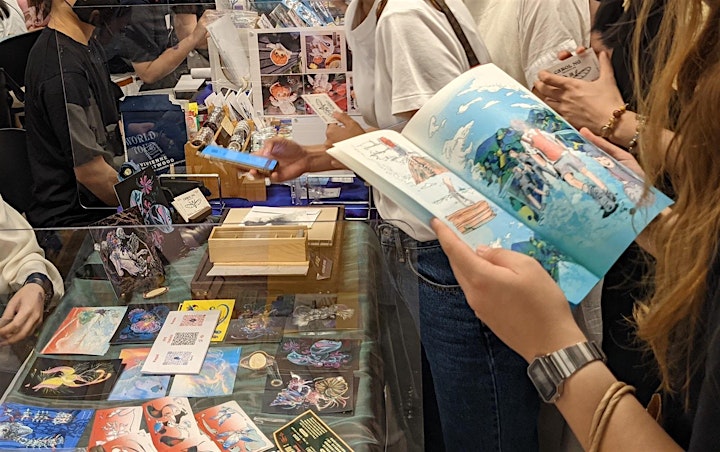 線上市集Online Market @Gather Town
日期:2023年1月21日 12:00AM~2023年1月22日 11:59PM (HKT)
(星期六及星期日,年三十凌晨~初一深夜)
活動時間:48小時不間斷
地點:線上平台Gather Town
原創攤位展示
超過80個來自世界不同角落的創作單位,在元宇宙中精心布置自己的攤位,讓你能足不出戶欣賞他們的作品幸運的話還能與作者視像交流喔!
核心活動時段 (UTC+8 HK)
1/21 - 00:00 / 15:00 / 22:00
1/22 - 15:00 / 22:00
核心時段將設集體互動環節,歡迎參
線下市集Offline Market @ 南豐紗廠 The Annex
日期:2023年1月28日~29日(星期六及星期日)
活動時間:12:00PM - 6:00PM
地點:荃灣白田壩街45號南豐紗廠M層 The Annex
原創讀物攤位
超過80個本地創作單位,將親身在攤位販售自己的作品,是和他們近距離交流的大好機會!!
Risograph印刷體驗坊
由the memory machine帶來一次簡單直接的riso print體驗坊,觀眾可以即場發揮創意,為獨讀活動海報添上新色
延伸活動Side Events
整個一月期間,除了獨讀市集以外尚有其他出版及創作相關活動,由大會邀請的友好單位呈獻,參加費用全免。讓你在書節內外都能沉醉於漫讀氣氛當中。
詳請參閱官方網站
門票種類
線上48小時通行票
HKD 30
線上市集登入許可x1
截止售票:1/22 HKT10:00PM
特早鳥線下單日票+線上48小時通行票
HKD 65
任意一天線下市集門票x1
線上市集登入許可x1
紀念品x1
截止售票:1/15 HKT11:59PM
特早鳥線下兩日票+線上48小時通行票
HKD 95
兩天線下市集門票各x1
線上市集登入許可x1
紀念品x1
截止售票:1/15 HKT11:59PM
早鳥單日票
HKD 45
任意一天線下市集門票x1
紀念品x1
截止售票:1/26 HKT11:59PM
早鳥兩日票
HKD 75
兩天線下市集門票各x1
紀念品x1
截止售票:1/26 HKT11:59PM
*憑QRcode可在活動當日兌換實體門票及紀念品乙份
*線下市集門票首次入場後可獲得手印
*憑手印同日內可無限次進場
*視場內情況可能進行人流管制,請留意工作人員指示
本次活動設有開放給教育機構購買的團體優惠票,請直接電郵 hkoriginalonly@gmail.com 查詢。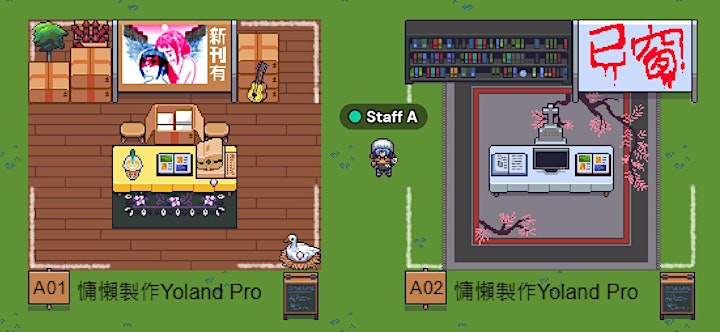 Duk6 Duk6
The 2nd Indie Narrative Book Festival
- Online Market, Offline Market, Workshop, Exhibitions, Artist Sharing -
At the festival you'll find a rich variety of creative content such as comics, illustration books, novels, zines, hand-made books, independent and local magazines, board games, card games, etc. Creators of every style, aspiring ones or gurus — all awaiting your discovery!
Online Market
STAY HOME and meet the creators on the metaverse — over 80 of them, from around the globe, standing by their splendidly decorated booths! Get your webcam ready as you might be able to catch the creators on video conferences!
Date: 21 Jan 2023 (SAT) 12:00AM ~ 22 Jan 2023 (SUN) 11:59PM (UTC+08:00)
Duration: 48 hours non-stop
Venue: Gather Town, an online platform
Event description: Virtual tables of indie original content
No. of tables: 80Tables up
Core Time (UTC+8 HK)
1/21 - 00:00 / 15:00 / 22:00
1/22 - 15:00 / 22:00
Offline Market
COME and meet the creators in person — over 80 of them, personally displaying and selling their work at their booth!
Date: 28 Jan (SAT) ~ 29 Jan 2023 (SUN)
Venue: The Annex, The Mills, 45 Pak Tin Par St, Tsuen Wan, Hong Kong
Time: 12:00PM - 6:00PM
Event description: Tables of indie comics and zines
No. of tables: 54 tables per day
Riso Print Workshop
And the memory machine presents — the Riso Printing Workshop, where you'll get to be creative and customize your own event poster!
Side Events
During the entire January, we will collaborate with some of our dearest partners in bringing you a whole series of events, on topics ranging from publishing to the creative process. All FREE OF CHARGE! Let's get immersed in the month-long festival of indie-narrative-book-reading!
For more details please refer to our official website.
Types of Ticket
48-hr Online Pass
HKD 30
Online Market Access x 1
Get it before: 22 Jan 10:00PM (HKT)
Very Early Bird Offline Single Day + 48-hr Online Pass
HKD 65
Offline Market Ticket (any ONE day) x 1
Online Market Access x 1
Souvenir x 1
Get it before: 15 Jan 11:59PM (HKT)
Very Early Bird Offline Both Days + 48-hr Online Pass
HKD 95
Offline Market Ticket (BOTH days) x 1
Online Market Access x 1
Souvenir x 1
Get it before: 15 Jan 11:59PM (HKD)
Early Bird Single Day
HKD 45
Offline Market Ticket (any ONE day) x 1
Souvenir x 1
Get it before: 26 Jan 11:59PM (HKD)
Early Bird Both Days
HKD 75
Offline Market Ticket (BOTH days) x 1
Souvenir x 1
Get it before: 26 Jan 11:59PM (HKD)
Remark:
Use the QR code you'll receive to redeem your ticket(s) and a souvenir
You'll get a hand stamp upon your first entrance to the Offline Market
By showing us your hand stamp you can re-enter the venue for an unlimited number of times on the same day
The events are subject to crowd control, please follow the instructions of our staff