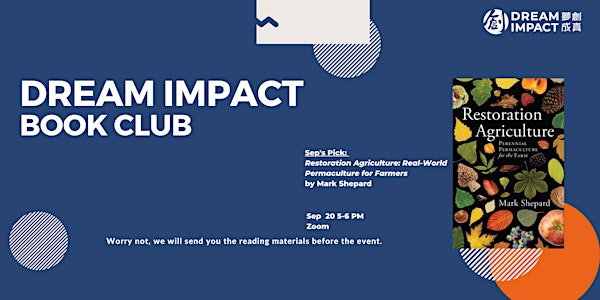 Dream Impact Book Club (SEP 2022)
Mark Shepard - Restoration Agriculture: Real-World Permaculture for Farmers
About this event
Mark Shepard - Restoration Agriculture: Real-World Permaculture for Farmers
In his book, the author argues that we are embracing the agriculture of eradication - we farm at the expense of the environment - soil and animal lost their lives because of our fear of not getting enough food to eat. To create a sustainable food chain, we need to create agricultural ecosystems that imitate natural systems in form and function. The author asserts that our real respect for the environment can help us to produce an abundance of food for humankind, these systems remove carbon dioxide from the atmosphere, purify water, increase the depth and fertility of topsoil, provide wildlife habitat and create incredible beauty which is increasingly necessary in our "modern" world of concrete, steel, plastic and glass
1.In Chapter 4, the author highlights a number of challenges facing agriculture. These challenges include peak oil, global climate change, and resource shortages. For agriculture in Hong Kong, what challenges do we need to address?
2.In Chapter 16 the author believes that "We are led to believe by these experts that plant breeding is mysterious, arcane and quite difficult and can only take place in ivory towers, sterile greenhouses, and laboratories." While this is not reality, how may we make it easier for people to know that they can plant their own food?
3.In the last chapter, the author states that we throw away food when it is visually appealing to consumers. In your view, what does it take for consumers to shift their paradigm, realizing that we should look beyond the food's visual appeal?
Mark Shepard - Restoration Agriculture: Real-World Permaculture for Farmers
在書中,作者認為我們正在「剷除農業」—我們犧牲環境、土壤和動物,目的正是我們想要足夠的食物。為了創建可持續的食物鏈,我們需要創建模仿自然生態系統的農業生態系統。作者斷言,我們對環境敬畏可以幫助我們建設生產豐富的食物的系統,這些系統從大氣中去除二氧化碳淨化水,增加表土的深度和肥力,提供野生動物棲息地並創造令人難以置信的自然美景。
1.在第 4 章,作者指出農業面臨的一些挑戰,包括過度使用石油、全球氣候變化和資源短缺。對於香港的農業,我們有哪些挑戰?
2.在第 16 章中,作者認為專家誤導我們,令我們以為種植糧食十分困難的,只能在大專院校、無菌溫室和實驗室中進行。,你認為如何使一般人們了解種植自己的糧食是可行?
3.在最後一章中,作者指出,當食物在視覺上吸引消費者時,我們會丟棄食物的一個主要原因就是食物的外觀不美。我們可以,如何鼓勵大眾不會因食物的外觀不美,就丟棄它?