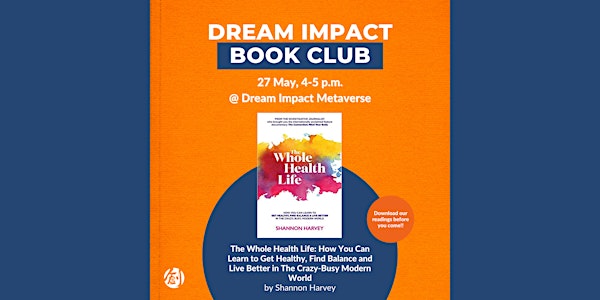 Dream Impact Book Club (MAY 2022)
[2022 MAY] Dream Impact Book - The Whole Health Life: How You Can Learn to Get Healthy, Find Balance and Live Better in The Crazy-Busy Mode
About this event
Shannon Harvey - The Whole Health Life: How You Can Learn to Get Healthy, Find Balance and Live Better in The Crazy-Busy Modern World
This is the author's journey to whole health. From first spending thousands of dollars seeking medical treatment to improving her health through lifestyle changes, the author presents the idea that the combinations of mental wellness, food diet, physical exercise, and positive relationships with others are the key to the whole health.
In the introduction, the author shares her experience of transforming her health - practising yoga and meditation regularly; changing her perception of work stress; learning to balance her emotions, and fostering deep connections with family and friends to build a supportive community. Checking your lifestyle, what changes do you need to make to transform your health?
In Chapter 7, the author talks about the danger of sleep deprivation - increasing one's risk of disease and putting one's mental health in jeopardy. The author also points out that most people know the importance of sleep, but keep staying awake for entertainment or checking work emails. Do you feel you have enough sleep? If not, what are the possible causes leading to insufficient sleep?
In Chapter 9, the author discusses why human connection matters as loneliness becomes a pandemic. Some people argue that we live in an era of contradiction - technology makes communication earlier, but our level of loneliness increases. Do you think that in general, we are more lonely than previous generations? If so, what do you think are the possible causes for the higher level of loneliness in our generation?
本書是作者的健康之旅。從最初花費金錢尋求醫療支援,到改變生活方式來改善健康,作者提出身心健康是需要透過足夠休息、健康飲食、充足運動及和他人建立良好關係互相配合。
在介紹章節中,作者分享了她改善個人健康的經驗—定期練習瑜伽和冥想、改變她對工作壓力的看法、學習平衡情緒及與家人和朋友建立互相支授的群體。您認為自己需要作出甚麼改變達致身心健康?
在第 7 章中,作者談到了睡眠不足的危險—增加患病的風險並危及個人的心理健康。作者還指出,大多數人都知道睡眠的重要性,但為了娛樂或查看工作電子郵件而到致睡眠不足。你覺得自己有足夠的睡眠嗎?如果不是,導致睡眠不足的可能原因是什麼?
在第 9 章中,作者討論了人際關係重要性,原因是孤獨成為一種流行病。有人說,我們生活在一個矛盾的時代—科技讓大家容易交流,卻讓我們的孤獨感卻在增加。你認為總的來說,我們比前幾代人更孤獨嗎?如果是這樣,你認為我們這一代人孤獨感較高的可能原因是什麼?