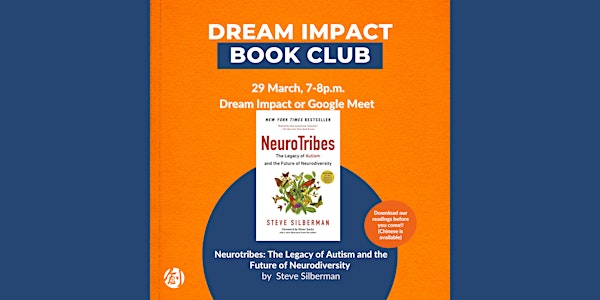 Dream Impact Book Club (Mar 2023)
Book: Neurotribes: The Legacy of Autism and the Future of Neurodiversity - Signed up by 27 March 書籍:《自閉群像:我們如何從治療異數, 走到接納多元》 請於 3月27日前報名
When and where
Date and time
Wednesday, March 29 · 7 - 8pm HKT
Location
Dream Impact 夢創成真 Unit C, 4/F 760 Cheung Sha Wan Road Hong Kong, KOW Hong Kong
About this event
Introduction
In "Neurotribes," Silberman explores the history of autism, from its early identification as a disorder to the present day. He challenges the prevailing view of autism as a disease or tragedy and instead argues for a more nuanced understanding of autism as a form of neurodiversity. Drawing on interviews with autistic individuals, parents, and experts, Silberman provides a compelling and thought-provoking perspective on autism and its place in society.
Questions:
In Chapter 2, how did Hans Asperger's work contribute to our understanding of autism? What were some of the key insights and observations that he made about autistic individuals?
In Chapter 6, Silberman argues that autism is not a single, uniform condition, but rather a spectrum of different experiences and traits. What are some of the different ways that autism can manifest, and how can this diversity be better understood and appreciated?
In Chapter 10, Silberman discusses the history of eugenics and its impact on the perception of disability and difference. How have these ideas influenced our understanding of autism, and what are some of the consequences of this perspective?
In Chapter 14, Silberman explores the link between autism and technology, particularly in the tech industry. What are some of the unique strengths and abilities that autistic individuals bring to this field, and how can we work to create a more inclusive and supportive environment for neurodiverse individuals in tech?
簡介:
在《自閉群像:我們如何從治療異數, 走到接納多元》一書中,作者: 史提夫・希伯曼 (Steve Silberman)探討了自閉症的歷史,從它早期被識別為一種疾病到現在。他挑戰了自閉症被視為一種疾病或悲劇的普遍觀點,而主張更細緻的自閉症理解,即自閉症是神經多樣性的一種形式。通過對自閉症人士、家長和專家的訪談,Silberman提供了一個引人深思且有說服力的自閉症觀點和其在社會中的位置。
問題:
在第2章中,漢斯·阿斯伯格(Hans Asperger)的工作如何促進了我們對自閉症的理解?他對自閉症人士做出的一些重要洞見和觀察是什麼?
希伯曼在第6章中主張,自閉症不是一個單一的、統一的狀態,而是不同體驗和特點的一個光譜。自閉症可能會以哪些不同的方式表現出來,這種多樣性如何更好地理解和欣賞?
在第10章中,希伯曼探討了優生學的歷史及其對殘疾和差異的看法的影響。這些觀念如何影響我們對自閉症的理解,以及這種觀點的一些後果是什麼?
在第14章中,希伯曼探討了自閉症和科技之間的聯繫,特別是在科技行業中。自閉症人士在這個領域帶來了哪些獨特的優勢和能力,我們如何努力創造一個更包容和支持神經多樣性的人在科技領域中的環境?
About the organizer
夢創成真由一群關注社會議題的創業者成立,我們有著相同的願景,希望藉著我們經營的業務,共同創造社會效益,並且合力建造一個鼓勵創新思維和不屈不撓精神的網絡。
我們的基地不但是一個共用工作空間(co-working space),更可舉辧不同類型的活動;同時亦會向合作伙伴提供各方面的服務及支援,如對初創公司的培訓、分享社交媒體的市場策略及人際網絡等。

夢創成真會動用一切可以調動用的資源、專門知識、網絡等等,支持每一位夥伴實現其夢想和目標。
Dream Impact is a community of socially minded entrepreneurs. We share the same vision in creating collective social impact through our businesses and together develop an innovative and resilient network. 
We are not only a co-working and event space, we support our partners with various services, including startup training, social media marketing, sharing of networks and more.

Dream Impact will mobilize all possible resources, expertise, networks to support each partner to realize their dreams and goals.