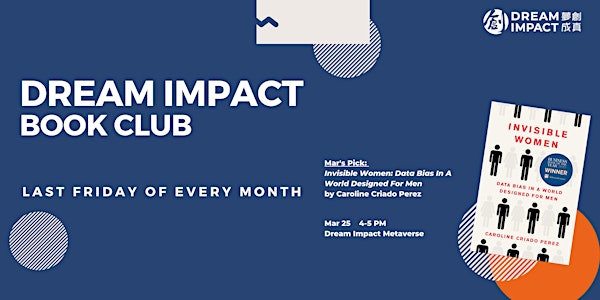 Dream Impact Book Club (MAR 2022)
[2022 MAR] Dream Impact Book - Invisible Women by Caroline Criado Perez
About this event
In recent years, there have been more discussions over diversity, equity, and inclusion. It aims to include an inclusive environment for both sexes through good policies, legal actions, and stakeholder engagement. However, in her book, Perez argues that good data, which takes gender differences into account, is crucial for addressing service and resources gaps to achieve gender equality.
1. Throughout her book, Perez's major argument is the neglect of women in data collection can create a hazardous world for both sexes. In your organisation, have you ever met any operational challenges due to differences in sexes?
2. In Chapter 4, Perez discussed challenges facing women to pursue careers. Do you think that women have a harder time to obtain the resources they need for achieving career success?
3. In Chapter 14, Perez argues that women's rights are human rights. To achieve true equality, what can different communities do?
4. At the end of the book, Perez proposes that women must be included in decision-making as a way to close the gender gap. Some organisations set aside gender quotas at company boards. However, critics may suggest that gender quotas are against meritocracy. In your view, what do you think about different measures such as administrative or legal pressure, to try to achieve gender equality?
近年來,社會上有越來越多和 「多元、平等和包容」相關的討論。「多元、平等和包容」政策的目的是透過政策、法律和持分者合作達致性別平等。然而,Perez指出的有效的數據收集可以促使減少服務和資源差距達致性別平等。
1. 在整本書中,作者 的主要論點是我們在搜集數據的過程中,往往忽略女性的獨特性。這些忽略可造成一個對兩性都危險的世界。在你的機構中,是否要因為處理兩性的差別而造成營運的挑戰?
2. 在書的第四章,作者討論女性在發展自己事業的限制,例如:難以和男性一樣獲得同樣資源。你認為女性和男性比較,會不會更難以獲得事業上的支持?
3. 在書的第十四章,作者認為女性權益乃是人權。你認為不同持份者如何可以促進兩性平等?
4. 在書結束之前,作者提倡所有的決策組織都需要有女性參興,以縮少兩性之間的距離。有部份機構會在機構管理層中訂立女性配額。然而,有部份人認為女性配額違反 「有能者居之」原則。若果以行政或法律方法來促進機構變得多元共融,你有何看法?