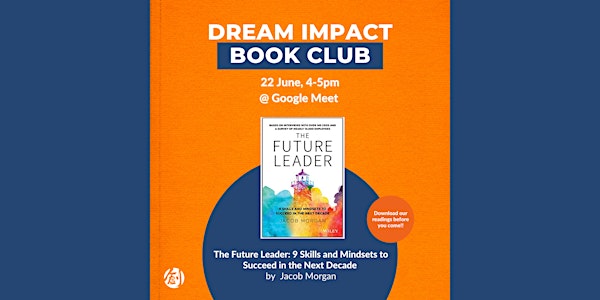 Dream Impact Book Club (JUN 2022)
[2022 JUN] Dream Impact Book - Jacob Morgan - The Future Leader: 9 Skills and Mindsets to Succeed in the Next Decade
About this event
**You don't necessarily need to complete the book before you come! We will provide 3 chapters of the book for your reading prior to the event.**
In this book, the author talks about the current leadership gap - the leader we have and the leader we wish to see. The author suggests that to nurture "truly future leaders", we need to (1) redefine leadership, (2) reconnect work with purpose and (3) cultivate leaders that act with principles.
In Chapter 1, the author suggests that leaders are "supposed to be the people whom we look up to, admire and want to emulate". However, why don't most of us look up to our leaders with admiration? What kinds of leaders do you look for?
In Chapter 6, the author discusses why it matters for our work to have "purpose" and "meaning". The author argues that most employees struggle at work since they cannot find meaning in what they do. How do you define "purpose" and "meaning"?
In Chapter 8, the author talks about the value and its importance for leaders. In your view, how may we cultivate young people to take up future leadership with a strong moral compass and great soft and hard skills at the same time?
**參加者不需閱在活動前閱讀整本書!我們會在活動前與你分享書中其中3個章節,讓你預先閱讀。**
Jacob Morgan - The Future Leader: 9 Skills and Mindsets to Succeed in the Next Decade
在本書中,作者談到了當前的領導力差距 (Leadership Gap)—我們擁有的領導人和我們希望看到的領導人。作者建議要培育「真正的未來領導者」,我們需要(1)重新定義領導力,(2)重新將工作與目標聯繫起來及(3)培養有原則的領導者。
在第 1 章中,作者認為領袖應該是我們尊敬、欽佩和想要效仿的人。然而,為什麼我們大多數人不以欽佩的眼光仰望我們的領袖呢?你尋找什麼樣的領袖?
在第 6 章中,作者討論了從工作中獲得目的和意義的重要性。作者認為,大多數員工的挑戰是無法從自己的工作中找到意義。你如何定義「目的」和「意義」?
在第 8 章中,作者談到了價值對領導者的重要性。在你看來,我們如何培養年輕人一方面具有足夠的軟和硬技能 (Soft and Hard Skils),亦具有原則的領導人?