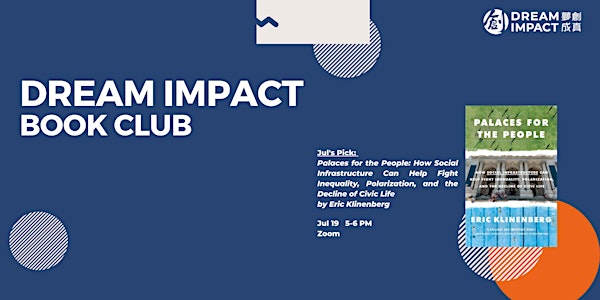 Dream Impact Book Club (JUL 2022)
Eric Klinenberg - Palaces for the People: How Social Infrastructure Can Help Fight Inequality, Polarization, and the Decline of Civic Life
About this event
**You don't necessarily need to complete the book before you come! We will provide 3 chapters of the book for your reading prior to the event.**
Eric Klinenberg - Palaces for the People: How Social Infrastructure Can Help Fight Inequality, Polarization, and the Decline of Civic Life
In our discussion of affordable and sustainable housing, we tend to focus on housing prices, housing locations, and increasingly, building materials. However, there seems to be less discussion about social infrastructure, and why it matters for a sustainable living environment.
In his book, Eric Kilnenberg argues that shared social infrastructure such as schools, libraries, and religious institutions are the keys to building an inclusive society. By interacting with people around us, we can be connected to the broader general public. Our daily interaction with people from different walks of life, Kilnenberg believes, can help us to solve some of the most pressing issues such as a widening income gap, and neighbourhood segregation with creative and practical solutions.
1. In the introductory chapter, Klinenberg defines social infrastructure as the physical condition determining if social capital can be developed. A high level of social capital can foster contact, mutual support, and collaboration among friends and neighbours. In your view, why do we seemingly place less emphasis on residents' ease to access to social infrastructure and/or social capital when communities such as new public housing estates are built?
2. In Chapter 5, Klinenberg mentions that social infrastructure can be as big as seawalls and water basins or as small as religious institutions. however, large social infrastructure projects such as housing estates and railways are often built at the expense of destroying small social infrastructures such as villages. In your view, how may we find the balance between preserving existing social infrastructure and new development projects like new residential areas?
3. In the concluding chapter, Klinenberg discusses the essence of social infrastructure innovation. In your view, what are the challenges for social infrastructure innovation?
**參加者不需閱在活動前閱讀整本書!我們會在活動前與你分享書中其中3個章節,讓你預先閱讀。**
Eric Klinenberg - Palaces for the People: How Social Infrastructure Can Help Fight Inequality, Polarization, and the Decline of Civic Life
我們討論持續的居住環境時傾向於關注房價、住房位置及建築材料。然而,我們較少討論社會基礎設施及其對可持續生活環境的重要性。
Eric Kilnenberg 認為,學校、圖書館和宗教機構等共享的社會基礎設施是建設包容性社會的關鍵。Kilnenberg 認為良好社會基礎設施可以促進我們和不同背景的人們互動,設身處地了解他們處境,增強我們同理心創造機會,解決一些最緊迫的社會問題,例如收入差距擴大及社區隔離 (Neighbourhood Segaration)。
1. 在介紹章節中,Klinenberg 指出社會基礎設施影響社會資本流動。高水平的社會資本可以促進朋友和鄰居之間的聯繫、相互支持和合作。在您看來,為什麼在新建公共屋村等社區時,我們似乎不太重視居民獲得社會基礎設施和/或社會資本的便利性?
2. 在第 5 章中,Klinenberg 提到社會基礎設施可以大至海堤和水盆地,也可以小至宗教機構。然而,住宅區和鐵路等大型社會基礎設施項目的建設往往以破壞村莊等小型社會基礎設施。在您看來,我們如何在保留現有社會基礎設施和新開發項目(例如新住宅區)之間找到平衡?
3. 在書的最後一章,Klinenberg 討論了社會基礎設施創新的重要。在您看來,有甚麼因素影響社會基礎設施創新?