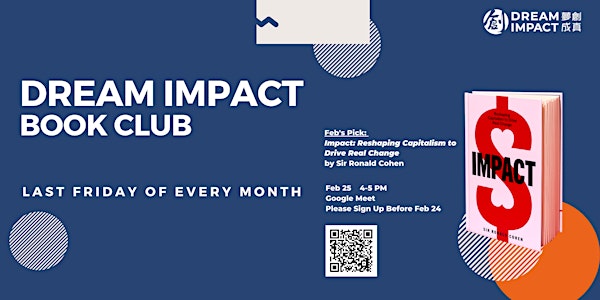 Dream Impact Book Club (FEB 2022)
[2022 FEB] Dream Impact Book Club
About this event
You may have heard of impact investing. How much do you know about it? Or are you looking for funding ideas for your ventures? Or perhaps you just want to learn about impact investing.
In this inaugural book club e-meeting, we will discuss Sir Ronald Cohen's masterpiece - Impact: Reshaping Capitalism to Drive Real Change. We will lead you to get as much as possible from the book. These are the questions for e-meeting:
Cohen talked about his motive to address social and environmental issues through investment. As far as motives are concerned, why did you start getting into "impact" through investment and/or starting your ventures?
In his book, Cohen provided examples of different impact investing models such as venture philanthropy and pay-for-success. One can argue that some of the impact investing models in other countries have not been tried in Hong Kong. In your experience, what impact investing models should be tried in Hong Kong?
In his book, Cohen gave the example of Chobani (p.98-101) to illustrate how impact can be embedded in a company. What does your organisation do to ensure that impact forms a part of the company's mission?
Event Details
Date and Time: Feb 25, 4-5 PM
Venue: Google Meet
Please Sign Up Before Feb 24
Google Meet link will be provided afterwards