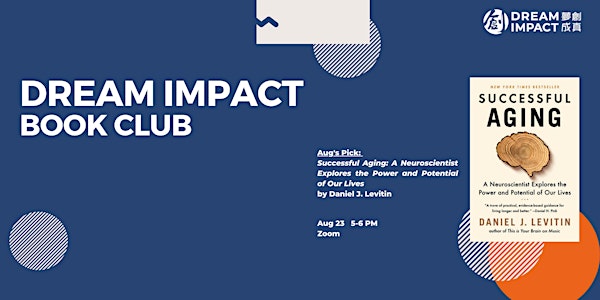 Dream Impact Book Club (AUG 2022)
Daniel Levitin - Successful Aging: A Neuroscientist Explores the Power and Potential of Our Lives
About this event
**You don't necessarily need to complete the book before you come! We will provide 3 chapters of the book for your reading prior to the event.**
Daniel Levitin - Successful Aging: A Neuroscientist Explores the Power and Potential of Our Lives
In his book, Levitin suggests that active aging is possible. This will need us to (1) anticipate positive and negative changes as we age; (2) take action to dampen the ill effects of memory loss, perceptual loss, and the shrinking social circles that often accompany aging and (3) make decisions maximizing our life satisfaction and infuse our lives with meaning. Most importantly, the book aims to help us think completely differently about aging, as individuals, as community members, and as a society.
In the Introduction, the author explains that despite their tendency to be conservative and set in some ways, elderly people have a lot to contribute to the world - a higher level of tolerance and appreciation for the struggles young generations face. The author adds that elderly people can bring the world compassion - the quality the world severely lacks. In your view, how may we shift the way of thinking about elderly people?
In Chapter 6, the author argues that social engagement is the key for elderly people to live well. However, loneliness and poverty can hold elderly people from active engagement with their communities. How may we engage with "hidden elderly people" or offer fun and affordable activities to elderly people?
In Chapter 14, the author presents the benefits of hiring elderly workers. When working in a multi-generational team, elder workers, the author argues, can help their fellow workers to be more productive than single-generational teams. The author references Deutsche Bank. It finds that multi-generational teams make fewer mistakes and increase positive feedback between young and old workers. In your view, what does it take for elderly employment to be widely adopted in Hong Kong?
Daniel Levitin - Successful Aging: A Neuroscientist Explores the Power and Potential of Our Lives
在書中,作者指出積極健康樂頤年是可能的。我們需要(1)了解隨著年齡的增長預測對自己的影響; (2) 採取行動減輕記憶力減退、知覺喪失和社交圈縮小帶來的不良影響;(3) 做出能夠作出決定,為我們的生活注入意義。本書旨在幫助我們以不同的方式看待老齡化對個人、社區和社會影響。
在引言中,作者指出儘管老年人在某些方面傾向於保守和固執己見,但他們可以為世界做出很多貢獻,包括對他人寬容及了解年輕一代的挑戰。在你看來,我們如何改變世界對老年人的看法?
在第 6 章中,作者認為社會參與是老年人是否能過上好的晚年生活的關鍵。然而,孤獨和貧困會使老年人無法積極參與社區活動。我們如何與「隱蔽長者」互動或為老年人提供有意義且負擔得起的活動?
在第 14 章中,作者介紹了僱用長者就業的好處。作者認為,在跨代團隊工作時,年長的員工可以幫助他們的同事,而跨代團隊比單代團隊工作更有效率。作者引用德意志銀行作為例子:跨代團隊犯的錯誤比單代團隊更少,並增加了年輕和年資豐富員工之間的正面溝通。在你看來,如何才能讓長者就業在香港得到廣泛支持?