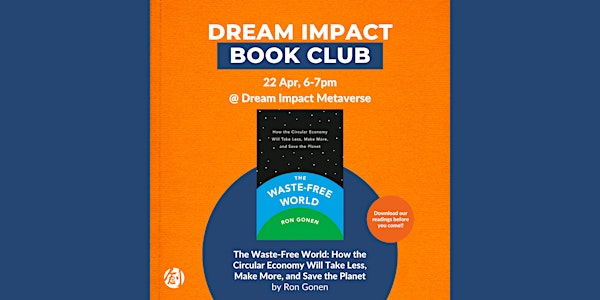 Dream Impact Book Club (APR 2022)
[2022 APR] Dream Impact Book -The Waste-Free World: How the Circular Economy Will Take Less, Make More, and Save the Planet
About this event
In his book, Gonen presents us with a groundbreaking idea - a circular economy. Gonen explains that the circular economy is not just about wasting less. The circular economy is an economic system leading to a zero-waste "closed-loop" system in which resources are not wasted. While a circular economy can create more jobs and help the world to waste less, Gonen argues that it will require changes in consumption habits, production cycle, a new way of assessing our standard of living and political will for the circular economy to be adopted.
In the book introduction, Gonen discussed a major issue of the circular economy. It is the confusion about what the transition to circularity entails. Gonen quoted that most U.S. business leaders considered circularity as efforts in "cutting costs on materials rather than innovating new circular products and services". What do you think about the reasons why there is such confusion on circularity?
In Chapter 3, Gonen introduced Jose Manuel Moller. Witnessing the extreme poverty in a working-class neighbourhood in his country - Chile, Moller founded Algramo. It aims to address the issue of plastic waste with smart packaging that enables people to "pay for the product, not the packaging". Through the Algarmo app, its customers can order as much or as little product – be it laundry detergent, rice, or pet food – as they need and get it delivered straight to their smart, reusable packaging at home. What was your awakening moment, eventually leading to the circularity journey?
In Chapter 10, Gonen discussed factors leading to circular living - (1) individual buying power to support curricular start-ups, (2) companies introducing circular products and packaging to the market, (3) advocacy of circular economy as job generators, and (4) political will. As a member of the social innovation eco-system, what can we do to mobilise the public to adopt circular living?
Gonen透過本書介紹循環經濟的概念。循環經濟不只是減少消耗,而是經高效過程,以閉環方式將物件再利用、修補、再製造及回收再利用,達致零浪費資源。
雖然循環經濟可以大量就業機會及減少地球浪費,但是Gonen認為:我們需要多方面改變,包括:消費習慣、生產方式及不只以GDP來評估國家人民的生活水平。政治領袖需要作果斷決定,要求社會各界別執行「循環生產」,才可以使循環經濟成為社會主流。
在本書一開始章節,Gonen指出不少美國的商界領袖,在企業轉型至循環生產的過程中,集中減少降低材料成本,而不是同一時間投資發明新的「循環產品及服務」。循環經濟需要同一時間減少材料消耗及發明新的「循環產品及服務」。你認為為甚麼不少人會誤以為「循環經濟」只不過是減少材料消耗?
在第 3 章中,Gonen 介紹了 Jose Manuel Moller。Moller目睹了智利貧民區的居民生活,因此創立了 Algramo。它旨在通過環保智能容器解決塑料垃圾問題及使消費者可以按其所需要購買日用品 ,例如洗衣粉、大米及寵物食品。你是在甚麼時候「覺醒」,走上「循環」之路?
在第10章,Gonen討論了要達致「循環生活」的四個因素—(1)個人透過消費支持「循環初創企業」、(2)企業推出「循環產品」及「循環包裝」、(3)倡議以「循環經濟」創造就業機會及(4)政治意志。作為社會創新界別一員,你認為如何有效推動大眾支持「循環生活」?