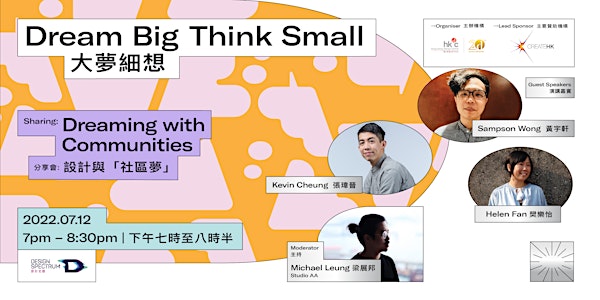 【Dream Big Think Small】Dreaming with Communities 【大夢細想】設計與「社區夢」
【Dream Big Think Small】Dreaming with Communities 【大夢細想】設計與「社區夢」
When and where
Location
7 Mallory St 7 Mallory Street Hong Kong, HKI Hong Kong
About this event
分享會: 設計與「社區夢」
夢想通常由個人出發,要實現都不是一件容易的事。如果去到社區層面,多了人參與,又會變成怎樣?今次我們與Sampson、Helen及Kevin 一齊討論大家的理想社區。又或者如何可以跟大家一齊發夢,分享大家不同的想法和需要,以營造一個較理想的社區。
日期:2022.07.12 (星期二)
時間:下午7時至8時半
地點:灣仔茂蘿街7號3樓
形式: 實體
主持:梁展邦 | Studio AA
講者:張瑋晉, 樊樂怡, 黃宇軒
語言:粵語
名額:25人
參加者注意事項
所有活動參加者進場前須接受體溫測量。若有發燒徵狀,工作人員有權拒絕相關人士進場。
因應「疫苗通行證」已於所有餐飲及表列處所全面實施,所有參加者入場前必須以手機應用程式「安心出行」掃瞄場地外放置的二維碼,並向場地工作人員展示疫苗接種紀錄(電子針卡)或「新冠疫苗接種醫學豁免證明書」。
所有活動參加者於出席活動時須一直佩戴口罩,期間請勿飲食。若無佩戴自備口罩,工作人員有權拒絕相關人士進場。
活動參加者在進場前建議使用酒精搓手液清潔雙手。
因應疫情實際情況,大會將保留一切權利取消、延期或更改所有活動日期。活動參與者將會透過電郵或電話通知。
香港設計中心將保留可進入活動場地的最終決定權。
Sharing: Dreaming with Communities
A dream usually begins from an individual's own perspective, and it's never easy to make dream come real. What will happen when we take a dream to the community level, when different stakeholders are involved in it? We will have a discussion with Sampson, Helen and Kevin about what is an ideal community, also ways to dream together, finding out the different thoughts and needs with a view to start creating a better version of community.
Date: 2022.07.12 (Tuesday)
Time: 7pm – 8:30pm
Venue: 3/F, 7 Mallory Street, Wan Chai
Format: Physical
Moderator: Michael Leung | Studio AA
Guest Speakers: Kevin Cheung, Helen Fan, Sampson Wong
Language: Cantonese
No. of participants: 25 pax
Remarks for Participants
All participants are required to take temperature check before admission. Participants with fever symptoms will not be admitted.
Following the full implementation of the "vaccine pass" on all catering and scheduled premises, all participants must use the "Leave Home Safe" mobile app to scan a QR code and display your COVID-19 vaccination records (electronic vaccination records) or COVID-19 Vaccination Medical Exemption Certificates in the app to the staff before entering.
All participants must wear a mask at all times during the activity. Eating and drinking is not allowed. Participants without wearing a mask will not be admitted.
Participants are encouraged to use alcohol hand sanitizer before entry.
In light of the current pandemic situation, the organizer reserves the right to cancel, postpone or change any details such as dates of all events. Participants will be notified through emails or phone calls.
Hong Kong Design Centre reserves the final right for permission of entering the exhibition venue.
About the Guest Speaker
演講嘉賓簡介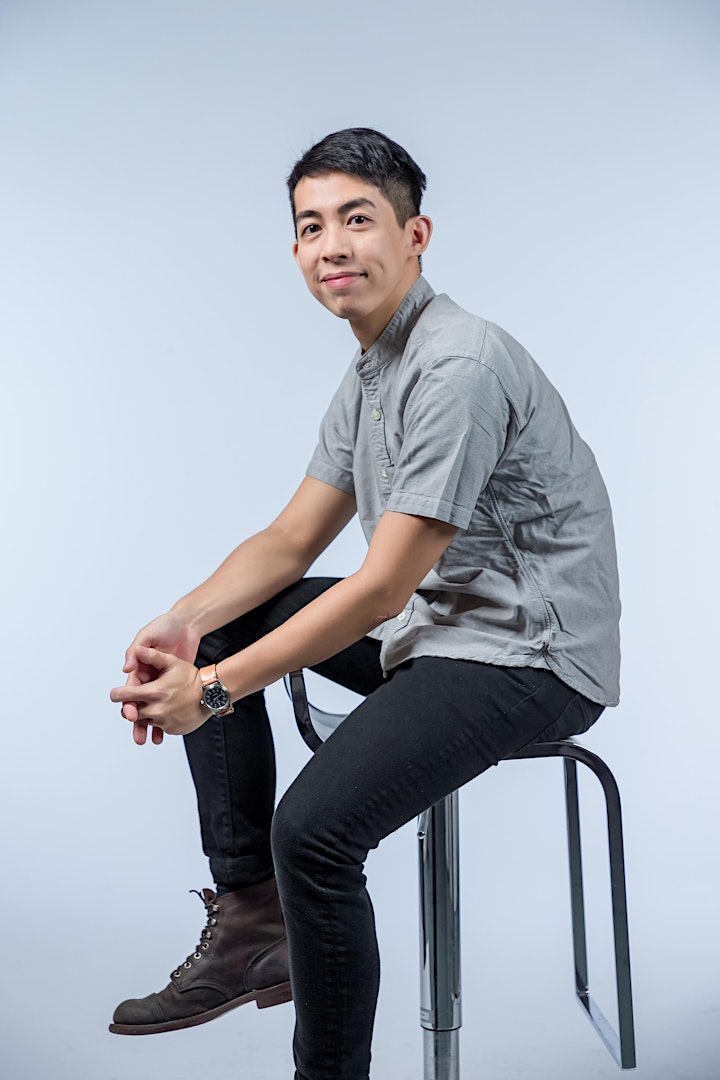 香港升級再造產品設計師,張瑋晉投入Upcycling產品開發,並透過各種渠道提高公眾的環保意識。 在創造產品的同時,他相信設計師有能力和責任保護環境,以可持續的態度平衡生態、經濟和社會三大支柱,惠澤社會。他擅長將一般人眼中的廢料蛻變成耐看、時尚的藝術品和產品。
Hong Kong Upcycling Product Designer, Kevin Cheung devotes himself in developing upcycling products and raising public's eco-awareness. At the same time, he believes that designers have the ability and obligation to protect the environment in order to sustain the balance between the eco-system, economy and the society. He is good at turning the waste into attractive and contemporary artworks and products.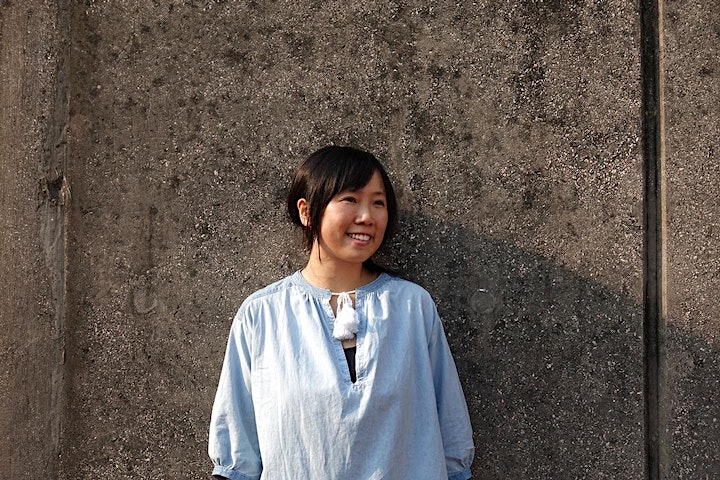 樊樂怡先後修讀建築和藝術,藉着策展、研究和創作,探尋環境、自然、歷史和社區的關係。現職文化及社會創新機構「創不同協作」的策劃人,主理多個社區共學/共創項目。畢業於香港大學建築系,其後獲倫敦藝術大學藝術碩士學位。2018年獲M+ / Design Trust 研究資助,研究國際潮流和本地因素如何影響二十世紀香港遊戲地景的設計,其著作《香港抽象遊戲地景》於2021年出版。
Fan Lok Yi is a curator and artist based in Hong Kong. She works to reveal the connections between urban space, history, and the environment through research and collaborative artistic processes. Currently the Senior Curator of Make A Difference Institute, she has curated numerous community-based education / co-creation projects. She received her Master of Arts degree in Fine Art from University of the Arts London and Bachelor of Architectural Studies from the University of Hong Kong. In 2018, she received the M+ / Design Trust Research Fellowship for her study on the international trends and local factors that shaped twentieth-century Hong Kong playscapes. She is the author of The Abstract Playscapes of Hong Kong (published in 2021).
黃宇軒博士為香港藝術家、獨立策展人及寫作人,亦是一位城市研究學者,於英國曼徹斯特大學取得地理系博士。現為香港中文大學通識基礎課程講師,多年來同時以創作、策展、書寫、組織等形式介入各種跟城市空間、藝術與社會和文化發展相關的議題。2020年,跟朋友共同開始了youtube頻道「懷疑人生就去散步」計劃,2022年初演化為「懷疑人生就去」創作團隊。
Sampson Wong is a Hong Kong artist, urbanist, independent curator and writer. After obtaining his PhD in Geography from the University of Manchester, he has been lecturing at various institutions. He is currently a lecturer of the General Education Foundation Programme at The Chinese University of Hong Kong. Sampson's trans-disciplinary research and creative interests include interventions in the public sphere, contemporary urbanism, arts and society, and cultural development. In 2020, he co-created the YouTube channel "When in doubt, take a walk", it evolves into the creative collective 'When in doubt' in 2022.
About Design Spectrum
Design Spectrum is a new initiative by Hong Kong Design Centre (HKDC) to foster a good design culture in the community. Located in a revitalised cluster of Grade 2 historic buildings at 7 Mallory Street, Wan Chai, Design Spectrum features year-round exhibitions, exchanges, design appreciation and other promotion programmes to cultivate a creative atmosphere, while nurturing local creative capital. It serves as a unique public face for HKDC to strengthen linkages with the community and partners locally, in other cities of the Greater Bay Area, ASEAN cities and overseas, and contributes towards creative and cultural tourism.
Lead Sponsor: Create Hong Kong of the Government of the Hong Kong Special Administrative Region (CreateHK)
Disclaimer: The Government of the Hong Kong Special Administrative Region provides funding support to the project only, and does not otherwise take part in the project. Any opinions, findings, conclusions or recommendations expressed in these materials/events (or by members of the project team) are those of the project organizers only and do not reflect the views of the Government of the Hong Kong Special Administrative Region, the Communications and Creative Industries Branch of the Commerce and Economic Development Bureau, Create Hong Kong, the CreateSmart Initiative Secretariat or the CreateSmart Initiative Vetting Committee.
關於設計光譜
設計光譜是香港設計中心(HKDC)推出的全新項目,旨在推動社區培養好設計文化。設計光譜設於灣仔茂蘿街7號的二級歷史活化建築物內,透過舉辦全年展覽、交流、設計賞析及其他推廣項目,營造創新氛圍,同時為社會培育本地創意資本。作為HKDC面向公眾的獨特平台,設計光譜致力加強與來自本地、大灣區其他城市、東盟城市和海外合作伙伴的聯繫,同時推廣創意及文化旅遊。
主要贊助機構:香港特別行政區政府「創意香港」
免責聲明:香港特別行政區政府僅為本項目提供資助,除此之外並無參與項目。在本刊物/活動內(或由項目小組成員)表達的任何意見、研究成果、結論或建議,均不代表香港特別行政區政府、商務及經濟發展局通訊及創意產業科、創意香港、創意智優計劃秘書處或創意智優計劃審核委員會的觀點。
About Hong Kong Design Centre
Hong Kong Design Centre (HKDC) is a non-governmental organisation, and was founded in 2001 as a strategic partner of the HKSAR Government in establishing Hong Kong as an international centre of design excellence in Asia. Our public mission is to promote wider and strategic use of design and design thinking to create business value and improve societal well-being, with the aim of advancing Hong Kong as an international design centre in Greater Bay Area and in Asia.
Learn more about us at www.hkdesigncentre.org
關於香港設計中心
香港設計中心為於2001年成立的非政府機構,擔當香港特別行政區政府的策略伙伴,以推動香港成為亞洲區內享譽國際的設計之都為目標。公共使命是推動社會更廣泛和具策略性地運用設計及設計思維,為業界創造價值及改善社會福祉,旨在推動香港成為大灣區及亞洲區內的國際設計中心。
了解更多:www.hkdesigncentre.org