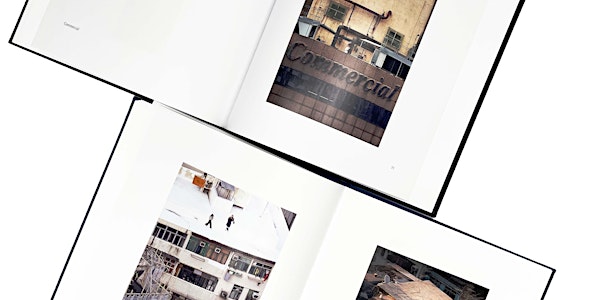 Documenting Life: Stories around Us
HKIPF 2022 Weekend Market Public Programme - Sharing hosted by Thames & Hudson Asia
When and where
Location
L7-19, Jockey Club Creative Arts Centre 30 Pak Tin Street Shek Kip Mei, KOW Hong Kong
Refund Policy
Contact the organiser to request a refund.
About this event
In this session, three eclectic Hong Kong-based photographers will share their stories, experiences, and expertise in image making. Each photographer will discuss their own way of documenting what they see, how they communicate with readers and audiences through images, and how their selections and works are able to represent different aspects of society and reflect contemporary life.
Speaker bio
Todd Darling
Todd R. DARLING, an American documentary photographer, has been based in Hong Kong for nearly two decades. He studied Documentary Practice and Visual Journalism at the International Centre of Photography in 2016, and the Eddie Adams workshop XXX in 2017. In 2021, Todd completed work on a documentary project that began in 2016, about Paterson, New Jersey. The project, inspired by local poets William Carlos Williams and Allen Ginsberg, is a lyrical interrogation of the American dream told through the singular experience of the country's first industrial city and its people.
Romain Jacquet-Lagreze
French photographer Romain JACQUET-LAGREZE has been based in Hong Kong since 2009. Since 2010, he has been documenting different aspects of this vibrant city. Four of his photography series were published by Asia One: Vertical Horizon (2012), Wild Concrete (2014), The Blue Moment (2016) and Concrete Stories (2018). He is represented by Blue Lotus Gallery.
Marcel Heijnen
Marcel HEIJNEN is a visual artist, designer and musician. Originally from the Netherlands, Asia has been his home since 1992. Marcel currently uses photography as his primary medium of expression. Over the past few years, he has had solo exhibitions at Month of Photography Asia, Vue Privée, and Galeri Utama. He has also participated in numerous group shows in Singapore, Hong Kong, and The Netherlands. He is represented by Koster Fine Art in The Netherlands and Artyze in Hong Kong, with works published by Asia One, Licht Ltd, and Thames & Hudson.
Admission
Deposit: HKD 50
*Refundable only upon attendance. The admin fee charged by Eventbrite shall be borne by participants. Absentees are not allowed for any refunds. Tickets are non-transferable.
Pandemic measures
1. Mandatory temperature check upon entry — participants with temperatures higher than 37.5°C will be denied admission.
2. All participants must wear a face mask at all times.
3. Maintain social distancing and avoid gatherings of more than four persons.
4. No eating or drinking inside the venue.
*This event is one of the Weekend Market public programmes.
Support HKIPF
Since its launch in 2010, HKIPF has served as a platform for diverse photographic expressions, bringing together overseas and local image makers to discuss manifold issues and perspectives. Through a wide range of programmes over the years, the Festival facilitates participation and learning for people of all backgrounds, promoting creative practices as means to deepen our connection with the environments we live in, and people we live with.
Sponsorships, corporate collaborations and donations of all sizes are vital in helping us stay on course with our mission and weather challenges ahead. Your contribution will go towards our operation, programme development and strengthening events accessibilities, and will have a direct impact in opening up greater opportunities for creative and innovative endeavours in Hong Kong.
HKIPF is organised by the Hong Kong Photographic Culture Association, a tax-exempt charity under section 88 of the Inland Revenue Ordinance. All donations received will form parts of the funding support under the Art Development Matching Grants Scheme of the Home Affairs Bureau. Donations of HKD 100 or above are tax-deductible.