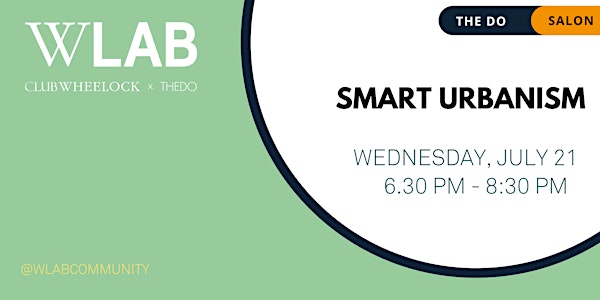 DO Salon - Smart Urbanism
Join us for the DO Salon @ WLAB! Our INVITE-ONLY salon welcomes DOers from all across Hong Kong who are passionate about smart urbanism.
When and where
Location
Tung Kin Factory Building 196-198 Tsat Tsz Mui Road Area A, 1/F, Block A-D North Point, HKI Hong Kong
About this event
This month's leading topic is Smart Urbanism. It is crucial for us to understand the impact of technology and information on a smarter city and the opportunities it carries with it, in order to co-create a happier and healthier future. The varying definitions of a smart city often led to more questions around what role humans should play. For example, as an evolutionary species, how should we change the way we live and conduct business on this planet to ensure it is sustainable and smart for future generations? Join us for our DO Salon @ WLAB!
Our salon welcomes DOers from all across Hong Kong who are passionate about making a change. Our salon brings together people from all walks of life and backgrounds, connects the dots for opportunities for outstanding collaborations and fosters co-create solutions for a happier & healthier Hong Kong within our WLAB community.
FORMAT | Salon
A salon is a gathering of people under the roof of an inspiring host. The 3 C's: connecting, collaborating and co-creating is the core of who we are. Everyone is equal and everyone speaks their mind. At WLAB, we host these intimate salons monthly as a way of featuring brilliant speakers and fostering conversations around topics that are driving our society. You show up, connect, and listen to our theme-setters who will give a short intro to a project or idea before you have the opportunity to contribute to it.
THEME | July: Smart Urbanism
THEME-SETTERS & SPECIAL HOSTS | Surprise
Our special host and theme-setter on this occasion is an exciting and accomplished smart urbanism thought leader.
VALUES | To remember
1. Radical Participation - contribute with your opinion and be present
2. Collaboration - be helpful and open-minded to support any initiative
3. Authenticity - be yourself and let just anyone do the same
4. Ideas - if you have anything to say or have something to share, the time is now
5. Action – we strongly encourage to not only talk but as well walk the talk
BRING | To Contribute
· An open mind
· Your best attitude
· Good sense of humour
· Ideas and insights
Please note that this is an invite-only event. To express your interest, please fill out this form: https://bit.ly/dosalonjuly