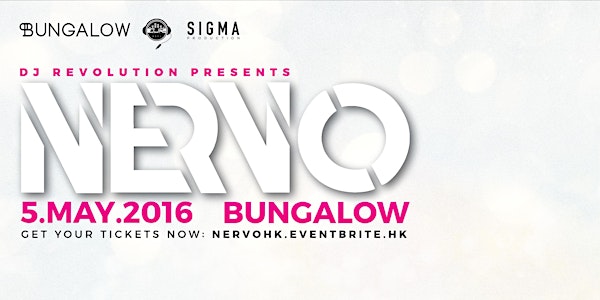 DJ REVOLUTION Vol 41: NERVO @Bungalow
When and where
Location
Bungalow Hong Kong Island Hong Kong
Description
NERVO再度重臨香港!
- DJ MAG #16 (2013) 和 #21 (2014) - 官方排名最高的女DJ
- 在英國廣播電台BBC第一台播放"NERVO Nation"專屬節目(2014)
- "Revolution"與R3hab&Ummet Ozcan 連續3週位列Beatport#1(2014)
- 為David Guetta創作格萊美獲獎歌曲"When Love Takes Over"(2009)
- 每年超過200場世界巡迴演出
- 曾為Kylie Minogue, Pussycat Dolls, Britney Spears, Afrojack, Steve Aoki, Avicii, Armin Van Buuren 等編寫及製作歌曲
從幕後製作到台前藝人,由超級粉絲到超級巨星,電子舞曲的第對姐妹組合 - Mim和Liv Nervo 已經一躍登上國際舞台!這部多才多藝的DJ發電機是現時及歷史上最強排名的女DJ,分別於2013年和2014年透過數百萬樂迷的投票獲得"DJ MAG Top 100DJ"的第16名及第21名。
Mim和Liv的職業生涯在2009年起飛。透過創作得獎歌曲"When Love Takes Over",他們的歌曲創作實力鞏固了在業內的重要位置並且決定成為藝人出發去追求自己的職業生涯。對此他們的朋友及合作者亦相繼出現提出支持:與Afrojack,Dimitri Vegas and Like Mike合作 "The Way We See The World",與Nicky Romero合作 "Like Home" (第1首Beatport連續3週冠軍),與世界第一DJ Armin van Buuren 合作 "Turn This Love Around" (收錄於冠軍專輯'Intense'):毫無疑問這是一份最長亦最令人羨慕的合作名單。
NERVO同時亦在社交媒體渠道上看到明顯的增長。他們經常登上時尚雜誌包括 Vogue,Elle,Cosmopolitan及NYLON等。2013年8月他們踏上紅地毯在MTV音樂錄影帶頒獎禮上作現場演出,11月又出現在BRAVO電視台為Rihana製作的真人秀節目"Styled To Rock"擔任嘉賓評委。最近,NERVO亦為英國BBC廣播電台第一台全新節目"Residency"擔任嘉賓。


NERVO!
Mim and Liv are back again!
- DJ MAG #16 (2013) and #21 (2014) - official highest-ranking female DJ's.
- BBC Radio 1 "NERVO Nation" residency show (2014)
- "Revolution" with R3hab&Ummet Ozcan 3weeks at #1 on Beatport. (2014)
- Wrote Grammy winning "When Love Takes Over" for David Guetta. (2009)
- Performing over 200 shows per year.
- Written and produced for Kylie Minogue, Pussycat Dolls, Britney Spears, Afrojack, Steve Aoki, Avicii, Armin Van Buuren etc.
From songwriters to artists and super-fans to superstars, electronic dance music's first sisters - Mim and Liv Nervo have catapulted onto the international stage, these multi-talented DJ dynamos are the all-time top-ranking female DJ's in the world, voted by their millions of fans to No. 16 and 21 on DJ Magazine's influential 2013 and 2014 'Top 100 DJs' poll respectively.
Mim and Liv's career took off in 2009. Having cemented their songwriting prowess with a global No. 1 hit "When Love Takes Over", NERVO set out to pursue their own career as artists, by writing and producing their own songs. Their friends and collaborators in the world showed up to support them. 'The Way We See The World' with Afrojack, Dimitri Vegas and Like Mike (the official anthem of Tomorrowland 2011), 'Like Home' with Nicky Romero (first #1 Beatport chart for 3 consecutive weeks), "Turn This Love Around" with Armin van Buuren (from No.1 DJ's new album 'Intense'): Their list of A-List collaborators is the longest and most enviable in the scene.
NERVO has seen rapid growth across social media channels. They are regularly featured in Vogue, Elle, Cosmopolitan, NYLON and other pop culture publications around the globe. In 2013 NERVO performed live from the red carpet at the MTV Video Music Awards and in November they appeared on BRAVO TV as guest judges on the Rihanna produced reality show 'Styled To Rock'. In 2014 NERVO were announced as one of the 4 introductory DJs for the brand new BBC Radio 1 'Residency' Shows.


ONLNE TICKET RESERVATIONS 網上訂票
_________________________________________
Advanced Ticket 優先票: HKD 250
Door Ticket 現場門票: HKD 400
立即上網訂票 Reserve your tickets online NOW*:
網上購票者請帶同列印好的電子票以便入場
*E-ticket holders please be reminded to bring printed ticket to the event
*除非演出取消,否則不作退票。
*Ticket cannot be refund unless the whole performance is cancelled.
團體訂票及貴賓訂座 GROUP PURCHASE/ VIP SERVICES
_________________________________________
如欲查詢有關資訊請直接聯絡我們
Please contact us for more information
E : info@sigma-production.com
P : +852 2829 7322


年齡限制 AGE LIMIT
_________________________________________
此活動只准18歲或以上人士參與。參加者請帶同有效身分證以便核實入場。
This event has an age limit of 18 years old and above. Participants should bring valid I-D for identification.


著裝規定 DRESS CODE
_________________________________________
穿著短褲以及拖鞋/涼鞋均不準進場
Dress code is applied in this event. No shorts or flip flops are allowed to enter the event.
FOLLOW US FOR MORE EDM SENSATIONS
_________________________________________
Website: www.sigma-production.com
YouTube: www.youtube.com/sigmaproductionhk
Facebook: www.facebook.com/sigmaproductionhk
Facebook: www.facebook.com/djrevolutionhk
Instagram: www.instagram.com/djrevolutionhk
Eventbrite: www.sigma-production.eventbrite.hk/
[A DJ REVOLUTION IN HONG KONG - RISE of EDM ]
- SIGMA PRODUCTION