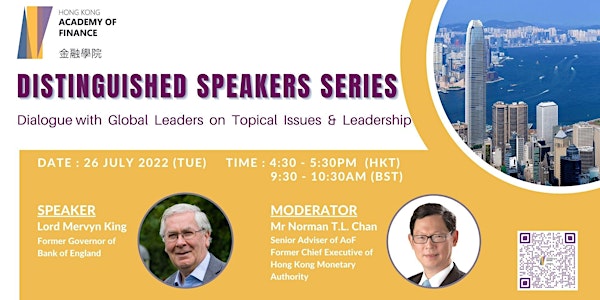 Distinguished Speakers Series - Lord Mervyn King
Hong Kong Academy of Finance Distinguished Speakers Series
About this event
Distinguished Speakers Series -
Lord Mervyn King, Former Governor of Bank of England
He has his "Maradona theory of interest rates" and "King Canute theory of inflation". He believes we should ask "what is going on here" and judge ourselves, not overly rely on rocket science economic models. He is a big football fan.
He is Lord Mervyn King, a highly respected veteran central banker who instituted Quantitative Easing in the UK. He has something to say about interest rates and monetary policy, inflation and growth, financial stability, and will offer his diagnosis and prescriptions for contemporary systems of money and finance.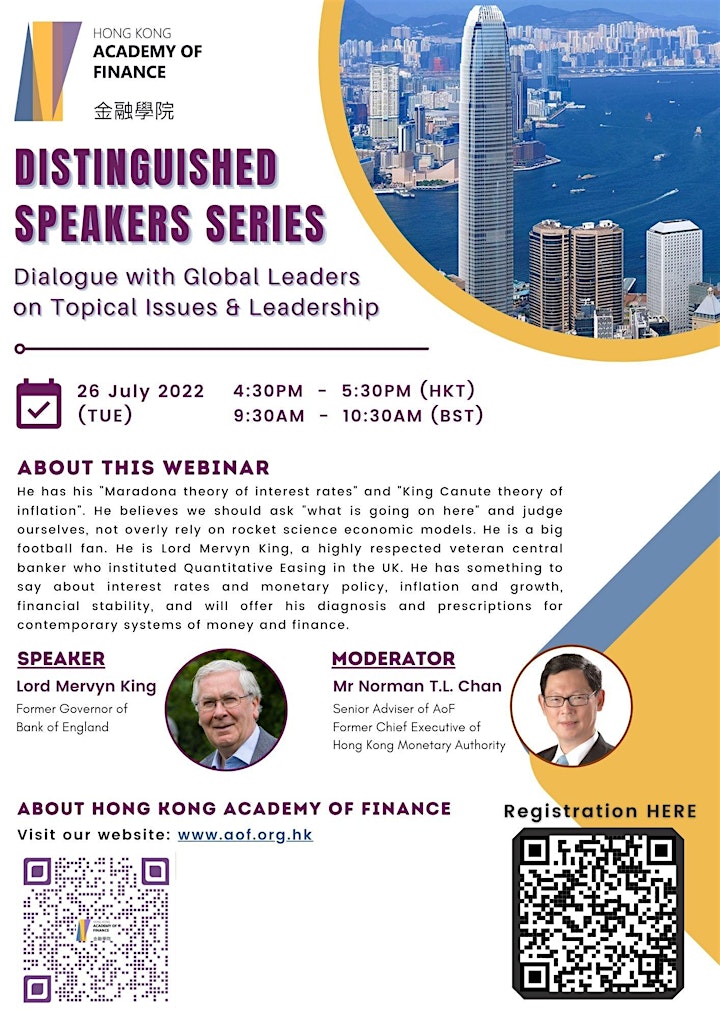 About the speaker
Mervyn King served as Governor of the Bank of England from 2003 to June 2013. He was previously Deputy Governor from 1998 to 2003, Chief Economist and Executive Director from 1991, and non-executive director of the Bank from 1990 to 1991. He was knighted (GBE) in 2011, made a life peer in 2013, and appointed by The Queen to be a Knight of the Garter in 2014.
Lord King is the Alan Greenspan Professor of Economics and Professor of Law at New York University and Emeritus Professor of Economics at the London School of Economics.
In 2016 he published The End of Alchemy. With a new preface, it appeared in paperback in 2017, and has been translated into many languages. His new book (with John Kay) Radical Uncertainty was published in March 2020.
Born in 1948, Mervyn King studied at King's College, Cambridge, and Harvard (as a Kennedy Scholar) and taught at Cambridge and Birmingham Universities before spells as Visiting Professor at both Harvard University and MIT. From October 1984 he was Professor of Economics at the London School of Economics where he founded the Financial Markets Group.
Mervyn King is a Fellow of the British Academy, an Honorary Fellow of King's and St John's Colleges, Cambridge and holds many honorary degrees. He is a Foreign Honorary Member of the American Academy of Arts and Sciences. He is Chair of the Philharmonia Orchestra and a member of the House of Lords Economic Affairs Committee.
About the Hong Kong Academy of Finance
The AoF brings together the strengths of the academia, the industry, professional training institutes and the regulatory community to develop financial leadership and promote research collaboration.
Visit our website: www.aof.org.hk
Personal Information Collection Statement
Submitting information means you have read and understood the following personal information collection statement, and authorise and consent to the stated use of your personal data.