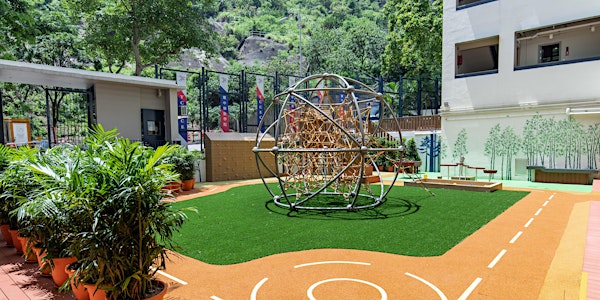 Discovery Space - Public Visits
Pamela Peck Discovery Space 耀學園
By Pamela Peck Discovery Space
When and where
Date and time
Sunday, January 16, 2022 · 1 - 4pm HKT
Location
Yew Chung College of Early Childhood Education 2 Tin Wan Hill Road Hong Kong, HKI Hong Kong
Refund Policy
Contact the organizer to request a refund.
About this event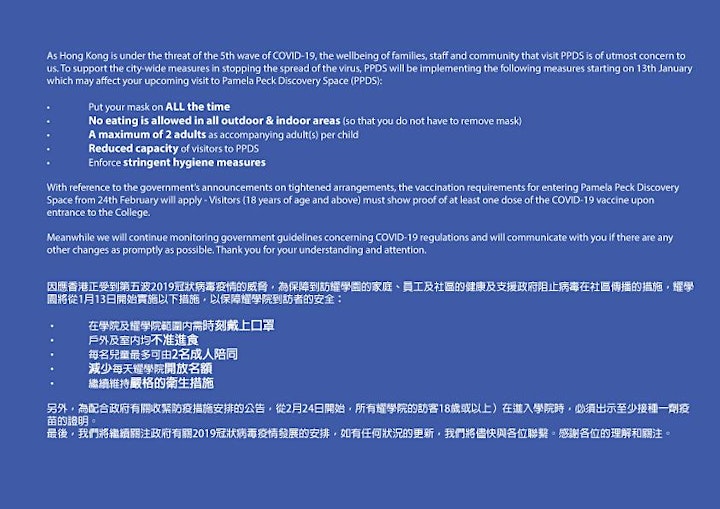 Additional Information
The event organizer has provided the following information:
Welcome to Pamela Peck Discovery Space!
For public, one booking (basic fee $100) covers 1 adult and 1 child only. Additional $100 for each extra adult / child.
For guest holding a Friends of Discovery Space ticket, please book through the Friends of Discovery Space tab on the booking page with your FODS pass number.
Pamela Peck Discovery Space is open for selective sessions 7 days a week from Mondays to Sundays. We are closed on some sessions for deep cleaning & maintenance.
Morning Session: 9:00 am – 12:00 pm
Afternoon Session: 1:00 pm – 4:00 pm
If a specific session is not available for selection, the session is either full, blocked for a school excursion or an internal event.
We are unable to accommodate walk-in visitors. Thank you for your understanding.
You may find the Guidelines for Usage at:
https://discoveryspace.yccece.edu.hk/pamela-peck-discovery-space/guidelines-for-usage-of-discovery-space-by-visitors/
Please take special note that Discovery Space is an interactive learning platform for the Yew Chung College of Early Childhood Education, and thus photos and videos may be taken during the session as part of teaching and learning materials without written permission. If photos or videos are to be used for promotional / published materials, you will receive a written request ahead.
Enquiry: 3977 9820 / ycecdc@yccece.edu.hk
歡迎蒞臨耀學園!
公眾預約:每次預約(基本費用港幣100 元)包括 1 名成人和 1 名兒童。每位額外的成人/兒童需額外支付 100 元。
持「耀學園之友」入場證的客人,請通過使用頁面系統預訂。
耀學園於星期一至日七天指定時段開放。指定時段會關閉以進行深度清潔和整修。
上午時段:上午9:00 - 中午12:00
下午時段:下午1:00 - 下午4:00
如果沒有可供選擇的日子,代表該日耀學園的預約已滿、有團體預約參觀或用作內部活動而不對外開放。
我們恕未能接待尚未預約的訪客。敬請見諒。
到訪前請先瀏覽耀學園使用指南:https://discoveryspace.yccece.edu.hk/pamela-peck-discovery-space/guidelines-for-usage-of-discovery-space-by-visitors/
耀學園是耀中幼教學院的互動學習平台,因此在未經書面許可的情況下,我們可能會於場內拍攝照片和視頻作為教學材料的一部分。如果照片或視頻用於宣傳/出版,我們將會先以書面形式徵詢您的同意。
查詢:3977 9820 / ycecdc@yccece.edu.hk
© 2021 Yew Chung College of Early Childhood Education. All rights reserved.© 2021 耀中幼教學院將保留一切權利