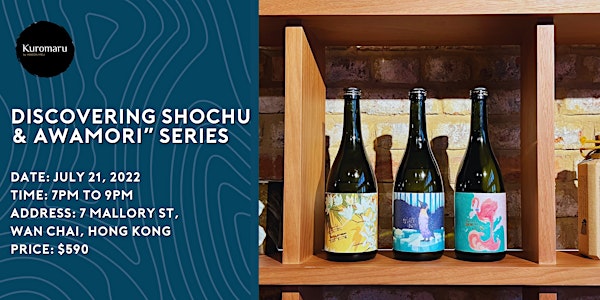 "DISCOVERING SHOCHU & AWAMORI" Series
"DISCOVERING SHOCHU & AWAMORI" Series: A Surprisingly Fruity World of Imo Shochu
When and where
Location
Kuromaru at Maison Meiji 7 Mallory Street Wan Chai, HKI Hong Kong
About this event
On July 21st, Kuromaru will be hosting their first shochu tasting and masterclass within their "Discovering Shochu & Awamori" series, showcasing three of the finest labels from Kagoshima's Kokubu Shuzo - The "Bird Series."
About the Event
Embark on a journey of discovery through one of Japan's hidden gems. Celebrated as Japan's most consumed beverage, shochu is usually single distilled from a number of base ingredients, allowing a wide variety of flavours and overtones. While popular among Japan's local community, few outside of Japan know of its unique qualities that distinguish it from other liquors.
On July 21st, Kuromaru will be hosting their first shochu class, showcasing three of the finest labels - Kokubu Shuzo's "Bird Series." Each shochu is distilled from Imo (sweet potato) but with its own unique nuance and differing fruity flavours, which guests may sample first-hand.
Sunny Cream Imo (Sweet Potato): tropical notes of banana and cream.
Cool Mint Green Imo (Sweet Potato): refreshing, with a peppermint aroma.
Flamingo Orange Imo (Sweet Potato): citrusy and floral, with a deep fruitiness.
After tasting each label at the masterclass, guests have the option to choose one of the labels to craft their own highball under the guidance of Kuromaru's skilled bartenders…and finally treat yourself to one of three limited cocktails made from these 3 labels, accompanied by variety of Japanese bar bites, as you conclude this educational and flavour-forward tasting experience.
Date: July 21, 2022
Time: 7pm to 9pm
Address: 7 Mallory St, Wan Chai, Hong Kong
Price: $590 per person