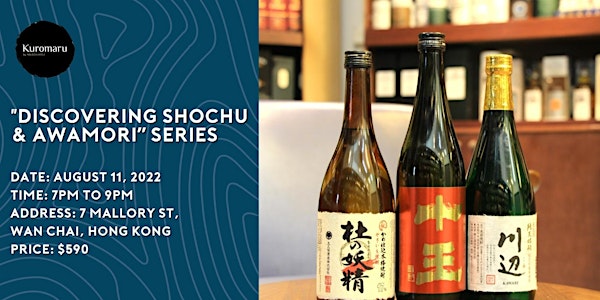 "DISCOVERING SHOCHU & AWAMORI" Masterclass Series: Imo vs Kome vs Mugi
Following a successful launch of the "Discovering Shochu & Awamori" Masterclass Series, Kuromaru will be hosting their second tasting event
When and where
Location
Kuromaru at Maison Meiji 7 Mallory Street Wan Chai, HKI Hong Kong
About this event
This interactive masterclass will present three artisanal shochu labels distilled from the three most popular base ingredients. Guests can broaden their palate through this flavour-led experience, while expanding their knowledge on Japan's most consumed spirit under the guidance of Kuromaru's expert team.
The masterclass will include a sampling of each label, an accompaniment of Japanese bar snacks, one of three exclusive cocktails made by the bar team using these shochu labels, and a shochu highball of your choice – made by you.
local community, few outside of Japan know of its unique qualities that distinguish it from other liquors.
Experience three unique and wildly diverse shochu labels:
Mori No Yousei 17% Yaki Imo (Grilled Sweet Potato): subtle smoky, fruity and nutty flavours
Kawabe Kome 25% (Rice): delicate notes of rice and melon
Juo Mugi 25% (Barley): distinct aroma of wet dough and brioche
After trying each label, guests have the option to choose which label to craft their own highball with, under the guidance of Kuromaru's skilled bar team.
Finally, treat yourself to one of three limited cocktails, accompanied by a mix of Japanese otsumami (snacks), as you conclude this educational and flavour-forward tasting experience.
Date: August 11, 2022
Time: 7pm to 9pm
Address: 7 Mallory St, Wan Chai, Hong Kong
Price: $590
Includes:
Tasting of 3 Shochu labels
Make your own Shochu highball
A cocktail from our bar team: Mont Blanc Alexander, Melon Sour, or Mallory 7
Pairing with otsumami (light Japanese bar snacks)