Description
Are you ready to transform your relationship and life?
What if there was a simple way of understanding your 'Sex Language'?
What if you were able to learn how you are erotically wired, what your pathways to arousal are, and how to communicate what it is that feeds you?
And what if you were able to decipher your own erotic blueprint?
What if you knew how to feed yourself sexually?

Discover Your Erotic Blueprint & How It Increases Satisfaction
A Core Erotic Blueprint™ (CEB) is a map that helps you to understand your own sexuality Our Erotic Map (the complex blueprint of what turns us on) is unique to each individual. It consists of genetics, throbbing hormones and erotic experiences that were "imprinted" during early adolescence. As we go through life, these erotic maps change slightly as we experience different types of sex and are altered by our environment, stress level, health and partner dynamics.

In this workshop:

We're going to create your erotic map. You will finally know your own language of arousal and understand why mind-blowing pleasure may have eluded you. Plus, you'll learn how to identify your partner's blueprint type and how to better please them both inside and outside of the bedroom.
In this workshop you will learn:

The 5 Core Erotic Blueprints

™

How To Deliciously determining your erotic blueprint
How to feed your erotic blueprint

This leads to for women to experience:

More confidence in yourself
Understanding your body and feeling more aligned
Recognising the beautiful woman that you are
The pathway to boosting libido and arousal, which means more sexual frequency and fulfillment
Tools to help you feel more alive and satisfied instead of stuck in your head unable to feel what is really happening in your body
For women in relationships and couples, this will lead to:

Better communication
Your and your partner's erotic map, helping you to increase pleasure all around
How to shift a mediocre, stale or rote relationship into one filled with adventure, fun and excitement
Pathways to greater sexual health (meaning better erections, orgasms, libido and staying power)
Feeling more connected
Letting go of tension and resentment
Less arguments
Enjoying spending time together
Deeper intimacy in the bedroom
Knowing how to feed your own and your partner's needs
This will help you generate more sex, more desire and more sexual satisfaction, you didn't even know was possible, all while creating more love and connection.
All attendees will receive a 100% pure essential oil blend roll on used to relax the body and mind anytime...anywhere.
Women only event.
Location: In Central. Exact location to be advised.
Meet Nathalie: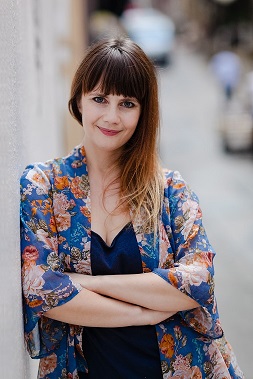 Nathalie is a relationship and intimacy coach who helps women and couples to find confidence, sensual pleasure and deep intimacy on their own and in their relationships. Our sex life and relationships make a big difference to our happiness and well being and it's ok to talk about it. All areas of our relationships are connected - intimacy, communication and our sex life. A breakthrough is when we overcome shame and guilt and when we get given the right tools to understand and communicate what fills our wants, needs and desires.
Nathaie is know for her supportive nature and warm and engaging style ensuring that her clients are always very comfortable.
The workshop is based on discovering your Core Erotic Blueprint. Nathalie is a certified Erotic Blueprint Coach how has been trained by sexologist Jaiya, who is the founder of the CORE EROTIC BLUEPRINT™. She has also been practicing in holistic therapies for the past 13 years.
'It's beautiful to see relationships become loving and harmonious again and see women embrace their confidence and sensual selfs. I am so grateful to be a part of that change. It's possible for everyone to have a harmonious and connected partnership, we all deserve to have that in our life's.' Nathalie