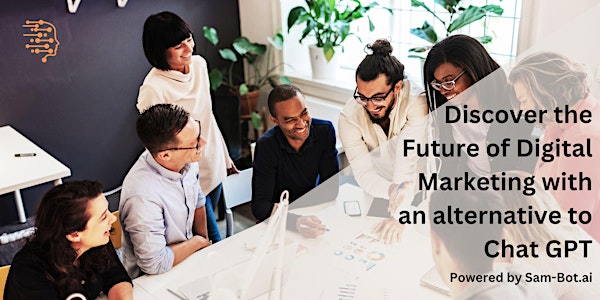 Discover the Future of Digital Marketing with an alternative to Chat GPT
Join us for a 60-minute online event that will showcase the benefits of using an alternative to Chat GPT that works in Hong Kong!
Date and time
Thursday, March 9 · 3 - 4am PST
About this event
Are you tired of relying on traditional marketing methods that don't provide the results you need? Want to learn about a game-changing technology that can take your digital marketing efforts to the next level? Look no further than generative chatbots!
Join us for a 60-minute event that will showcase the benefits of using an alternative to Chat GPT, Sam-Bot.ai, that works in Hong Kong for your digital marketing efforts. Our expert speakers from Sam-Bot.ai will provide an overview of generative chatbots and how they can help businesses increase engagement, conversions, and customer satisfaction.
We will also discuss the trends and future of chatbots in digital marketing, and provide a live demonstration of how an alternative chatbot, Sam-Bot.ai, can be integrated with different digital marketing channels.
This event is perfect for business owners, marketers, and anyone interested in staying ahead of the curve in the digital marketing landscape. Don't miss out on this opportunity to discover the future of digital marketing with alternative chatbots. Register now to secure your spot!
This event will be highly interactive and a little theoretical (just what you need to know). We will cover several use cases from several industries to give you a taste of what you can do with a generative Chatbot to simplify your Digital Marketing effort.
Prerequisites: Try Sam-Bot.AI so you will be able ask relevant questions and also to try the tips we will share during the online event.
Try it by yourself
Open the App (or https://app.sam-bot.ai/), then select the Custom use case and copy paste any of the following prompts to get your response.
Feel free to add keywords and contextual information to have your very specific feedback.
1. Come up with a creative hashtag related to digital marketing
2. Brainstorm 10 topics for a blog post about using digital marketing
3. Describe three features that make digital marketing stand out
4. Write a Facebook post explaining why digital marketing is important
5. Outline a strategy for Twitter to maximize reach for a digital marketing campaign
6. List 5 tools to track website performance related to digital marketing
7. Create an email template that outlines the benefits of digital marketing
8. Draft a YouTube video description focusing on digital marketing
9. Generate 10 ideas of images that could be used with a digital marketing post
10. Write a personalized message introducing digital marketing to a new customer
11. Find 3 case studies that show the success of digital marketing
12. Describe 3 ways to improve the user experience when launching a digital marketing campaign
13. Develop a checklist of tasks necessary to launch a digital marketing campaign
14. Research the most recent trends in digital marketing
15. Make a list of 10 digital marketing KPIs (Key Performance Indicators)
16. Develop a list of 10 digital marketing influencers
17. Outline a step-by-step guide for creating a digital marketing budget
18. Create 5 potential headlines for a digital marketing press release
19. Come up with 10 creative ideas for an Instagram post about digital marketing
20. Develop an action plan for optimizing digital marketing content for search engines
Frequently asked questions
What type of topics will be discussed in the event?
What is the duration of the event?
Who should attend the event?
What is the format of the event?
Is this event exclusively about Sam-Bot.ai?
What will I learn from the event?
Is there a registration fee for the event?
Do I need to bring anything to the event?
Are there any prerequisites required to attend?
Will the presentations be recorded and available after the event?
About the organizer
Sam, Your personal upskilling buddy
Sam-bot.ai is a startup aiming to equip professionals with the skills, knowledge and insights they need to succeed in their professional aspirations. Sam, our generative chatbot, will help people to go the extra mile to reach their goals and overcome their challenges.
We believe that Artificial Intelligence is a capability that supports people to achieve their goals, rather than being an ultimate solution that will replace them.
Amplify your skills with Sam-bot.ai: Unlock your potential
Visit our website: https://sam-bot.ai/
Try Sam for free and without VPN in Hong Kong :-) : https://app.sam-bot.ai/