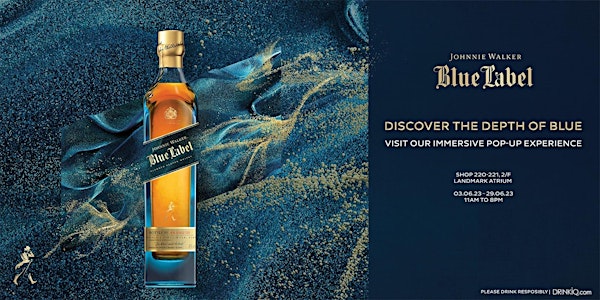 DISCOVER THE DEPTH OF BLUE |Johnnie Walker Blue Label 探索藍的深度 沉浸式體驗館
Step into a realm of opulence with Johnnie Walker Blue Label. 探索 Johnnie Walker Blue Label 藍的深度。
By Moet Hennessy Diageo Hong Kong
Date and time
Sun, 11 Jun 2023 12:00 - 12:30 HKT
Location
SHOP 220-221, 2/F, LANDMARK ATRIUM 15 Queen's Road Central Hong Kong, HKI Hong Kong
About this event
Step into a realm of opulence with Johnnie Walker Blue Label and have a rare opportunity to luxuriate in an immersive experience of Johnnie Walker Blue Label's Craft to Rarity and Flavours at LANDMARK from June 3rd to June 29th.
Beyond the mere act of tasting, whisky lovers are invited to delve deeper into the world of Johnnie Walker Blue Label with a multi-sensorial experience. Whisky lovers are invited to explore and revel in the diverse flavour profile, while engaging all five senses to discover the full spectrum that Blue Label has to offer. Embark on a captivating journey of discovery with Johnnie Walker and witness the brand's rich heritage through a series of carefully curated chapters and tasting experiences.
NOTES:
※ Part of the flooring in the exhibition areas is reflective, wearing skirts is not recommended.
※ Part of the exhibition supports with audio guide. Chinese sessions available 11AM - 1PM Daily. English sessions available 1PM - 8PM daily.
//
Johnnie Walker Blue Label沉浸式體驗館登陸置地廣場,誠邀公眾於6月3日至6月29日期間深入Johnnie Walker Blue Label奢華國度,沉醉於Johnnie Walker Blue Label的非凡奢華體驗,感受品牌獨一無二的精湛工藝、珍稀原酒與深邃風味。
除了威士忌品鑒體驗,公眾將獲邀進一步深入品牌的Blue Label世界。由探索Blue Label獨特口感與層次豐富的風味特徵,到一連串多元感官體驗啟動所有五感領域,盡情沉浸於Blue Label的強烈而多樣化的感官光譜之中,與Johnnie Walker一同開展扣人心弦的探索之旅,見證品牌歷久彌新的豐盛歷史傳承。
注意事項:
※ 部分展區地板為鏡面材質,建議勿穿著裙子進場。
※部分展區提供語音導賞,每日早上11時至下午1時為中文導賞; 每日下午1時至下午8時為英語導賞。