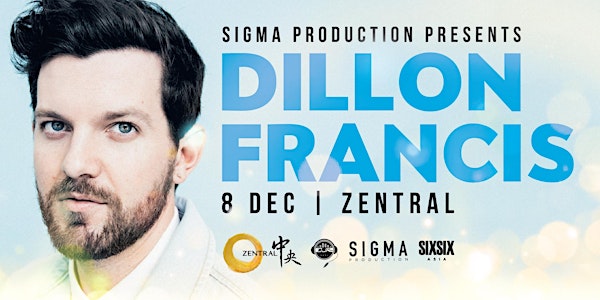 DILLON FRANCIS 8 DEC | ZENTRAL
When and where
Location
Zentral Hong Kong Island Hong Kong
Description
好消息,Dillon Francis將會喺今年12月8號第一次降臨香港Zentral!

擅長於Trap及Progressive House,今年喺DJ Mag Top 100排名第64既美國DJ Dillon Francis,喺電子音樂界係個不可忽視藝人,
由2005年出道既佢,形象百變又搞鬼,2012年憑著 "Something, Something, Awesome"成為第一位Moombahton DJ登上"Beatport Top 5 Releases Chart" 第一名。多年黎喺世界唔同既電音節都有份演出過,例如Ultra,TomorrowWorld,Coachella同埋Electric Zoo等等,今年仲岩岩出左3隻單曲,"Need You" ,"Candy" 同埋 "Anywhere" 。
嗱唔好話啲show淨係去晒澳門喇,今次輪到香港咁近,唔係唔去呀嘛?mark定日子,準備同Dillion Francis癲返晚啦!
We are pleased to announce that Dillon Francis will for the first time in Hong Kong on 8 Dec at Zentral!
The American DJ Dillon Francis, focusing on Trap and Progressive House, is a notable DJ in the EDM industry and is well known for his eccentric videos he posts on social media. He started his career in 2005 and became the first Moombahton artist to achieve #1 on "Beatport Top 5 Releases Chart" with the release of his extended play "Something, Something, Awesome"! He is now ranking #64 on "DJ Mag Top 100" and has participated in many popular music festivals, such as Ultra, TomorrowWorld, Coachella, Electric Zoo, etc. This year, he just released 3 singles, including "Need You", "Candy" and "Anywhere".
Finally we have a show in HK not worth missing!
優先票 (限售200張) Advance Ticket (200 Tickets Available ONLY): HKD250
現場門票 Door Ticket: HKD400

立即上網訂票 Reserve your tickets online NOW* :
*E-ticket holders please be reminded to bring your printed ticket(s)
*Ticket cannot be refund unless the whole performance is cancelled.
Please contact us for more information
此活動只准18歲或以上人士參與。參加者請帶同有效身分證以便核實入場。
This event has an age limit of 18 years old and above. Participants should bring valid I-D for identification.
Dress code is applied in this event. No shorts or flip flops are allowed to enter the event.
#DJR #DJRevolution #電音起義 #SigmaProduction #EDM #DJ #DillonFrancis #Zentral #HongKong #HK