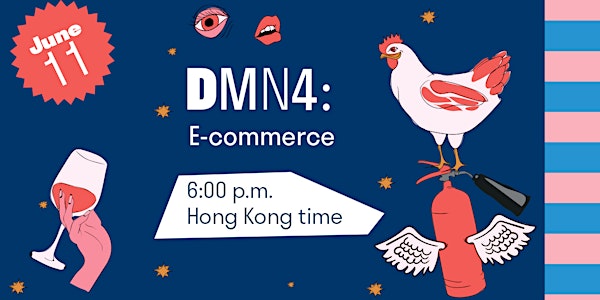 Digital Marketing Nights 4: E-commerce
Best online E-commerce event in 2020!
Refund Policy
Contact the organiser to request a refund.
About this event
Digital Marketing Nights Will Be Held Online for E-commerce!
We are proud to announce that our fourth Digital Marketing Nights event is going to be dedicated to E-commerce!
https://dmnights.com/dmn4/
Running an e-commerce business is definitely not easy.The market is always changing, and to succeed, you need to continuously improve your knowledge. That is why we have organized the best e-commerce event to help you adapt to the ever-changing market. Our event can help you with the strategies of improving social media awareness, user experience, and everything else related to ecommerce businesses.
Our STAR SPEAKERS from Google, Shopify, Reputation House, First Page, Easy Ship, and HKBC media will share valuable information and hold workshops for a limited group of people to examine their Companies' Cases.
DMN4: E-commerce event will take place on June 11, 2020 6:00 p.m. Hong Kong time.
What will our viewers learn?
Online Reputation for an E-commerce company
E-commerce customer trends on Google during Covid
The DTC revolution - how direct to consumer is a new standard and the trends around it
E-commerce & SEO in 2020
Digital Strategy for an E-commerce company
How technology is disrupting E-commerce logistic
Workshops for a limited number of people
WHAT ARE WORKSHOPS? 20 persons will participate in 3 different workshops on SEO, SMM, and ORM. Their individual cases will be reviewed and the participants will get personal recommendations on how to rapidly recover their businesses.
Join our international event to get exclusive information about Digital Marketing in E-commerce.
More Info: http://dmnights.com/dmn4/
Contact Us: Olga, DMN host: hello@dmnights.com