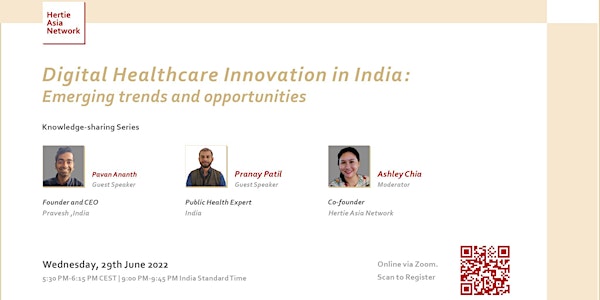 Digital Healthcare Innovation in India: Emerging trends and opportunities
What's happening in the India healthcare ecosystem today and how can you be a part of it? Hear from experts on opportunities and trends
About this event
Digital Healthcare innovation in India: Emerging trends and opportunities
Wednesday, 29th June 2022
5:30 PM-6:30 PM CEST | 9:00 PM-10:00 PM (India Standard Time)
Register to join: https://lnkd.in/eRCyqujd
The Indian healthcare innovation ecosystem has recently undergone a significant digital health push due to disruptive factors such as COVID-19 and the recently launched Ayushman Bharat Digital Mission (ABDM). In the past two years, a number of startups have begun offering breakthrough products and services, resulting in the development of a powerful digital support infrastructure. The Indian government is also setting the way for additional innovation and initiatives through the ambitious ABDM platform.
The Hertie Asia Network Knowledge-Sharing Series aims to bring primary research and timely discussions on latest trends and foresights with field experts from Asia.
Speakers:
Pavan Ananth, Founder and CEO of Pravesh, India
Pranay Patil, Public Health Expert, India
Moderator:
Ashley Chia, Co-Founder, Hertie Asia Network
About the organiser:
Asia Network is a Hertie School student and alumni-ed initiative which brings together collective experience and experts in the public and private sectors across Asia. The project aims to build a knowledge-sharing hub of Asian expertise and inspire new ideas and solutions to policy and business challenges. The community is open to members of the Hertie network who have an interest and/or a background in collaborating with governments and businesses in the Asian region.
About the speakers:
Pavan Ananth is the Founder and CEO of Pravesh- a boutique go-to-market consultancy focused on introducing and scaling global healthcare innovations in India. Pavan brings over seven years of experience developing markets and working and liaising with the federal government, various state governments and private healthcare enterprises in India. Previously, he led the entry of Zipline (drone logistics enterprise) into India and has led innovation projects from the Chief Minister's Office, Govt. of Haryana. Pavan is an alumnus of Nanyang Technological University, Singapore and a Young India Fellowship (YIF) scholar.
Pranay Patil is a Public Health Expert with over seven years of work experience across the Federal Government and various State Governments in India. He was a founding team member at the Government of India's National Health Authority (NHA), where he led numerous Innovation friendly initiatives to build resilient healthcare systems and progress toward Universal Health Coverage. Pranay is an alumnus of the Indian Institute of Technology, Hyderabad and Ashoka University.