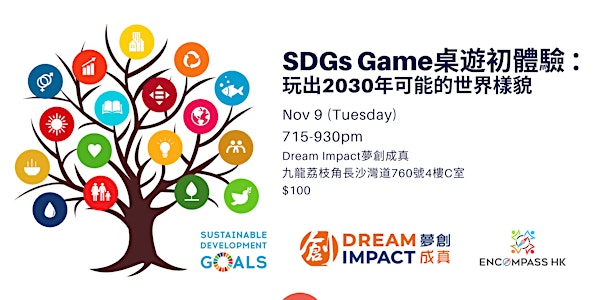 DI*Encompass HK SDGs Game桌遊初體驗 : 玩出2030年可能的世界樣貌
Dream Impact & Encompass HK: 來體驗在2030年時將成就什麼樣的世界!
When and where
Location
Dream Impact 夢創成真 Unit C, 4/F 760 Cheung Sha Wan Road Hong Kong, KOW Hong Kong
About this event
About this event
聯合國於2015年提出永續發展目標SDGs,期望我們能夠擁有一個更永續、更加美好的未來。 基於這樣的世界性議題,日本Imacocollabo公司於2016年推出2030 SDGs Game桌遊,玩家透過在遊戲中各種經濟、推廣、消費活動的進行,模擬到了2030年世界可能的樣貌。它是一個可以容納眾多玩家一起參與的桌遊,在日本,目前為止約有五萬多人曾經參與, 分別來自企業、政府單位、教育單位及非營利單位與社區等,可以說是有關SDGs的桌遊中最受歡迎且最具影響力的互動式遊戲。
本次活動為工作坊形式,促導師Kwong將帶領大家一同進行一場「世界級」的桌遊,與會的10幾位成員都是本模擬世界上的成員,利用金錢、時間卡,來完成專案卡與個人目標,在目標導向之下,模擬出世界發展之過程,並從中了解到永續發展目標(SDGs)之內容。我們透過遊戲來體驗在2030年時將成就什麼樣的世界,並反思在真實生活中,我們可以如何實踐 SDGs來翻轉我們的世界。歡迎跟我們一起共創未來。
永續發展目標(SDGs)
永續發展目標(Sustainable Development Goals, SDGs)為聯合國於2015年提出之一系列國際發展目標,是接續2000年提出的「千禧年發展目標」(The Millennium Development Goals,MDGs)。內容包含三大面向、17項永續發展目標,並於每個目標之下設有總計169項的追蹤指標,將持續至2030。
工作坊以廣東話進行,輔以英語。
What is the 2030 SDGs Game?
The 2030 SDGs Game is a multiplayer, facilitated card-based game that simulates taking the "real world" into the year 2030. Participants will work together and in groups, exploring how to create a prosperous, fair and sustainable world.
Designed in Japan in 2016, the game events are held in corporate, governmental, educational, and community settings. This experience has become a powerful and impactful social phenomenon, earning extensive media coverage in Japan and reaching over 150,000 participants worldwide.
Who can come?
You can! Anyone can! Seeing is Believing.
The United Nations' 2030 SDGs (Sustainable Development Goals) are ambitious and can seem overwhelming, simply due to their volume and scope. While dramatic in their potential impact on the world, approaching them can be daunting. With a game approach, there are 3 powerful advantages:
1) It gives people a direct experience of participating in co-creating a sustainable world ("I can do it"; "what I do makes a difference.")
2) It simplifies and makes accessible an extremely complex issue to a level that allows people to begin to understand, while stimulating our natural curiosity to learn more.
3) It activates players' natural instincts to set their aim toward a worthy goal, simultaneously building confidence and making it enjoyable, while inspiring and motivating players to take action in the real world.
Find out what do people say about the game:
https://2030sdgsgame.com/testimonials/