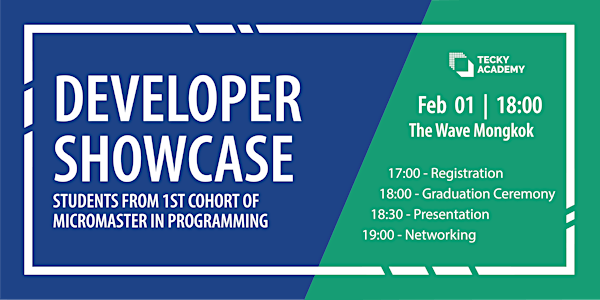 Developer Showcase
When and where
Location
The Wave Mongkok Sai Yeung Choi Street South Mong Kok, Kowloon Hong Kong
Description
Are you looking for talented developers? Do you ever wonder what outcome a bootcamp student could achieve?

After 500 hours intensive training in 13-week, our first cohort students are going to graduate on 1 February. Leveraging cutting-edge technologies including Machine Learning, React, Node.js, they have crafted three amazing works for their capstone projects.
This time, they will be presenting their projects to the public. During the showcase, you may exclusively hands-on their real demo, break their works, and ask them anything! Meet them before you hire them!
We sincerely invite employers, HR recruiters, partners and any person who is interested in the coding bootcamp to join us in the developer showcase.

Venue:
The Wave Mongkok

Agenda:
17:00 - Registration & Networking
18:00 - Graduation ceremony
18:30 - Project presentation
19:00 to 20:00 - Project showcase & Networking

Projects:

1) Spam filtering using NLP
Team members: Tat Leung, Lok Wong, Henry Kwok
2) Smart Fitness Bike
Team members: Jeff Lam, Rong Chen, Terry Kwong
3) Live broadcasting
Team members: Kevin Lai, Derek Lin, Matthew Woodroffe