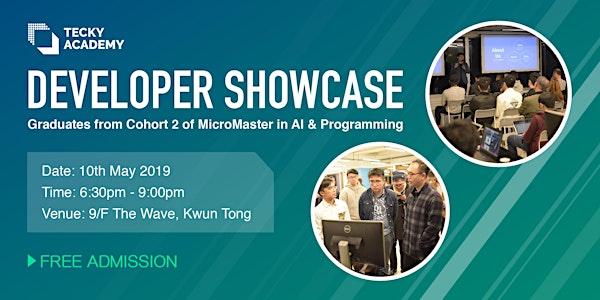 Developer Showcase II
When and where
Location
9/F The Wave 4 Hing Yip Street Kwun Tong, Kowloon Hong Kong
Description
Are you looking for talented developers? Do you ever wonder what outcome a bootcamp student could achieve?

After 600 hours intensive training in 15-week, our second cohort students are going to graduate on 10 May. Leveraging cutting-edge technologies including Tensorflow, Keras, React, Node.js, TypeScript, they have crafted three amazing works for their capstone projects.
This time, they will be presenting their projects to the public. During the showcase, you may exclusively hands-on their real demo, break their works, and ask them anything! Meet them before you hire them!
We sincerely invite employers, HR recruiters, partners and any person who is interested in the coding bootcamp to join us in the developer showcase.

Venue:
9/F, The Wave Kwun Tong

Agenda:
18:30 - Registration & Networking
19:00 - Graduation ceremony
19:30 - Project presentation
20:00 to 21:00 - Project showcase & Networking

Projects:

Group 1 - Party Room Online Booking System 自動化派對房間系統
Team members: John Chan, Alyson
It is a fully automatic reservation system that allows customers to :
1. check room availability constantly,
2. reserve party rooms online,
3. and even finish the whole transaction through e-payment.
After the receipt of payment, a confirmation e-mail attached with a QR code would be issued to the customers. Upon arrival, the customers can then present the QR code under the scanner to redeem the key for accessing the room reserved.
Group 2 - Real-Time Vacant Carpark 隨你泊
Team members: Andy Yu, Philip Chau

「隨你泊」為全香港首個實時監察全港九空置泊車位應用程式,目前九龍東的更頻率為每秒更新,而其餘則為每小時更新。(往後將提升為所有停車場實時更新) 此外亦會提供最新交通知資訊,了解路面狀況以及實時交通狀況照片。為顧及街泊使用者,除停車場外,為應用亦提供街道咪錶分布。
Group 3 - Take-away Order System 預訂外賣系統
Team members: Skye Cheung, John Wong

To provide online lunchbox delivery order function, including
- membership login
- menu
- order systems for memberships and kitchen respectively and tracking order system
To provide further information and promotions
- pick up point positioning for customers
- KOLs and other ads promotions
Group 4 - Betky 電競投注網
Team members: David Ko, Mark Chan
Esport, a new and booming entertainment industry, with millions of fans across the world watching their favorite team competing in their favorite game. This web app focuses on how to reward those fans with tokens and gift, who is able to spot the right team to stands out in each match
Group 5 - Facial Recognition Attendance
Team members: John Wong, Andy Yu, Philip Chau
實時人臉檢測打卡系統,可即時加入員工面貌,快速讓過百名同事在瞬刻間打卡,此系統更可於瀏覽器中運行。