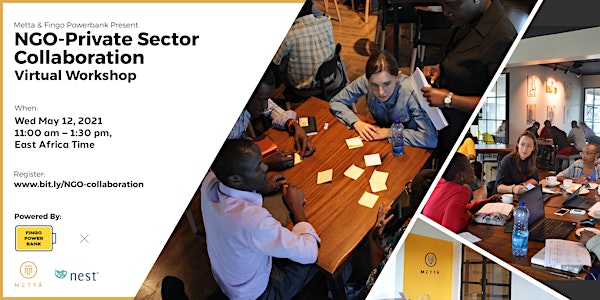 Design Thinking Workshop On Collaboration Between NGOs & The Private Sector
Design Thinking Workshop On Collaboration Between NGOs & The Private Sector.
About this event
Register here - https://docs.google.com/forms/d/e/1FAIpQLScPKzC81rNH51UkaRcNO4MbF-b5R4ziREmOiu5ANRRdvrdDTg/viewform
Back in April, Mettā in collaboration with Fingo Powerbank hosted a #WhatsGood Panel Discussion on collaboration between NGOs and the Private Sector.
Some of the pertinent topics discussed include:
Collaboration preconditions amongst NGOs and the private sector.
Current nature of partnerships between NGOs/CSOs and the private sector in Kenya.
Opportunities and bottlenecks for NGO-Private Sector collaborations.
This month we will be hosting a Virtual Design Thinking Workshop, on Collaboration Between NGOs & the Private Sector, where we will be trying to identify and map out different areas of collaboration between NGOs and private sector players. Join us for this highly interactive and collaborative workshop where you will get a chance to not only meet players from a variety of sectors, as well as ideate on new collaborative approaches.
As space is limited, we ask that you take a moment to fill in this short registration form to tell us a bit about yourself for you to be considered. Registration Form.
Date: 12th May 2021
Time: 11:00 am EAT
Who Should Attend:
NGOs and private sector professionals, Tech startup founders, SME business owners, and corporates executives interested in learning operating preconditions that guide NGO-Private sector engagements.
About Fingo and Fingo Powerbank
Fingo is a Finnish Development NGO platform and an expert on global development. They represent 280 Finnish civil society organizations and strive to build a fairer world for all. Fingo Powerbank is a project that supports Fingo member NGOs and their local East African partner NGOs in three areas: innovations, technology solutions and private sector collaboration. They organize trainings, workshops, share information and bring actors together – among other activities. The main goal is to boost joint efforts for a sustainable world. Learn More
Register here - https://docs.google.com/forms/d/e/1FAIpQLScPKzC81rNH51UkaRcNO4MbF-b5R4ziREmOiu5ANRRdvrdDTg/viewform