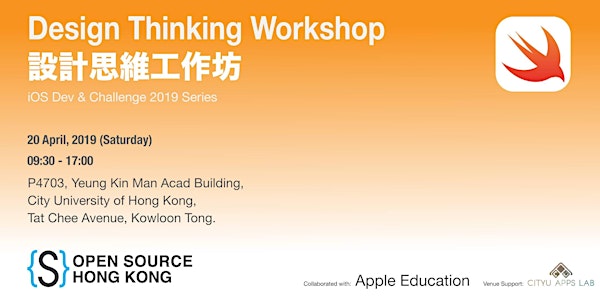 Design Thinking Workshop - iOS Dev & Challenge 2019
When and where
Location
P4703, City University of Hong Kong 83 Tat Chee Avenue Kowloon Hong Kong
Description
Design thinking is a process for creative problem solving. This workshop tuned for App Development, it will help you to transform from problem to solution. You can start to the application design with Design Thinking technique for your project.
"Design Thinking workshop" is one of an event for supporting the iOS Dev and Challenge Event.
Requirement:
Hong Kong Student who interested in mobile app development/design.
Suggest for college or university student.
NO CODING TECHNIC IS REQUIRED.
Date:
20 April 2019
Time:
09:30 - 17:00
Venue:
P4703, Yeung Kin Man Acad Building, City University of Hong Kong, Tat Chee Avenue, Kowloon Tong.
Agenda:
Stake Holder Mapping
Empathy Map
Think Deeper
Ideathon
Prototype
Testing
Trainer Name:
Max Leung T.C.

Trainer Intro.
"I specialize in applying my extensive knowledge in design thinking to help companies and communities to understand users' needs, and create better workplaces and a better Hong Kong. My formal training in industrial design and fine art in photography empowers me to bring concepts to life through storytelling, data synthesis, creative problem solving and visual design. "
More About Design Thinking
https://en.wikipedia.org/wiki/Design_thinking
Collaborated with:
Apple Education
Venue Support:
City U Apps Lab
Caution:
Please don't absent to the class once you applied because it will affect the opportunity of other applications and the resource planning to the event.
Open Source Hong Kong may reject the application if it is dishonest information or violates the guideline about the code of conduct ( https://opensource.hk/code-of-conduct/ )