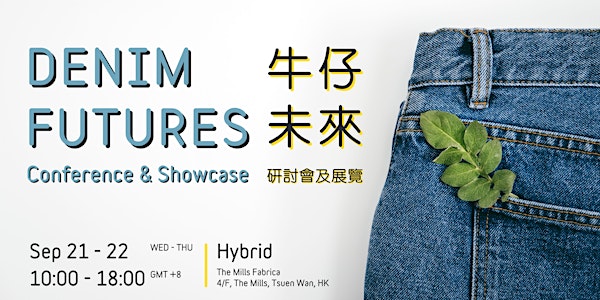 "Denim Futures" Conference & Showcase
"Denim Futures" conference and showcase, curating experts insights and sustainable innovations from denim professionals, brands, innovators
When and where
Location
The Mills 45 Pak Tin Par Street The Mills Hong Kong, NT Hong Kong
About this event
Since indigo dyeing was developed in the Far East in the 16th century, denim has made its way into our lives and evolved from heavy duty work wear to become the most iconic garment of our modern days, creating an industry and a global community of its own.
It has also recently come into the spotlight as one of the most denounced fashion culprit of pollution as climate change concerns are raising and the world is trying to adopt more sustainable practices and processes. So how can we transition our beloved denims into a more sustainable future?
The Mills Fabrica brings you the "Denim Futures" conference and showcase, curating experts insights and sustainable innovations from denim professionals, brands, manufacturers and innovators.
Join us to uncover the latest trends and regulations, sustainable product developments, innovative materials and processes, and learn more about circular designs and life cycle assessment. Last but not least, this event will provide a great opportunity to network, exchange and explore collaborations.
𝘿𝙖𝙩𝙚: Sep 21-22 (Wed – Thu)
𝙏𝙞𝙢𝙚: 10:00 – 18:00 HKT (GMT+8)
𝙑𝙚𝙣𝙪𝙚: The Mills Fabrica, 4/F, The Mills, 45 Pak Tin Par Street, Tsuen Wan, Hong Kong
𝙁𝙤𝙧𝙢𝙖𝙩: Hybrid
➤➤Registration here to join us: https://bit.ly/denimfutures
Remarks: A limited quota will be offered on a first-come, first-served basis.
【Highlights of Sep 21】
𝗣𝗮𝗻𝗲𝗹 𝗗𝗶𝘀𝗰𝘂𝘀𝘀𝗶𝗼𝗻: 𝗗𝗲𝗻𝗶𝗺 𝗖𝘂𝗹𝘁𝘂𝗿𝗲 & 𝗖𝗼𝗺𝗺𝘂𝗻𝗶𝘁𝘆
• Jenny Chan - Kontoor Brands
• Penter Yip & Mango Leung - Fashionary
• David Tring - The Magic of Denim Consultancy (Moderator)
𝗣𝗮𝗻𝗲𝗹 𝗗𝗶𝘀𝗰𝘂𝘀𝘀𝗶𝗼𝗻: 𝗦𝘂𝘀𝘁𝗮𝗶𝗻𝗮𝗯𝗹𝗲 𝗙𝗶𝗻𝗮𝗻𝗰𝗲 & 𝗥𝗲𝗴𝘂𝗹𝗮𝘁𝗶𝗼𝗻𝘀
• Carrie Ng - HSBC
• Kyle Chung - Crystal Group
• Pat-Nie Woo - KPMG
• Angus Tsang - The Mills Fabrica (Moderator)
𝗞𝗲𝘆𝗻𝗼𝘁𝗲: 𝗧𝗿𝗲𝗻𝗱 𝗙𝗼𝗿𝗲𝗰𝗮𝘀𝘁𝗶𝗻𝗴
• Anupreet Bhui - WGSN
𝗣𝗮𝗻𝗲𝗹 𝗗𝗶𝘀𝗰𝘂𝘀𝘀𝗶𝗼𝗻: 𝗖𝗶𝗿𝗰𝘂𝗹𝗮𝗿𝗶𝘁𝘆 𝗶𝗻 𝗗𝗲𝘀𝗶𝗴𝗻
• Maximilian Berleb - PVH
• Annika Visser - Unspun
• Michael Kampe - Michael Kampe
• David Tring - The Magic of Denim Consultancy (Moderator)
𝗣𝗮𝗻𝗲𝗹 𝗗𝗶𝘀𝗰𝘂𝘀𝘀𝗶𝗼𝗻: 𝗗𝗶𝗴𝗶𝘁𝗮𝗹 𝗗𝗲𝗻𝗶𝗺
• Jorgen Sevild - Bandicoot Imaging Sciences
• Richard Hobbs - Brand New Vision
• Warren Parker Mills - Fashion Metaverse Club
• Janice Wang - Alvanon (Moderator)
【Highlights of Sep 22】
𝗖𝗼𝗻𝘃𝗲𝗿𝘀𝗮𝘁𝗶𝗼𝗻: 𝗟𝗶𝗳𝗲 𝗖𝘆𝗰𝗹𝗲 𝗔𝘀𝘀𝗲𝘀𝘀𝗺𝗲𝗻𝘁 𝗪𝗼𝗿𝗸𝘀𝗵𝗼𝗽
• Jenny Chan - Kontoor Brands
• Joe Poon - RESET Carbon Limited
𝗣𝗮𝗻𝗲𝗹 𝗗𝗶𝘀𝗰𝘂𝘀𝘀𝗶𝗼𝗻: 𝗨𝗽𝗰𝘆𝗰𝗹𝗶𝗻𝗴 𝗗𝗲𝗻𝗶𝗺
• Bertha Shum - Earthero Project
• Janko Lam - Classics Anew
• Kay Wong & Matt Hui - Fashion Clinic
• Him Lo - Nan Fung (Moderator)
𝗣𝗮𝗻𝗲𝗹 𝗗𝗶𝘀𝗰𝘂𝘀𝘀𝗶𝗼𝗻: 𝗡𝗲𝘅𝘁-𝗚𝗲𝗻 𝗙𝗶𝗯𝗲𝗿 & 𝗙𝗮𝗯𝗿𝗶𝗰𝘀
• Chammy Chan - The LYCRA Company
• Dennis Hui - Lenzing Group
• Shannon Mercer - FibreTrace
• John Landis - Frontline Clothing Ltd (Moderator)
𝗣𝗮𝗻𝗲𝗹 𝗗𝗶𝘀𝗰𝘂𝘀𝘀𝗶𝗼𝗻: 𝗡𝗲𝘅𝘁-𝗚𝗲𝗻 𝗦𝘂𝘀𝘁𝗮𝗶𝗻𝗮𝗯𝗹𝗲 𝗜𝗻𝗻𝗼𝘃𝗮𝘁𝗶𝗼𝗻𝘀
• Jordi Calucho Barbadillo - Archroma
• Kelvin Cheung - Tat Fung
• Vir Sathyavir Singh. C - Jeanologia
• Michael Lam - Advance Denim (Moderator)
𝗣𝗮𝗻𝗲𝗹 𝗗𝗶𝘀𝗰𝘂𝘀𝘀𝗶𝗼𝗻: 𝗡𝗲𝘅𝘁-𝗚𝗲𝗻 𝗧𝗮𝗹𝗲𝗻𝘁
• David Tring - The Magic of Denim Consultancy
• Michael Lam - Advance Denim
• Dr. Travis Li - Hong Kong Design Institute
• Ryan Houlton - The Hong Kong Polytechnic University (Moderator)