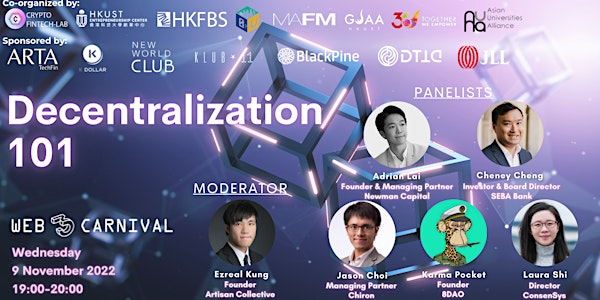 Decentralisation101 |Altive, Artisan Collective, ConsenSys, Chiron Partners
Methods of blockchain to support decentralization The most common use cases DAO Interesting decentralized projects
When and where
Location
Altive Limited 99 Queen's Road Central Hong Kong, HKI Hong Kong
About this event
Event summary:
-How blockchain supports decentralization? What are the most common use cases?
-How organizations work without a central authority? What is a DAO? How to set that up to make sure it runs properly? What happens if it did not?
-What are some interesting decentralized projects? Why are they promising?
Ezreal Kung (Artisan Collective, Founder) [moderator]
Adrian Lai (Newman Capital, Founder & Managing Partner)
Cheney Cheung (SEBA Bank, Investor & Board Director)
Jason Choi (Chiron, Managing Partner)
Karma Pocket (8DAO, Founder)
Laura Shi (ConsenSys, Director)
Join our community to learn about the event and the latest updates!
Website: web3-hk.xyz
Discord: https://discord.gg/PR6pgrfjMb (join now to chat!)
Twitter:@Web3_HKUST
Co-host:
HKUST Entrepreneurship Centre (https://ec.hkust.edu.hk/)
HKUST Crypto-FinTech Lab (http://cryptofintechlabhk.net/)
HKUST Web 3.0 Lab
HKUST DareDevil Lab
Hong Kong Federation of Business Students (HKFBS)
HKUST Graduate Students and Alumni Association (GSAA)
0xU Blockchain Club
Asian Universities Alliance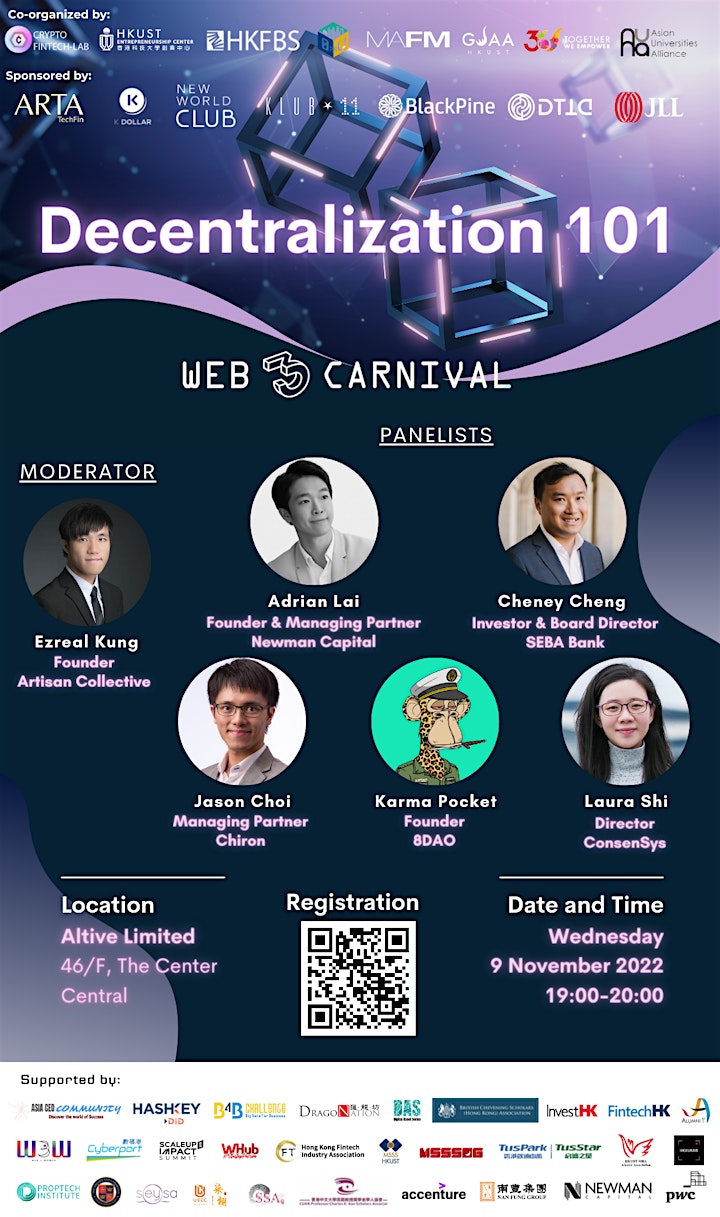 Carnival Rundow:
Week 1: Carnival kickoff & Web3 landscape
Week 2: How are corporations tapping into Web3?
Week 3: Opportunities lie in web3, metaverse & NFT
Week 4: NFT = jpg?
Week 5: GameFi, SocialFi, and Metaverse
Week 6: Venture investments & Women in Web3
Week 7: Sustainability and Impact in Web3
Week 8: Cryptocurrencies, Tokens, Coins Risks
Week 9: The World in 2030 & Carnival Closing
Award:
Participating in more than 80% of the courses, you will receive an exclusive NFT!
NFT Previews: