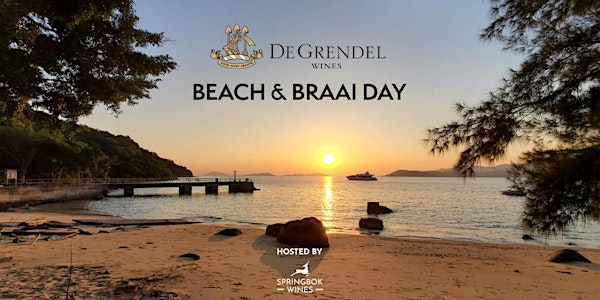 De Grendel Wines Beach & Braai Day
Join us for a beach & braai (BBQ) day on one of South Lantau's hidden treasures, a secluded beach out of reach of regular transport.
When and where
Location
The Hong Kong Outpost Mong Tung Wan South Lantau, NT Hong Kong
Refund Policy
Contact the organiser to request a refund.
About this event
De Grendel Wine Estate, in association with Springbok Wines, brings you a sunset beach braai day on a secluded beach on South Lantau.
What is the day all about?
Beach, braai (BBQ), wine, sun, swimming & fun. A relaxed and easy going afternoon/evening where you can take in the beauty of one of Hong Kong's most secluded beaches and enjoy a typical South African braai accompanied by some incredible wines from the De Grendel wine estate.
The venue
Mong Tung Wan, a secluded beach on South Lantau, is off the beaten track and not accessible by regular public transport. Once a film location for the famous film *Double Impact (1991)* starring Jean-Claude Van Damme & Bolo Yeung. It is now home to The Hong Kong Outpost, a Homestead in the re-making, built on true old-fashioned values with sustainability top of mind.
What does my ticket include?
A set, 3-course braai (BBQ) including dessert. We will also be serving De Grendel Cap Classique sparkling wine, on the house, when the braai starts - one bottle for every two people.
Are there vegetarian options available?
Yes. The standard set menu is not vegetarian so please let us know in advance and we will arrange it accordingly.
What does my ticket not include?
Your first couple glasses of bubbles are on the house thereafter it will be a cash bar. A wide-ranging selection of De Grendel's finest will be available, including sparkling, white & red wines as well as their irresistible cider - wine bottle prices start at $190 - up to $390. Soft drinks, water, etc will also be available at the drinks shop. The Hong Kong Outpost also has water sports equipment available for hire including kayaks & stand-up paddle boards at $80/hr.
What time does it start?
The set 3-course braai starts at 6 pm and will run until approximately 8 pm. That being said we recommend coming a few hours earlier to make the most of the day. The homestead at the Hong Kong Outpost, situated just off the beach, will be open from 10 am. Their kitchen & drinks shop will also be open for those who arrive early - this will be at own cost. Water sports equipment will also be available for hire.
What time does it end?
After dinner, we will set up a bonfire on the beach, everyone is welcome to join in for after dinner drinks on the beach. The event will formally finish at 10 pm.
What to bring?
Beach kit - hats, swimwear, towels & sunscreen.
Cash for drinks & taxis
Torches
Is the area shaded?
Yes. Depending on the weather on the day we will either have dinner in the beer garden which is shaded by trees or we will set up a large tent high on the beach which is also surrounded by trees.
How to get there?
Arrival from South Lantau - Take a taxi to / park at the Tin Hau temple - Pui O near Ham Tin village and then walk along the concrete path to Mong Tung Wan beach. The path is semi-shaded and the walk will take just under 30mins - remember to bring a torch for the walk back in the evening! To get to Pui O from Central we recommend taking the Mui Wo ferry and then taking a taxi to the Tin Hau temple. Click here to view the ferry timetable -FYI the ordinary ferry takes 50 mins and the fast ferry takes 30 mins.
Direct arrival via speed boat from HK Island - For those of you who would prefer the 'Bond villain' experience, we have arranged a private speed boat to depart the public pier at Cyber port and drop you off directly at Mong Tung Wan beach. The journey will take just 30mins and each return ticket will cost $300. Be sure to select the boat ticket option during checkout otherwise, we won't know you're coming on the boat, space is limited - max 13pax. The boat will depart Cyber Port at 4 pm and then for the return to Cyberport depart South Lantau at 9 pm. Exact boarding details & directions will follow for those that purchase this option.
What happens if the day is rained out?
If the weather is poor on the day, the event will be canceled and all tickets fully refunded. We will make a call on the morning by 10 am. We may reschedule the event, in this case, you will be given the option to accept the new date or receive a full refund.
If you have any questions reach out to us at info@springbokwines.com
We look forward to seeing you there!