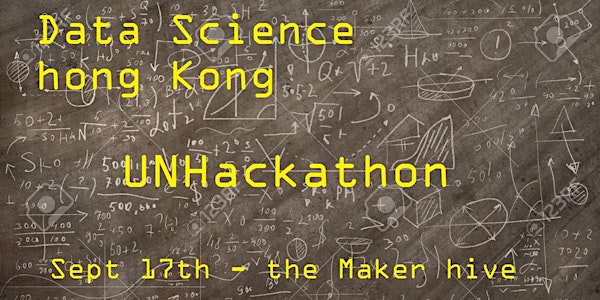 DataScience HK Unhackathon - September event
When and where
Location
MakerHive Hong Kong Island Hong Kong
Description
This event is made for those who want to practice an exchange about data-science.

Limited to 50 attendees

When : Sunday 17th September

Where : Hive Kennedy Town, 10th floor, 12P Smithfield, Kennedy Town

Schedule :

10:00 : Opening: Sign up for pitch slots, come for a coffee and chat
11:00 : Presentations: 5-min pitches
12-17:00 : Work !!
17:00 : Presentations of achievements
18:00 : Finish

What you need :

your laptop / charger
for project contributors : please prepare data in advance if possible
coding knowledge


We will make sure there is a variety of projects to cater to people of different abilities so even if you only have a basic grasp of programming then don't be afraid to come.

Details : The event will start with 5 minute pitches of project ideas. These can be personal projects, interesting challenges, open source projects or anything else that you would like to share. The only requirement is that these are primarily coding based projects. Anyone can sign up for a slot on the day. Audience will vote for the projects they are interested in and groups of 4-5 formed to work on projects. The day will conclude with 5 minute presentations of achievements.

Pitching a project : Pitchers should come prepared to describe the aims of their project, why it is interesting / benefits the community and technical pre-requisites (e.g. experience with AWS, web scraping, basic Python, advanced R etc).
Please prepare data as much as possible before the event to avoid spending all the time on "data clean-up". The organisers will make a data-repository available to facilitate sharing.
Smaller projects that can be completed in a day are preferred, but if your project is larger, then it should have milestones that can be completed in a day.
We welcome follow-ups of projects of preceeding session.
Pitches and final presentations will be made available following the event so only present what you are happy to be made public.
Also authors can publish short articles on our blog.Food / drink : Only water, coffee and snacks are provided. Attendees can order their own food to the venue, take a break to find a restaurant in Kennedy Town or bring their own lunch.
Price : 50 HKD. We charge a fee to cover venue and food costs. We are not a for-profit organisation and will aim to keep the costs of our events as low as possible to make it accessible to all.