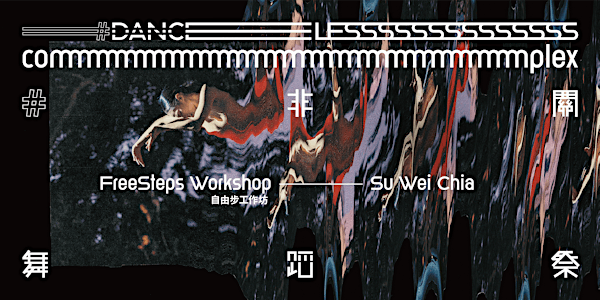 #非關舞蹈祭 蘇威嘉自由步工作坊(專業舞者專場) #DANCELESS complex Su Wei Chia Freesteps Workshop
#非關舞蹈祭 蘇威嘉自由步工作坊(專業舞者專場) #DANCELESS complex Su Wei Chia FreeSteps Workshop (Professional Dancers Session)
When and where
Location
Tai Kwun - Centre for Heritage and Arts 10 Hollywood Road Hong Kong, HKI Hong Kong
About this event
蘇威嘉 2013 年開始進行以《自由步》為題的十年編舞計畫,透過探索線條、舞步、造型、律動與音樂及光線的關聯,追求舞蹈身體的細緻、極限,近年透過與舞者的排練,彼此學習,歸 納練習方法,分為《形狀的創造》、《跟上與讓開》、《協調的探索》、《覺察、經驗、資料庫》、 《身體選擇權》。
自由步工作坊(專業舞者專場)
日期:10月15日(五)
時間:15:00-17:00
地點:大館賽馬會立方
對象:有專業訓練的舞者/形體表演者
費用:$200
工作坊將以國語進行。
Su Wei Chia began decade-long choreography project known as FreeSteps in 2013, and through exploring the interplay between contours, dance steps, stylization, rhythm, music and light, it pursues the delicacy and limits of a dancer's body. Through rehearsals with dancers and learning from one another in the process, various methodologies have been collated which are categorized into: 《形狀的創造》 ("Creation of Forms") 、《跟上與讓開》 ("Catch-up and Go")、《協調的探索》("Exploring Co-ordination")、《覺察、經驗、資料庫》("Mindfulness, Experience and Database")、 《身體選擇權》("My Body My Choice"). The workshop incorporates some of these methodologies in its teaching. Participants are invited to explore their bodies through the freedom of dance, creating infinite possibilities together.
FreeSteps Workshop (Professional Dancers Session)
Date:15/10(Fri)
Time:15:00-17:00
Venue:JC Cube, Tai Kwun
Target: Dancers or Physical performers with professional training background
Fee: $200
The workshop will be conducted in Mandarin.
鳴謝 Acknowledgement    
「#非關舞蹈祭」獲香港特別行政區政府「藝能發展資助計劃」的資助     "#DANCELESS complex" is financially supported by the Arts Capacity Development Funding Scheme of the Government of the Hong Kong Special Administrative Region    
  節目內容並不反映香港特別行政區政府的意見     
The content of this programme does not reflect the views of the Government of the Hong Kong Special Administrative Region