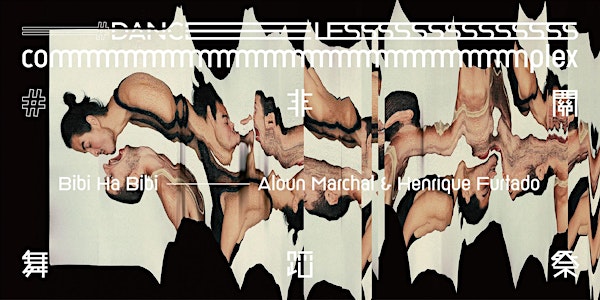 #非關舞蹈祭 #DANCELESS complex - 《Bibi Ha Bibi》放映會 及 駐留計劃:階段性呈現
#非關舞蹈祭 - 《Bibi Ha Bibi》放映會及駐留計劃:階段性呈現 #DANCELESS complex - "Bibi Ha Bibi" Studio Screening & Residency: Work-in-Progress Presentation
When and where
Location
Unlock Dancing Plaza 5-7 Ng Fong Street San Po Kong, KOW Hong Kong
Refund Policy
Contact the organiser to request a refund.
About this event
#非關舞蹈祭 – 身體遊戲
(Please scroll down for English version)
身體遊戲:聲音與肢體
兩位創作及表演者恩里克‧弗塔多(Henrique Furtado)及艾倫‧馬沙爾(Aloun Marchal)利用遊戲來創作,同時轉化為作品成為最終呈現的方式,探知發聲、動作和意義之間的關係。表演者現場發出的聲音成為表演的主軸,從一系列的聲音當中引發聯想-從搖籃曲到吶喊,並與身體動作同步,在不斷的重複中變異,並以流動的意義替代固定的解讀,同時嘗試帶領觀眾打開感官,以發聲作為連結兩個身體、舞蹈語彙和作品意象的工具。
《Bibi Ha Bibi》
《Bibi Ha Bibi》 沿襲西方大眾劇場傳統的的雙人男子表演配以精準的聲音及動作語彙,既怪誕又充滿趣味,亦可看到作品中的兩名男子將男性之間對抗的規範轉化為具詩意的聲音及動作。
這雙人舞作品探索多種風格迴異兼具衝突的聲音及動作:從體育搏藝至逗趣的兒童遊戲,從隆隆的聲響至安靜的搖籃曲,從簡單的呼吸聲到野獸的咆哮等。通過傾聽、模仿及動作上的交流,這雙人舞漸漸從受控的暴力昇華至感官的享受。
《Bibi Ha Bibi》放映會
日期:9月10日(五)
時間:20:00
地點:不加鎖舞踊館
費用:全免,可自由捐助以支持本團
駐留計劃:階段性呈現
這個駐留計劃邀請了本地的編舞李嘉雯和陳偉洛與兩位海外編舞Henrique Furtado和Aloun Marchal於兩個星期的駐留計劃中交流,並在最後一天作總結呈現。計劃自去年開始,從網上的討論和認識當中尋找不同文化語境和經驗底下的共通性和關注的方向,展開對於文字、聲音和身體之間的相互作用以及轉移成身體語彙的方式。同時《現場》的創作人之一,多媒體藝術家劉曉江亦會在駐留計劃中從旁參與,提供有關聲音和多媒體素材運用的意見,從更多角度去切入探索的主題。
日期:9月30日(四)
時間:20:00
地點:不加鎖舞踊館
費用:$50
主辦
不加鎖舞踊館
不加鎖舞踊館為藝發局資助團體
「#非關舞蹈祭」獲香港特別行政區政府「藝能發展資助計劃」的資助
節目內容並不反映香港特別行政區政府的意見
#DANCELESS complex - Bodily Games
Bodily Games: Sound and Physicality
Henrique Furtado and Aloun Marchal, both creators and performers, use games to create and transform their work into one that explores the relationship between sound, movement and meaning. Sounds made by the performers become the principal axis of the performance, evoking associations in the audience through a series of sounds – ranging from soothing lullabies to thundering howls – synchronized with physical movements. The sounds gradually transmute through constant repetitions, replacing static interpretations with mobile meaning. The audience is led to open their senses and use sound as a tool to connect altogether the two bodies, the dance vocabulary and the imagery of the work.
Bibi Ha Bibi
Bibi Ha Bibi is a male duet in the tradition of western popular theater. It is grotesque and funny at the same time, as it is backed by a very precise vocal and movement score. Two men divert the codes of male face-to-face confrontation into sound and movement poetry.
Bibi Ha Bibi explores a wide range of sounds and movements with clashing styles, from sports fighting to teasing childish games, from rumbling noises to lullabies, from straightforward breathing to bestial yelling. Based on listening, mimicry and exchange of movements, the "pas de deux" of Bibi Ha Bibi glides from controlled violence to sensuality.
Bibi Ha Bibi - Studio Screening
Date:10 Sep (Fri)
Time: 8pm
Venue: Unlock Dancing Plaza
Fee: Free of charge, donations are welcome for supporting Unlock Dancing Plaza
Residency: Work-in-Progress Presentation
The residency invites local choreographers Chan Wai Lok and Li Ka Man and overseas choreographers Henrique Furtado and Aloun Marchal to work together in two weeks, and have a presentation at the end of the residency. The project started last year from Zoom meetings to exchange ideas, hoping to find out the commonality from different cultural contexts and their concerns. Multimedia artist Lawrence, who is one of the creators of LIVE, will also come into the process to provide advice on sound and the use of multimedia, trying to open up more perspectives towards the subjects they are interested in.
Date:30 Sep (Thur)
Time: 8pm
Venue: Unlock Dancing Plaza
Fee: $50
Presented by
Unlock Dancing Plaza
Unlock Dancing Plaza is financially supported by the HKADC
"#DANCELESS complex" is financially supported by the Arts Capacity Development Funding Scheme of the Government of the Hong Kong Special Administrative Region
The content of these programmes does not reflect the views of the Government of the Hong Kong Special Administrative Region