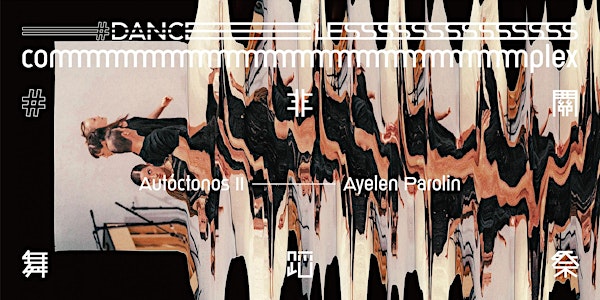 #非關舞蹈祭 #DANCELESS complex - 愛蓮‧帕羅琳(Ayelen Parolin)作品實體放映會、座談會及編舞工作坊
#非關舞蹈祭 - 愛蓮‧帕羅琳(Ayelen Parolin)作品實體放映會、座談會及編舞工作坊 #DANCELESS complex-Studio Screening, Sharing and Choreography Workshop by Ayelen Parolin
When and where
Location
Unlock Dancing Plaza 7D, Wah Mow Factory Building 5-7 Ng Fong Street Hong Kong, KOW Hong Kong
About this event
#非關舞蹈祭 – 當代身體
(Please scroll down for English version)
當代身體:一致、高效和冷漠
以編舞作為手法,舞蹈作為載體,身體作為隱喻去摹繪當代人的處境。比利時編舞家愛蓮‧帕羅琳(Ayelen Parolin)以這五人舞(包括現場演奏的音樂家)窺探個體在團體當中如何融合和協調,並以極具理性邏輯的原則去構建作品,從舞蹈上的重複、機械性、規範中透視出社會與人的互動機制逐漸模塑人的行為,以達至一效、高效和冷漠的狀態。
《Autóctonos II》實體放映會
不加鎖舞踊館特別增加一節實體放映場次,期望能與觀眾一同欣賞,以及互相交流觀賞經驗。
放映日期:7月23日(五)
時間:8pm
地點:不加鎖舞踊館
費用:費用全免,可自由捐助以支持本團
愛蓮‧帕羅琳(Ayelen Parolin)座談會
駐居於比利時的編舞愛蓮‧帕羅琳(Ayelen Parolin)發展創作以來廣受好評,作品獲邀至世界各地的藝術節演出,亦為不同的舞團作委約創作。作為一個難以被歸類和預測的編舞家,她的作品樣貌多元,直指舞蹈的複雜性,在風貌各異的美學和創造出來的多重現實中持續游走,探索自身不同的領域和與人聯繫的關鍵。在是次的座談會中她將會呈現她多年的創作以及談及當中演變的進程,關注的轉移和編舞工具的變更。
講者:愛蓮‧帕羅琳(Ayelen Parolin)
翻譯:沃特・布歇(Wouter Bouchez)
主持:李偉能
日期:7月27日(二)
時間:8-10pm
地點:不加鎖舞踊館
座談會將以英語進行,同時將會作網上實時串流。
愛蓮‧帕羅琳(Ayelen Parolin)編舞工作坊
編舞家愛蓮‧帕羅琳(Ayelen Parolin)將以作品《Autoctonos II》所採用的編舞策略為起點,邀請本地的專業舞者參與並體驗作品的起點和獨有的動作語彙是從怎樣的創作過程中產生,透過一系列的練習以達至表演者在作品當中的的專注、互相聆聽和重複中產生的動能。
導師:愛蓮‧帕羅琳(Ayelen Parolin)
翻譯:Wouter Bouchez
日期:7月29日(四)
時間:7-10pm
地點:不加鎖舞踊館
對象:有專業訓練的舞者/形體表演者
費用:$100
工作坊將以英語進行。
主辦
不加鎖舞踊館
不加鎖舞踊館為藝發局資助團體
「#非關舞蹈祭」獲香港特別行政區政府「藝能發展資助計劃」的資助
節目內容並不反映香港特別行政區政府的意見
#DANCELESS complex – The Contemporary Body
The Contemporary Body: Consistent, Efficient and Indifferent
Choreography is a way of using dance as a vehicle and body as a metaphor to illustrate the contemporary human condition. Through this quintet dance performance (including live musicians), Belgian choreographer Ayelen Parolin explores and probes into the integration and coordination of individuals in a group. The work is constructed using highly rational and logical principles, and through the repetition, mechanics and norms of the dance, it unveils how social and human interaction mechanisms gradually shape human behavior to reach a state of consistency, efficiency and indifference.
Autóctonos II -Studio Screening
An exclusive studio screening will be held in the studio of Unlock Dancing Plaza for audiences who would like to watch the recording of Autóctonos II, hoping to share the work to the public in a more discursive context.
Date:23 July (Fri)
Time: 8pm
Venue: Unlock Dancing Plaza
Fee: Free of charge, donations are welcome for supporting Unlock Dancing Plaza
Sharing by Ayelen Parolin
Ayelen Parolin is a dancer, choreographer based in Brussels. Her choreographic works have been internationally recognised for their diversity and unique aesthetic, and they are presented by festivals and theatres across the world. The protean body of work thus composed makes contradictions of its own, helping to shed light on the complexity of the self. As an unclassifiable and unpredictable choreographer, she navigates between several universes and aesthetics, constantly attentive to exploring different parts of herself and probing what links us to others. In this sharing session, she will unfold her trajectory as a choreographer and the evolution of her practices and concerns with her works.
Speaker:Ayelen Parolin
Translation:Wouter Bouchez
Guest:Ong Yong Lock, Chen Wu Kang
Moderator:Joseph Lee
Date:27 July(Tue)
Time:8-10pm
Venue:Unlock Dancing Plaza
The sharing will be conducted in English.
The event will be streamed online.
Choreography Workshop by Ayelen Parolin
Ayelen Parolin will employ her work Autoctonos II, which is presented in this edition of #DANCELESS complex, as a starting point to invite local professional dancers and movers to take part and experience the unique form of structure as well as the movement languages in the work. With a series of exercises, she will also share her directing tools to guide the participants to a certain state of body, which is available, devoted and listening.
Workshop Leader: Ayelen Parolin
Translation:Wouter Bouchez
Date:29 July(Thurs)
Time:7-10pm
Venue:Unlock Dancing Plaza
Fee: $100
Target:Dancers or Physical performers with professional training background
The workshop will be conducted in English.
Presented by
Unlock Dancing Plaza
Unlock Dancing Plaza is financially supported by the HKADC
"#DANCELESS complex" is financially supported by the Arts Capacity Development Funding Scheme of the Government of the Hong Kong Special Administrative Region
The content of these programmes does not reflect the views of the Government of the Hong Kong Special Administrative Region