Crevasse: An Evening with Nicholas Wong 《天裂》—黃裕邦詩歌之夜

Thursday, 14 May 2015 from 18:30 to 20:30 (HKT)
Event Details
On Thursday May 14, the Hong Kong International Literary Festival will host a bilingual poetry reading to celebrate Hong Kong poet Nicholas Wong's newest poetry collection Crevasse, published by Kaya Press.
Hong Kong poet Nicholas Wong has been exploring the politics of the body since the release of his first book Cities of Sameness. In his new book, Crevasse, Wong continues and expands this exploration, as well as grappling with the complexities of sex, gender, and language. Writing in English (Wong's second language), Wong seeks to approach deeply intimate subjects from a distance.

Wong will read poems from Crevasse and discuss writing and creativity. Eric Lui, another Hong Kong poet, will read his Chinese translations of Wong's poems, playing out the politics of language. A wine and tea reception will be held from 6:30pm to 7:15pm and the reading will begin at 7:15pm at Aēsop on Hollywood Road in Central.
香港國際文學節將於2015年5月14日(星期四)特別舉辦雙語詩歌之夜,以慶祝香港詩人黃裕邦推出的最新詩集——由Kaya Press出版的《Crevasse》。
香港詩人黃裕邦(Nicholas Wong)自他首本著作《Cities of Sameness》一直在尋索身體政治。他最新詩集《天裂》將以其作起點,繼續探索盤踞於我們認知的「身體」。他同時以第二語言英語出發,書寫性、性別和語言,理解當中與多重身份的複雜關係。
黃裕邦將為香港讀者帶來他的詩歌,討論和分享他的創意寫作之路。呂永佳,香港詩人,將讀出《Crevasse》的中文翻譯。與黃裕邦和呂永佳一起讀詩、淺酌葡萄酒,享受詩歌之夜。招待酒會於下午6:30 假Aēsop中環荷里活道店舉行,而讀詩將於下午7:15開始。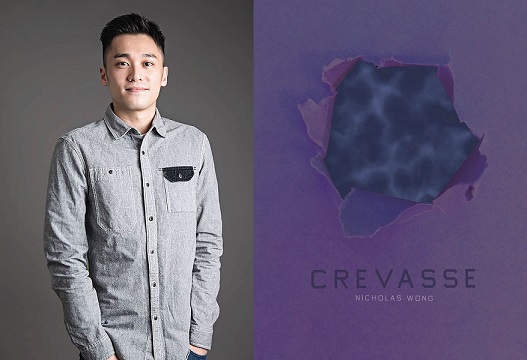 ---
About Nicholas Wong:
Nicholas Wong holds an MFA from City University of Hong Kong, and is an assistant poetry editor for Drunken Boat, an online literary and multimedia journal. Described as a "firestarter" by Time Out: Hong Kong, he is on the teaching faculty of the Hong Kong Institute of Education.
About the translator Eric Lui:
Lui Wing Kai, Eric obtained his PhD from Hong Kong Baptist University. He has published two volumes of poetry: Doldrums and But We Walk, and a collection of prose writing Park of the Afternoon. He received numerous poetry awards including Hong Kong Biennial Awards for Chinese Literature. He used to be a high school teacher, an editor, and a judge of Youth Literary Award.
黄裕邦(Nicholas Wong)
黄裕邦,香港詩人。香港城市大學英語創意寫作藝術碩士。現為網上文學及多媒體期刊《Drunken Boat》的助理編輯(詩歌)。他被香港著名的休閒雜誌《Time Out Hong Kong》稱為「文學界導火線」,現於香港教育學院任教。
呂永佳
呂永佳,香港詩人。香港浸會大學中文系哲學博士。著有詩集《無風帶》、《而我們行走》,散文集《午後公園》。他獲多項新詩獎包括香港中文文學雙年獎。曾任高中老師、編輯和青年文學獎評委。
---
This event is supported by Aēsop, an Australian skin, body, and hair-care brand with shops in London, New York, Paris, Hong Kong, and elsewhere.
是次活動由澳洲護膚、護髮和身體護理產品品牌Aēsop支持。Aēsop在倫敦、紐約、巴黎、香港,以及世界各地都設有概念店。
When & Where

Aesop Hollywood Road
Shop A, G/F 42-42A Hollywood Road Central, Hong Kong
Hong Kong Island
Hong Kong SAR China

Thursday, 14 May 2015 from 18:30 to 20:30 (HKT)
Add to my calendar
Organiser
Hong Kong International Literary Festival Ltd.
The Hong Kong International Literary Festival (HKILF), founded in 2000, is an annual event held over ten days in autumn, featuring established and emerging writers from around the world in a programme that includes discussions, literary lunches and dinners, workshops, lectures, debates, book signings, and readings.
The stellar list of past HKILF authors includes literary luminaries such as Seamus Heaney, Louis de Bernières, Colm Tóibín, Jung Chang, and Yann Martel.
HKILF is organized and coordinated by Hong Kong International Literary Festival Limited, a non-profit, charitable literary arts organization which also manages the annual Young Readers Festival.
HKILF brings writers and book lovers together at events that allow them to share ideas.
Hong Kong is uniquely positioned to attract not just the best authors and thinkers in Asia, but globally. The city that built itself on the exchange of goods, is now also the region's focal point for the exchange of ideas.
Literature makes us think, it gives us new perspectives. HKILF starts conversations that build a better society.