Creative Upcycling – Pallet Wood Desk Lamp (woodwork)

Sunday, 17 September 2017 from 14:00 to 18:00 (HKT)
Event Details
A lamp could be much more than just a passive item collecting dust on your desk, it could have legs, eyes, body, character and personality. A lamp can look like a toy, an insect or animal. We can bring it to life through our imagination, give it a personality and show it on video.
Description:
This Woodworking class will tech you how to design and make your own desk lamp.
You will learn various woodworking tools and techniques to obtain a good finish and a beautiful product. You'll have time to design your own version - no two lamps are the same.
You will also need to wire the electrical connections. All work is supervised and guided.
This class is aimed at people who are relatively new to woodworking.
It's class is suitable for adults and youngsters (12+) alike.
We will take about 4 hours to complete and you'll bring your finished lamp home.
As a bonus, there will be a short demonstration on stop-motion videography.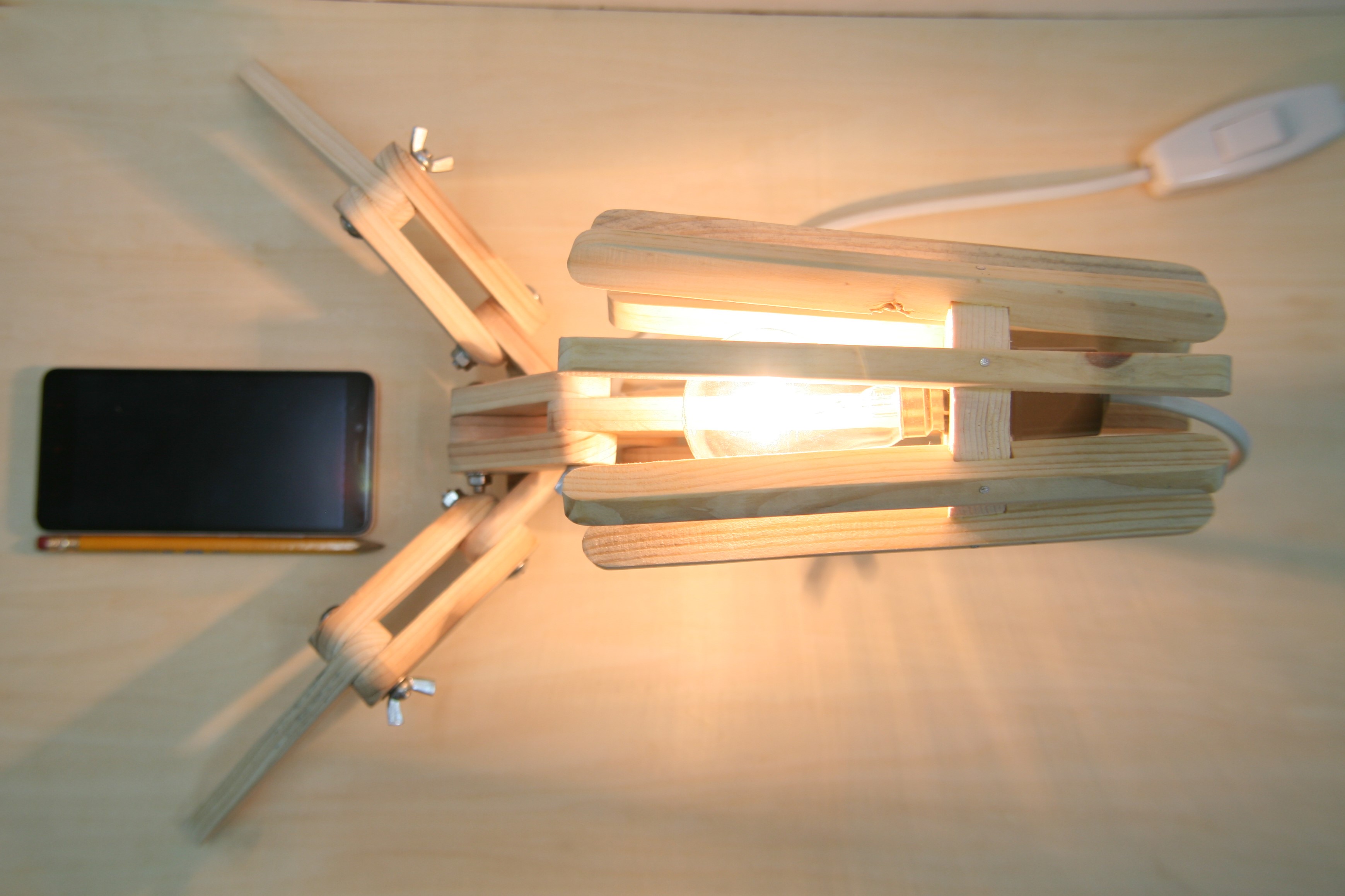 Workshop outline:
Introductions.
Safety briefing.
Explanation of various cutting, gluing and nailing techniques.
Design time.
Tool demonstration and practice.
Prototyping time.
Building time.
Surface finishing.
Stop motion demonstration.
Overview:
Beginner class (ages 12+) no experience needed.

Use your creative skills to customize your own lamp.

Approximately 4 hours to complete.

Practice basic drilling, gluing and nailing.

Get confident with the following tools: Drills , rasps, chisels, saws, sandiers, hammers and nails, glues and bolts.

Learn very basic wiring of 220V appliances – wire a switch, a light and a plug.

Bonus: create a short stop-motion video.



Class Details:
Location: MakerBay Central (PMQ unit H-508)
Age: 12+
Fee: HKD780 (including instructor fees and material)
Duration: approximately four hours
Preperation:
Wear a short sleeve shirt. Avoid loose clothing and jewelry. tie up long hair as it may get caught in the drill, and wear closed toe, non slip shoes (not sandals)
Enrollment:
MakerBay reserves the right to reschedule or cancel an enrollment at any time due to the class size of less than a minimum of 3 students per class.
MakerBay reserves the right to change the class instructor for courses or individual private lessons as deemed appropriate or necessary. MakerBay is not required to provide prior notice for such arrangements.
Requests to switch courses or skip course levels will be subject to MakerBay's assessment and course availability.
Class Cancellations:
For classes cancelled due to unexpected public health warnings, i.e. swine flu, MakerBay will try to accommodate the majority with makeup classes but with no guarantee.
Classes will not be cancelled during AMBER or RED rainstorm signal.
For classes cancelled due to severe weather conditions, such as Typhoon 8 or above, or BLACK rainstorm signal, MakerBay will try to make accommodate the majority with no guarantee.
Classes will not be cancelled if weather signals for Typhoon 8 or Black Rain are lowered four hours before the scheduled start time of the class
USE OF IMAGES & VIDEO
Workshop attendees are permitted to film themselves/friends/fellow participants (with permission) during the practical phases of the workshop for their own personal use / social media etc.
MakerBay reserves the right to take photographs or videos during the operation of any workshop or part thereof and to use the resulting photography in whole or in part for promotional purposes, including, but not limited to: advertising and publicity both in print and electronic media. By signing a workshop/class with MakerBay, participants agree to allow their images to be used in such promotions; participants who prefer that their image not be used are asked to identify themselves to the MakerBay at the commencement of the workshop.
Do you have questions about Creative Upcycling – Pallet Wood Desk Lamp (woodwork)?
Contact MakerBay
When & Where

MakerBay Central
35 Aberdeen Street
#h508
Hong Kong, Hong Kong Island
Hong Kong SAR China

Sunday, 17 September 2017 from 14:00 to 18:00 (HKT)
Add to my calendar
Organiser
Hong Kong MakerSpace for Social and Environmental Impact
We are a cross-sectoral makerspace for innovation. We created MakerBay for makers that range from robotic companies to environmental NGOs, from mechanical engineering to traditional craftspeople, both at the same time, and everything in between. Simultaneously, we have strong focuses on individuals and organisations that are either environmental, social, and/or open-source.