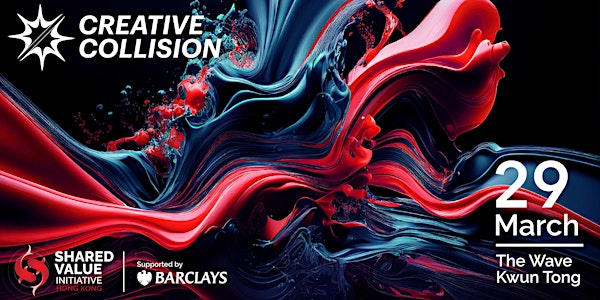 CREATIVE COLLISION 2023
CREATIVE COLLISION convenes business, civil society, public sector and social innovation leaders to accelerate shared value action. Join us!
By Shared Value Initiative Hong Kong
When and where
Date and time
Wed, 29 Mar 2023 10:00 - 18:30 HKT
Location
The Wave Level 8, 4 Hing Yip Street Kwun tong, KOW Hong Kong
Refund Policy
Refunds up to 7 days before event
About this event
8 hours 30 minutes

Mobile eTicket
The fourth edition of CREATIVE COLLISION  by Shared Value Initiative Hong Kong (SVIHK) is Hong Kong's leading purpose-led business event. 
At CREATIVE COLLISION, business, civil society, social innovators and the public sector collide in order to disrupt business and spark creative solutions to societal challenges. We call this Creating Shared Value (CSV).   
The unique, highly interactive non-conference format promotes experience sharing, actionable ideation, and networking to help you overcome challenges, build partnerships and achieve your sustainability and social progress goals. 
Building on the success of CREATIVE COLLISION 2019, 2020 & 2021, we will tackle 6 key challenges of adopting shared value with new experiential formats and four tracks. Join us in a day of co-creation and keep checking the website for agenda details and more updates!
💥 Tickets are on sale until Wed. 22 Mar.
Highlights
6 interactive sessions, 4 parallel tracks, incl. CSV Showcase, Impact Auction, Exec Labs, Immersion Tour...
New experiential formats to be disclosed soon!
Each session tackles one of 6 challenges of activating shared value:
💥 LEADERSHIP 💥 SCALING 💥 OPERATIONS
💥 PARTNERSHIPS 💥 DISRUPTION 💥 IDEATION
Best suited for
ESG and sustainability professionals in the public, not-for-profit and business sectors
Directors & managers with social & environmental goals to deliver
Business owners and consultants
Social enterprise founders & representatives
NGO representatives
Students with interest in social and environmental fields.

Tracks
Choose a Track: Participants will be split into 4 groups in the afternoon according to your choice. For track details, please check out the agenda.
Track A - Exec Labs (Quota: 40)
Challenge of Ideation: Can you help these executives come up with creative solutions to real problems with a mixed team?
We've asked a few local executives for their real business pain points, related to Sustainable Development Goals. Can you help them crack the problem? In diversely mixed participant teams, you will get to ask them questions, quickly ideate CSV solutions, then pitch for feedback to see what might be feasible next steps.
Hosts:
Fabrice Bayon, Strategy & Impact Director, PALO IT Hong Kong
Ellie Chong, UX/UI Designer, PALO IT Hong Kong
Frederico Lubo Rueda, UX/UI Designer, PALO IT Hong Kong
Brent Que, Team Coach, PALO IT Hong Kong
Track B - Immersive Tour (Quota: 40)
Challenge of Partnerships: Neighbourhood walking tour & social impact site visits!
Join us on a neighbourhood walking tour and site visits to social innovation projects, in partnership with impact tour guides telling the story of Kwun Tong's morphing social fabric, recent changes and socioeconomic challenges. Discover how these selected NGOs, social enterprises and companies are working together to amplify impact.
Host: Luke Tam, Co-founder & Community Engagement Director, Kaifong Tour
Track C - Hack Your Habits (Quota: 50)
Challenge of Disruption: Hack your habits towards meaningful change
Did you know that our habits help us do tasks automatically allowing us to use our time and energy efficiently? By regularly repeating behaviour that requires little or no thought we can operate on autopilot. Habits can become deeply ingrained, sometimes creating more problems than it solves. Small changes in habits, when done at scale, can have transformational change. Have you wanted to adopt "green" habits and be a changemaker? Join this interactive workshop led by Margaret, Programme Director of the Sustainability Leadership & Governance Programme and let's hack those habits!
Host: Margaret Burnett, Programme Director, Sustainability Leadership Governance Programme, CCSG at HKU
Track D - Mental well-being Experience (Quota: 50)
Mental health is a core element of everyone's holistic health. There is a wide range of available solutions, including meditation, eco- or talking therapies as well as apps, yet usage remains low to date.
In this interactive session powered by our Mind Health partner AXA, hosts will facilitate an open discussion on exploring resources to improve mental well-being. They will focus on solutions to meet the needs of populations – Gen Z and Silver segment – who often experience a high incidence of poor mental health.
Join this workshop to share experiences, develop new ideas, and foster mental well-being.
Hosts:
Caleb Chiu, Neurum Health
Dr. Bonnie Hayden Cheng, Associate Professor & MBA Programme Director, HKU Business School
Krithika Kalyan, Director – Strategic Development, Health (Asia), AXA
Tony Wo, Learning, Culture, Diversity & Inclusion Director, AXA
💥 Limited seats for each track, first come first served. Registration closes on Wednesday, 22 Mar. at 11:30 pm.
💥 Lunch, refreshments, and drinks are included in the price.
--------------------------
NOTE: For ticket categories, we will verify your "Non-profit" and "Student" status in March and reserve the right to request that any For-profit representatives (companies, for-profit social enterprises) who should have registered for a Business ticket then pay the difference before 19 Mar., for the balance of the Business price (HKD 680), in order to gain entry. Thank you for your cooperation.
PHOTOS/VIDEO DISCLAIMER:
By taking part in this event you grant the event organisers full rights to use the images or clips resulting from the photography/video filming, and any reproductions or adaptations of the images for marketing, publicity, or other purposes to help achieve the organisers' aims. This might include (but is not limited to), the right to use them in their printed and online publicity, social media, press releases, and introductory material. If you do not wish to be photographed or filmed please inform an event organiser.
REFUND POLICY:
Tickets are refundable on demand up until 7 days before the event.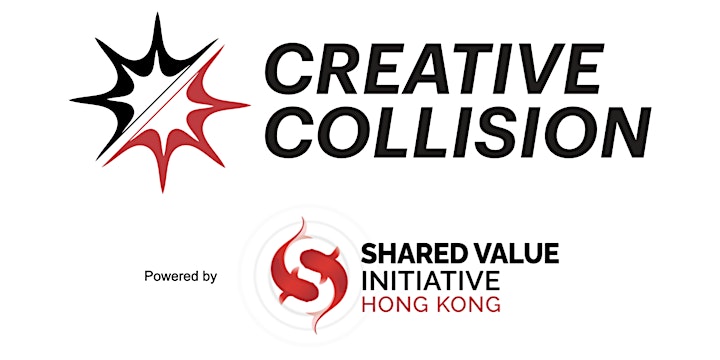 About the organiser
Aligning Profit and Purpose
Shared Value Initiative Hong Kong (SVIHK) is a non-profit organisation driving the purpose-led business movement in Hong Kong SAR and Mainland China. We are funded by leading companies to accelerate shared value creation by establishing long-lasting and profitable business models while addressing unmet societal needs.
Our dedicated programmes and vivid ecosystem bring unlikely partnerships that simultaneously create economic and social value.