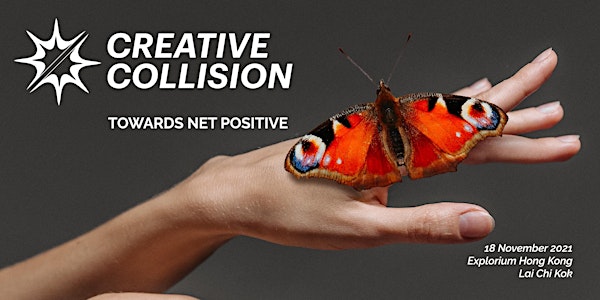 CREATIVE COLLISION 2021
CREATIVE COLLISION convenes business, civil society, public sector and social innovation leaders to accelerate Shared Value action. Join us!
When and where
Location
Explorium Hong Kong 1/F, LiFung Tower, 868 Cheung Sha Wan Road Lai Chi Kok, KOW Hong Kong
Refund Policy
Refunds up to 7 days before event
About this event
Now in its third year, CREATIVE COLLISION  by Shared Value Initiative Hong Kong (SVIHK) is Hong Kong's leading purpose-led business event. 
At CREATIVE COLLISION, business, civil society, social innovators and the public sector collide in order to disrupt business and spark creative solutions to societal challenges.  We call this Creating Shared Value (CSV).   
The unique, highly interactive non-conference format promotes experience sharing, debate and networking to help you overcome challenges and build partnerships. 
This year, we embrace the theme TOWARDS NET POSITIVE.
Building on the success of CREATIVE COLLISION 2019 & 2020, we will tackle 6 key Challenges of adopting Shared Value with new experiential formats and three tracks. Join us in a day of co-creation and keep checking the website for agenda details and more updates!
💥 Tickets on sale until Wed. 10 Nov.
Highlights
6 interactive sessions, 3 parallel tracks, incl. CSV Showcase, Impact Auction, Exec Labs, Immersion Tour...
Each session tackles one of 6 Challenges of activating Shared Value:
💥 LEADERSHIP 💥 SCALING 💥 OPERATIONS
💥 PARTNERSHIPS 💥 DISRUPTION 💥 IDEATION

Tracks
Choose a Track: Participants can choose from one of 3 afternoon tracks. Please check out the agenda and our speakers for session details.
Track A - Café & Showcase (Quota: 60)
💥 Candid Café
Challenge of Disruption: Join a breakout discussion on big themes affecting Hong Kong, led by "resident optimists."
💥 CSV Showcase
Challenge of Operations: 2 business leaders share how they built their local Shared Value projects.
Track B - Exec Labs (Quota: 36)
Challenge of Ideation: Can you help these executives come up with creative solutions to real CSV problems with a mixed team?
Track C - Immersion Tour (Quota: 24)
Challenge of Partnerships: Neighbourhood walking tour & social impact site visits!
💥 Limited seats for each track, first come first served. Registration closes on Wednesday, 10 Nov. at 11:30pm.
💥 Lunch and refreshments included in the price.
--------------------------
NOTE: For ticket categories, we will verify your "Non-profit" status in November and reserve the right to request that any For-profit representatives (companies, for-profit social enterprises) who should have registered for a Business ticket then pay the difference before 12 Nov., for the balance of Business price (HKD 600), in order to gain entry. Thank you for your cooperation.
COVID DISCLAIMER:
Please note that we will be taking stringent social distancing measures into consideration for onsite layout and arrangements. We will also request that you fill out a health declaration form, which will be sent out to ticket-holders via email 36 hours prior to the event.
PHOTOS/VIDEO DISCLAIMER:
By taking part in this event you grant the event organisers full rights to use the images or clips resulting from the photography/video filming, and any reproductions or adaptations of the images for marketing, publicity or other purposes to help achieve the organisers' aims. This might include (but is not limited to), the right to use them in their printed and online publicity, social media, press releases and introductory material. If you do not wish to be photographed or filmed please inform an event organiser.
REFUND POLICY:
Tickets are refundable on demand up until 7 days before the event. In the event CREATIVE COLLISION 2021 is postponed due to a significant change in the COVID situation, we will alert you as soon as possible and you will be able to request a refund.