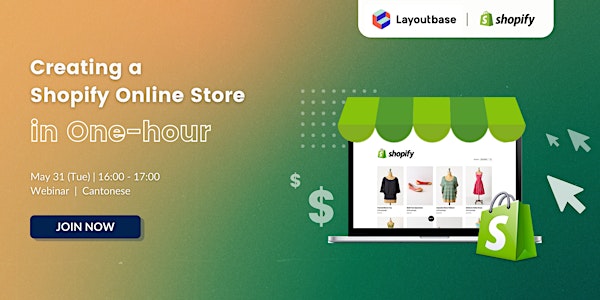 【Creating a Shopify online store in one hour webinar】Webinar
分享網店平台Shopify和網店頁面設計工具 Layoutbase 如何為你提供一個完整的電子商務解決方案。
About this event
活動簡介/ Description:
活動將為你介紹如何使用Shopify的企業級電子商務方案及網店頁面設計工具Layoutbase在短時間內創建一個完整網店.
使用Shopify及Layoutbase無需專業技術,適合中小型企業及不同零售商,參加活動以了解如何建立及設計你的獨一無二網店!
The workshop will introduce you how to create a complete online store in a short time using Shopify's enterprise-level e-commerce solution and online store page design tool Layoutbase.
Shopify and Layoutbase require no technical expertise and it is suitable for small and medium enterprises or retailers. We'll share the steps to build and design your unique online store from scratch.
活動詳情/ Details:
日期及時間 Dates & Time: 31 May 2022 (Tue) | 16:00 - 17:00
形式 Format: 網絡研討會 Webinar
語言 Language: 廣東話 Cantonese
費用 Fee: 全免 Free
活動慨要/ Outline:
- 頁面創建 Pages Setup & Create (Home page 主頁/Collection page 產品類別/ Product page產品/ Checkout page 付款/ Static page靜態頁面)
- 付款、存貨及寄送設置 Payment & Shipping Setup
- 網站設置 Launch Site