Join us for the second event in our speaker series, in partnership with OLN Online. An hour-long interactive session with an expert panel.
About this event
Our event series with OLN Online is returning with a new panel discussion. In this hour-long interactive session, we will be unpacking how to create a company that investors will invest in with an expert panel of founders, venture capitalists, financial advisors, and legal consultants.
Speakers
Moderator: Richard Grams, Chief Legal Officer, OLN Online
MC: James Bernardo, Regional Programming Director at Garage Society
--
Format: Fireside chat followed by an interactive Q&A
Venue: Garage Society Wan Chai Jaffe - 10/F, Konnect, 303 Jaffe Road, Wan Chai, Hong Kong (10-minute walk from Wan Chai MTR Station Exit A1)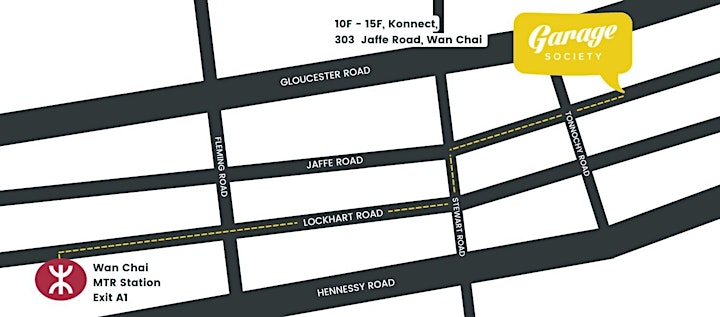 About the speakers:
Sabrina has been active in the financial markets in Latam, Europe and Asia for more than 20 years. She has dedicated most of her career to the PE and VC space, which she finds dynamic and very exciting. In the last 6 years, Sabrina has devoted her time to helping tech growth companies raise money from the investors community in Asia.
Sabrina is excited about participating in the development of startups, be as an investor, a board member or as a mentor. Her experience in finance, understanding different business models and fundraising brings a lot of value to entrepreneurs.
Sabrina's entrepreneurial journey includes founding one company in the services sector in Mexico, co-founding a food logistics company in Europe, and a Carpet Design business with social impact in HK with activities in Nepal. She would love to create a successful company related to elderly wellbeing.
With over 25 years of experience, Kishore advises on commercial and private client matters, assisting North American and European companies to strategically enter the Greater China markets. Kishore was a founding director of a successful regulated professional services firm, as well as the founder of an investment advisor firm.
Kishore is currently the chair of the HK chapter of the International Business Structuring Association, a UK based non-profit that promotes best practice on different aspects of international business structuring. He is also the board chair of Community Business Limited, an NGO focusing on corporate social responsibility issues in HK.
Estefania Almeida is Global Portfolio Manager at Brinc, a Venture Capital and Accelerator with 155 active tech portfolio companies globally. She previously worked at Click Ventures, one of the most consistently top-performing VC funds globally; ECOS, a Swiss Private Equity fund focused on Renewable Energy and Cleantech globally; and Rocket Internet GmbH in Southeast Asia, during the creation of now well-implanted tech ventures. Estefania holds a MSc. in Finance and International Management from Università Bocconi and UCD, and a BBA and Mathematics degree from HEC Montreal and McGill.
Cermain is a corporate lawyer specializing in startups, venture capital and cross-border transactions. Her practice focuses on fund raising, M&A, venture capital and private equity investment, joint ventures, cross-border investments and general corporate counselling. Her clients operate in E-Commerce, Software Development, F&B, Retail, Entertainment, Real Estate, Logistics, Franchised Business, and Trading. With her work motto "Growing with clients, becoming friends" Cermain strives to be part of the long-term success of each of them!
Richard is a senior lawyer with Oldham, Li & Nie and he leads the firm's online solution provider, OLN Online. He regularly advises fintech and other technology businesses on a range of legal issues including compliance, licensing and other business transactions. Prior to becoming a solicitor, he spent nearly 8 years in the private equity industry and frequently draws on that experience when advising founders, startups and investors.
--
Garage Society helps businesses across Asia work better by building WorkStyle solutions tailored for them. From entrepreneurs to large corporates, we understand the diverse ways in which people work.
Our spaces, people and experiences fit around the needs of our community, helping to catalyse growth, collaboration and innovation for everyone. By helping people perform to their WorkStyle strengths, we make a difference that enables businesses to stay agile, competitive, and attract talent.
Since 2014, we've been empowering our community through people, place and programming. This innovative mix is the engine of Garage Society's unique community-centric approach. From our personalised member experience to L&D and events, we bring people, ideas and opportunities together.
Whichever way you work, our vision is to build a Garage WorkStyle for everyone.
Organiser of Creating a Company that Investors will Invest In (OLN Online Series #2)