CPD Course on Ground Penetrating Radar

Monday, December 5, 2016 at 6:30 PM

-

Sunday, January 15, 2017 at 9:30 PM (HKT)
Event Details
Date: 5 December 2016 to 15 January 2017
Time: 14:30 to 17:30 or 18:30 to 21:30 (Subject to time table)
Venue: Class room in 4/F or Underground utility survey lab (ZS1007)
Block Z, Department of Land Survey and Geo-Informatics
The Hong Kong Polytechnic University, Hung Hom, Hong Kong
Fee: HK$9,350 (RICS member / APC trainee); HK$9,850 (Non RICS member)
CPD hour: 30 hours
Language: Cantonese (option to change to English)
Capacity: 30(first-come, first-served)
---
Trainers
Trainers from the Department of Land Survey and Geo-Informatics of the Hong Kong Polytechnic University:
Ir Dr Wallace              Assistant Professor 
Mr Ray KW Chang     Research Associate
Dr Janet FC Sham     Postdoctoral Fellow
Mr Nelson FS Chan   Instructor

---
Event Overview
The 10-session training course on Ground Penetrating Radar (GPR) aims to provide in-depth training relating to the principle, theories, instrumentation, data collection, signal processing, 2D/3D imaging and data interpretation for the investigation of various unseen features buried underground in concrete and pavements. Participants will have the hands-on experience to operate GSSI, IDS and Sensors & Software GPR and auto-tracked total station for data collection, as well as software Reflexw and GPR Slice for data analysis and imaging.
The course is jointly organized by PolyU Technology and Consultant Company Ltd. and Royal Institution of Chartered Surveyors (Hong Kong) and is taught by staff from the Department of Land Surveying and Geo-informatics (LSGI), PolyU. Course participants will gain hands-on experience with GPR in the new underground utility survey lab located in LSGI and at various test sites in PolyU. The lab consists of concrete and asphalt specimens, as well as buried scaled-down networks consisting of metallic and non-metallic fresh and salt water supply pipes, drainage and sewerage pipes connected with manholes, power cables, gas cables and valve chambers of various kinds. The course is designed to cater to the unique requirements of surveying and imaging civil engineering structures, using techniques that are similar to medical diagnostic equipment for human bodies.
The Underground Utility Survey Lab

The lab serves as a hub to validate standardised and non-standardised survey methods and procedures for particular problems in two categories. The first is the positioning and mapping of buried objects (utilities, substructures, archaeology, extent of tree roots etc.), and includes analysis of orientation, depth, size and material type. The second is condition surveying, assessment and monitoring, and includes consideration of issues such as the effects of water leaks, subsurface voids, soil types and moisture content, and coverage of concrete and asphalt pavement structures on various types of survey signals. Each individual validation between any particular survey technology and any particular problem characterizes itself via signal fingerprints. These validated fingerprints generated in the lab serve as a basis for pattern matching in actual field surveys. This is considered to be an essential step in the substantiation of any interpretation of survey findings.
The lab provides an ideal environment for such a validation process, allowing for better interpretation of positioning, mapping, condition survey, assessment and monitoring of the very complicated and congested underground utilities and engineering structures found in Hong Kong and elsewhere.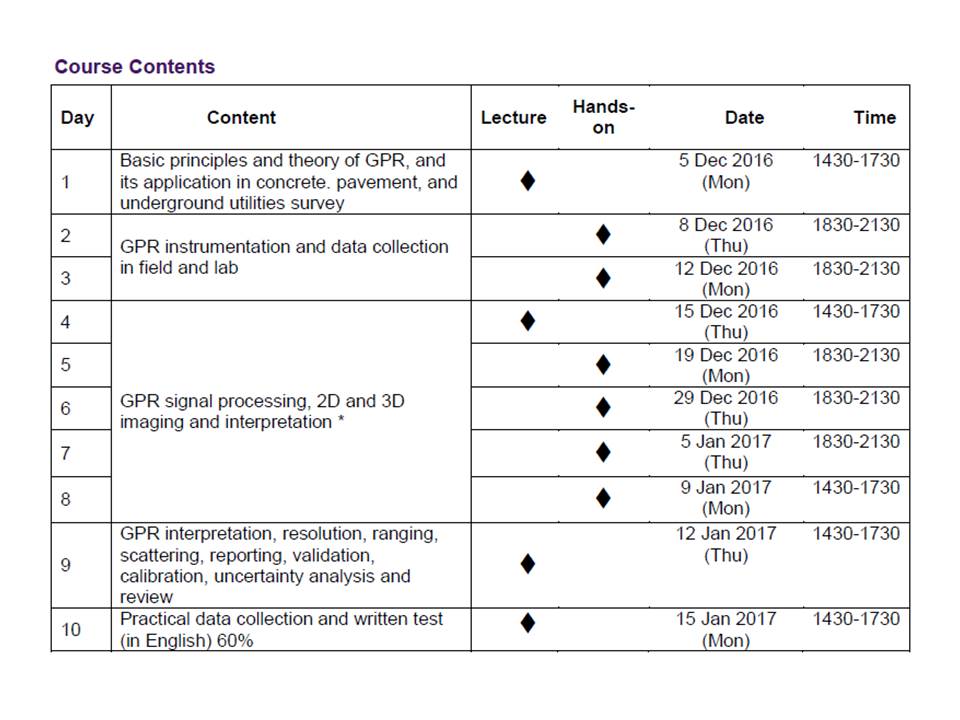 Individual assignment will form 40% of the final grade. Participants achieving a score 60 out of 100 will receive a certificate of competency; otherwise, participants will receive a certificate of participation. Participants can also select NOT to take the written test to acquire a certificate of participation. This course may also be recognized as the training course of approved signatory in HOKLAS SC No. 19 "Construction Materials Test Category – Accreditation of Diagnostic Tests on Concrete".
---
About the Trainers
Ir Dr Wallace WL Lai specialises in research, teaching and consultancy of nondestructive evaluation – civil engineering (NDE-CE) and underground utility surveying technologies, and GPR in particular. He is currently an Assistant Professor, Program Leader of BSc (Hons) Geomatics and Lab in charge of the underground utility survey lab and survey store and instrumentation lab at LSGI, PolyU. He is also a Guest Scientist of the Federal Institute of Materials Research and Testing (BAM), Berlin, Germany and serves as a Technical Assessor listed under the Hong Kong Laboratory Accreditation Scheme (HOKLAS), Innovation Technology Commission of the HKSAR Government, responsible for the technical assessment of accreditation of commercial labs for nondestructive testing in Hong Kong.
Dr Janet FC Sham specialises in nondestructive evaluation for building inspections. Janet has experience of various nondestructive evaluation methods for building inspection such as half-cell, ultrasound, infrared thermography and GPR for building and structural diagnosis. She is currently a Postdoctoral Fellow at LSGI, PolyU, and is responsible for research and consultancy projects on the application of GPR for underground utility surveys. Janet also teaches various underground utility survey technologies in PolyU. Before joining LSGI, she worked in a construction consultancy firm, AECOM, as a Project Engineer responsible for large scale building inspection projects in Hong Kong, and participated in several nondestructive evaluation research projects in CityU and other departments in PolyU. She is now a Fellow Member of Hong Kong Concrete Institute.
Mr Ray KW Chang is a research associate of LSGI, PolyU. He is responsible for research and consultancy projects relating to the application of GPR for underground utility surveys. He also teaches various underground utility survey technologies at PolyU. Ray worked in various electronics-related positions and for a geophysical and oceanographic equipment company before joining PolyU.
Mr. Nelson F. S. Chan obtained his Certificate in Land Surveying, Higher Certificate in Land Surveying and Master of Science Degree in Geo-informatics from PolyU, and his BSc in Computing from York University. He has worked as a survey officer in the survey division of the Geotechnical Control Office and as Senior Surveyor for the Chek Lap Kok Airport project. Nelson is an experienced instructor working at the LSGI, PolyU, providing teaching and hands-on experience for students studying surveying, hydrographic surveying, photogrammetry, CAD, computing and the underground utility subjects.


---
Deadline for registration: Friday 1 December 2016, 6pm
---
Save This Event
When & Where

The Hong Kong Polytechnic University
Block Z,
Department of Land Survey and Geo-Informatics
The Hong Kong Polytechnic University, Hung Hom, Hong Kong
Hong Kong SAR China

Monday, December 5, 2016 at 6:30 PM

-

Sunday, January 15, 2017 at 9:30 PM (HKT)
Add to my calendar
Organizer
RICS (Royal Institution of Chartered Surveyors)
RICS (Royal Institution of Chartered Surveyors) accredits 118,000 professionals and any individual or firm registered with RICS is subject to our quality assurance.
Our members are recognised by the designation after their name: MRICS (Member), FRICS (Fellow) and AssocRICS (Associate).
Members with the designation MRICS or FRICS are known as chartered surveyors.
We regulate and promote the profession; maintain the highest educational and professional standards; protect clients and consumers via a strict code of ethics; and provide impartial advice and guidance.
CPD Course on Ground Penetrating Radar