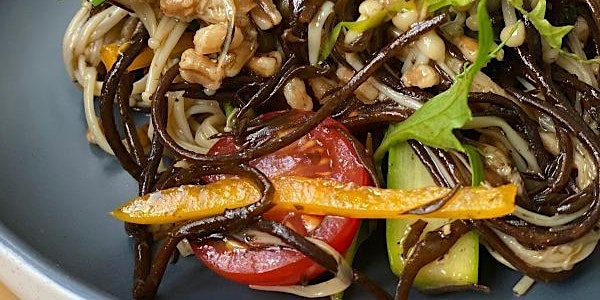 Cooking Hearty Salad Meal Class with Shima Shimizu
Salads don't have to be just green and boring. Follow FoodCraft to make this colorful, nutritive salad that is done with macrobiotic seaweed
When and where
Location
FoodCraft Room A, 16/F, Yiuga Factory Building, No.62 Victoria Road,Kennedy Town Hong Kong Hong Kong
About this event
*Class Cancellation Policy applies, please refer to the bottom of page
Tired with the same ol' salad everyday? Struggling with lunchbox ideas? Here are some recipes that can be served for dinner and also be packed for lunch the next day!
Kill two meals with one prep. Efficiency is the key. All these recipes will taste fabulous the next day (or even the next next day!)
Another focus is that these recipes use our common high-carb grain alternatives.
We will be using, buckwheat groats, quinoa and lotus roots to make a hearty salad.
Cutting down on white rice is a great way to reduce the amount of sugar intake.
Just like we did in our Japanese bento deli class, our goal is to make you forget to pack your rice!
They are still carbs but higher in fibre and other micro nutrients which you'd like to swap with your write rice for sure.
Join with friends and partners! We also arrange private classes from 4 people.
*THIS IS A VEGAN AND GLUTEN-FREE COOKING CLASS
WHAT WILL YOU LEARN?
- How to make a Hijiki and Buckwheat Salad
- How to make a Quinoa Salad with Yuzu Dressing
- How to make a Renkon (lotus root) Salad
- How to pack this in a bento box with style!
WHAT WILL YOU TAKE HOME?
- Recipes
- Food made in class.
WHAT TO BRING?
- 1x Apron
- 1x Pen
- A Bento Box
DETAILS
Length of Class: 2.5 hours
Venue: Room A, 16/F, Yiuga Factory Building, 62 Victoria Road, Kennedy Town
Bring Your Helper
Want your domestic worker to learn the recipe? With an extra $100, your domestic helper on a work visa can observe in class. Contact FoodCraft Customer Service on WhatsApp at +852 5539 0014 for arrangement.
CLASS CANCELLATION POLICY
We will confirm your seat(s) once all fees are received. Deadline for any cancellation or changes(eg. rescheduling) is 7 days prior to the scheduled date of the event. All fees will become non-refundable after the deadline. Cancellation requests should be made in writing at least 7 days prior to the class for any refund to be processed.
*The policy applies to sign-ups within the 7-day period before the scheduled even