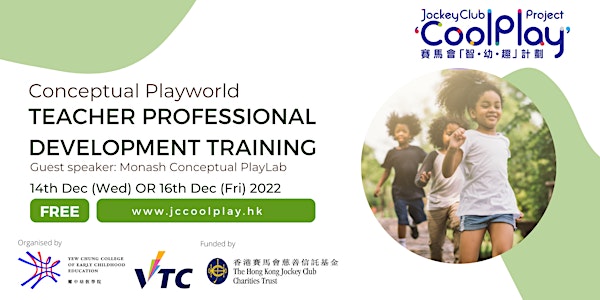 Conceptual Playworld- Teacher Professional Development Training
Free online professional development for early childhood educators and primary school teachers by the Monash PlayLab. (Either one session)
About this event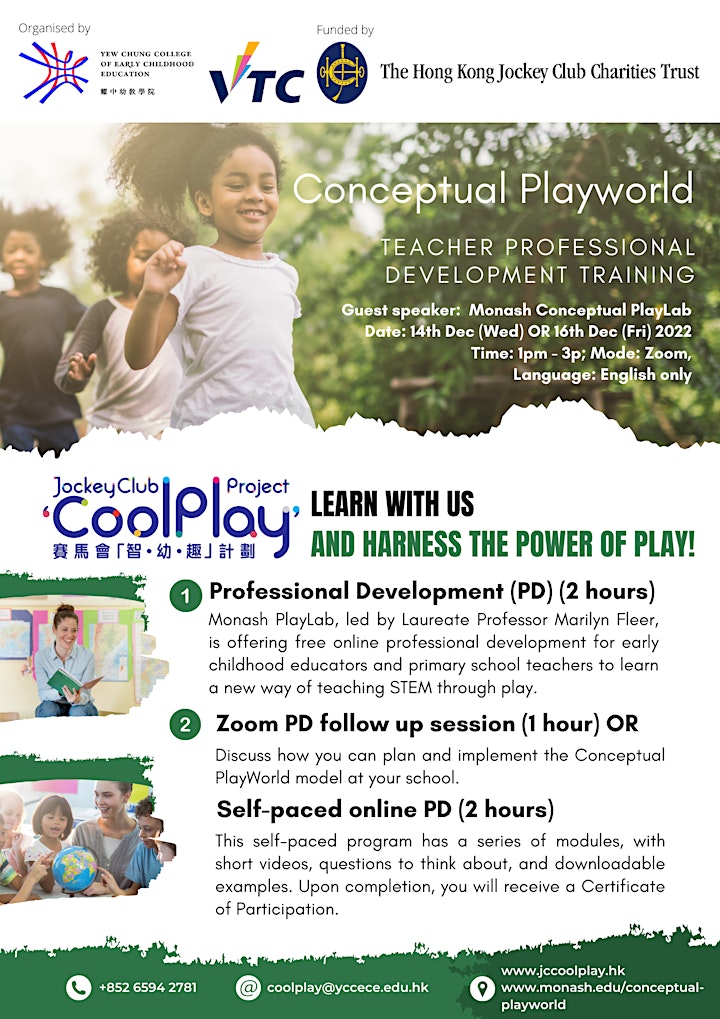 About this event:
Jockey Club 'CoolPlay' Project has invited the Monash PlayLab, led by Laureate Professor Marilyn Fleer, to offer free online professional development for early childhood educators and primary school teachers to learn a new way of teaching STEM through play.
A Conceptual PlayWorld is an imaginary scenario created by an educator where young children are invited to go on imaginary journeys, meet and solve challenges, and learn STEM concepts – all while playing. These online teacher training workshops aim at walking hand in hand with Hong Kong teachers to experience the conceptual playworld teaching practice.
Date 📅: (choose either one day is fine)
Wednesday, 14th December 2022 or Friday, 16th December 2022
Time ⏰: 1:00pm – 3:00pm (Zoom room opens at 12:45pm)
Mode📍: Online, ZOOM
Language 🗣️: English
Fee 🎟: FREE
Content ✨:
1. The five-step model of the Conceptual PlayWold model
2. Sample cases of other schools practicing the Conceptual Playworld model
3. Post workshop sessions (1-hour zoom session or 2-hour self-paced PD session)
Target 👩🏻‍💻: Anyone who is interested in play-based learning, STEM learning, reading and storytelling for young children
About Jockey Club 'CoolPlay' Project:
Funded by The Hong Kong Jockey Club Charities Trust, Yew Chung College of Early Childhood Education (YCCECE) and the Vocational Training Council co-organised the three-year Jockey Club 'CoolPlay' Project hand in hand. The project aims to lead the industry in implementing STEM pedagogy in early childhood education (ECE) by offering schools and parents the best-possible STEM teaching and learning resource kits – the JumpStarter (School version and Home version), as well as forming a Home-School-Community supporting network to set benchmarks of quality childhood STEM education. Through this project, early childhood educators and parents will be able to skill up themselves into STEM education talents who are well trained in assisting the very young to explore and learn about STEM concepts based on self-initiated topics of interest.