Complimentary Tickets - HKUST UPO Annual Concert 2019 (10 Nov, Sun, 7:30pm)
About this Event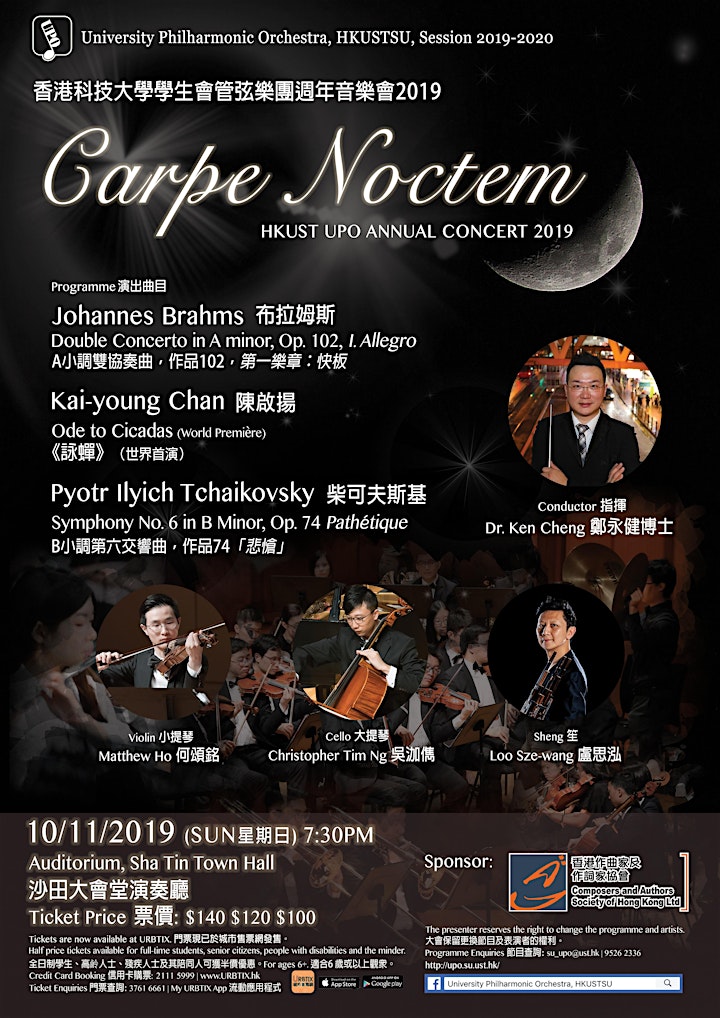 HKUST UPO Annual Concert 2019 - Carpe Noctem
10 Nov 2019, Sunday
7:30 p.m.
Auditorium, Sha Tin Town Hall
PROGRAM
Johannes Brahms Double Concerto in A minor, Op. 102, I. Allegro
Kai-yound Chan Ode to Cicadas (World Premiere)
Pyotr Ilyich Tchaikovsky Symphony No. 6 in B Minor, Op. 74 Pathetique
Dr. Ken Cheng, conductor
Matthew Ho, violin
Christopher Tim Ng, Cello
Loo Sze-wang, Sheng
Univeristy Philharmonic Orchestra, HKUSTSU
Program details: click here
Official tickets of "HKUST UPO Annual Concert 2019 - Carpe Noctem" can be redeemed on the concert day (Nov. 10, 2019) from 7p.m. at the reception desk to be located next to the doors of auditorium, Sha Tin Town Hall.
Registration period: From Nov 4, 9 a.m to Nov 7, 3:30 p.m.
For HKUST staff members & students only
Please use HKUST email address to register.
You are advised to register for two tickets maximum. Please make sure to use the tickets.
For redeeming the official tickets, HKUST members need to show their staff / student ID card to the reception desk for identification.
Email requests to the Center for the Arts will not be entertained.
ENQUIRIES
Complimentary ticket:
HKUST Center for the Arts
Email: artsctr@ust.hk
Program:
University Philharmonic Orchestra, HKUSTSU
Email: su_upo@ust.hk
Tel: 9526 2336
Website: http://upo.su.ust.hk/