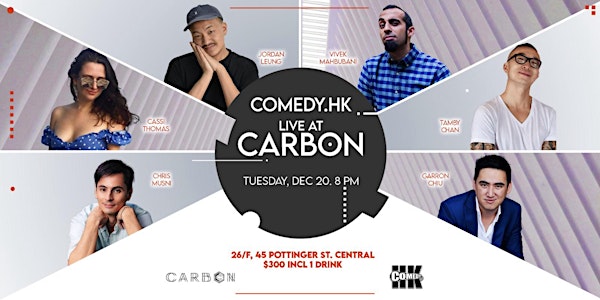 ComedyHK: Live at Carbon
ComedyHK: Live at Carbon
When and where
Location
Carbon Hong Kong 26/F, High Block, HCode 45 Pottinger St, Central Hong Kong, HKI Hong Kong
Refund Policy
Contact the organiser to request a refund.
About this event
Comedy.HK brings a rocking lineup to its inaugural show at Carbon!
Featuring Jordan @69ranch Leung, Vivek Mahbubani, Cassi Thomas, Garron Chiu, Tamby Chan, and Chris Musni!
-
Stand-up comedian Jordan Leung is serious about being funny.
The up-and-coming artist, who returned to Hong Kong from the US in 2020, has been learning Cantonese slang and catchphrases to tune in with the local audience. He enjoys pointing out local nuances and keeps a notebook in his pocket to help him develop ideas and structure them for a performance. Leung hopes locals can embrace and support other forms of the art.
https://www.instagram.com/69ranch/
-
Vivek Mahbubani is a Hong Kong-bred bilingual stand-up comedian performing in both Cantonese and English. Having been crowned the Funniest Person (in Chinese) in Hong Kong in 2007 followed by his victory in the English category at the Hong Kong International Comedy Competition in 2008, Vivek has had the opportunity to take his sense of humor all over the world including Hong Kong, China, Macau, Singapore, Malaysia, Philippines, Thailand, Sri Lanka, India, Australia, Canada and USA.
In 2014, the World Famous Laugh Factory in USA ranked Vivek as one of the top 10 comedians in their Annual Funniest Person in the World Competition.
In 2015, he was handpicked as one of the comedians to represent Asia's best in Melbourne International Comedy Festival's inaugural "Comedy Zone Asia" shows.
In 2016, he was featured in Comedy Central's first ever "Stand up Asia!" shows. One of Vivek's passions is reading and his favorite book is Sun Tzu's Art of War. Oddly, his favorite color is hot pink.
-
Cassi FM chooses not to use her real last name because her family are already ashamed of her enough Born and raised a Hong Kong "gwai mui", Cassi's number one interest in life is a bar in Lan Kwai Fong called Stormies. Other interests include ranting to people on a range of issues that that pretty much always fall on deaf ears such as: Hong Kong politics, feminism and the correct way to eat hairy crab. She can be seen around town performing stand up comedy or on one of her hit web shows, You Can't Sit With Us or Excuse My English and is usually being mobbed by a crowd of adoring fans.
In her spare time, Cassi enjoys making memes about english teachers on the internet. Cassi is a Hong Kong local though you wouldn't be able to tell it looking at her face and ability to wield an umbrella without poking out someones eyes. Her comedy style has been reviewed in quotes such as "abrasive" and "i wasn't aware there was even a show going on" and "that girl seemed really sad".
-
Garron Chiu is an American born stand up comedian based in Hong Kong.
A mainstay in the Hong Kong comedy scene, he was featured on Comedy Central's "Stand Up Asia!" season 2, and was the winner of the 2018 Hong Kong International Comedy Competition. He has made people laugh on stage in 37 cities across 18 countries, mostly in Asia.
-
After immigrating to Canada at the age of 7, Tamby developed his sense of humor as a social defense mechanism in lieu of speaking fluent English. He has been continuously refining his comedic voice through trial and error ever since.
Tamby represented Hong Kong in Laugh Factory's Funniest Person in the World Contest, was the winner of the Bangkok division of the Magners International Comedy Competition 2018, placed second at the regional finals, has been selected as a finalist at numerous international comedy festivals, and has appeared on TV like four times. His unique perspective, incisive writing, and adequate stage presence has made him a popular headline act around Asia.
-
Chris Musni is a San Francisco native who moved to Hong Kong to achieve his lifelong dream of fame and fortune. Failing that, he took the stage and developed a witty comedic style that forces the audience to ask themselves questions such as "Why are things the way they are?" or "When is this show going to end?"
When not onstage you can find Chris's big nose in a nonfiction book while thinking he's better than you or he might be shooting hoops with basketballs in Tseung Kwan O.
"Very good." - Tom Arnold