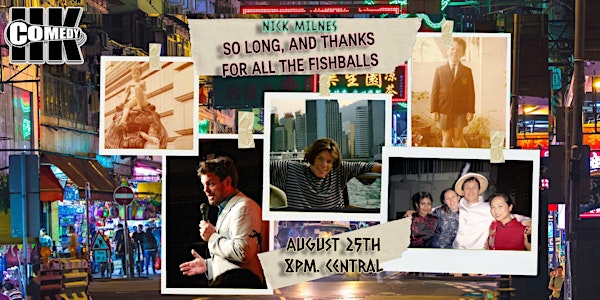 Comedy @ Central: Nick Milnes - So Long, and Thanks for All the Fishballs
Comedy @ Central: Nick Milnes - So Long, and Thanks for All the Fishballs
About this event
Nick Milnes has been writing and performing comedy for over 20 years, and living in Hong Kong for well over 40. Witness his last stand(-up comedy headliner set) in Hong Kong before leaving for greener pastures, both figuratively and literally. Because, of course, he's moving to New Zealand and there's a lot more grass there.
A two time finalist in the Hong Kong International Comedy Competition, founder member of ImprovAsia and headliner at the legendary TakeOut comedy club, he's a regular at Scotland's Edinburgh Festival as well as venues across Asia, his native UK, New Zealand, and Australia.
"A half hour worthy of Comedy Central." - Fukuoka Now
Note: ticket-holders will be emailed the name and location of the venue, a bar in Central, at 12am and 7:30pm on August 25. Please check your Spam folder.