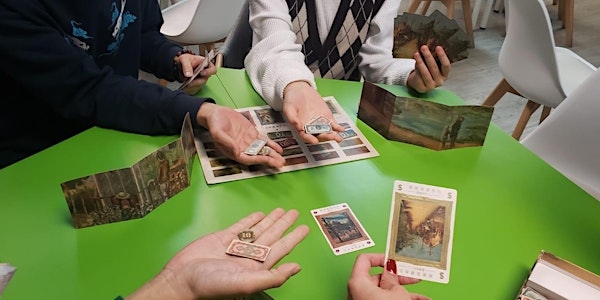 COLLECTIVE FITNESS Mind Fitness Adventures: A 6-sessions-journey
This series of workshops is an adventurous journey for you to learn about your own logic as well as to contest it with others.
Date and time
Fri, 31 Mar 2023 20:00 - 21:30 HKT
Location
theDesk Strand 50 2/F, 50 Bonham Strand, Sheung Wan Hong Kong Hong Kong
Refund Policy
Contact the organiser to request a refund.
About this event
1 hour 30 minutes

Mobile eTicket
The 6 games, namely, #1 Art Tour, #2 Puzzle World, #3 City Hunt, #4 Sense and Wellness, #5 X-file and #6 World Tour all have their own game mechanism to challenge your existing critical thinking, creativity and sensitivities.
Michael the board game expert can introduce you the history of board game design, as well as to share with you how he enriches the experiences for players from different demographic background over the years. While collecting data and information of people's thinking patterns, not only fun that gamers gained to relax, but the process of testing out few games at the same session will give you a refreshing experience to learn about your own mind space.
Game On!
#1 Art Tour_about visual experience to approach modern to contemporary art
#2 Puzzle World_intertwining both 2-dimensional and 3D world: what is 'completion' of the puzzle to you?
#3 City Hunt_perspective, PERSPECTIVES, pErSpEcTiVeS, will you be lost in coordination and orientation?
#4 Sense and Wellness_you think you know well about your own sensory habits and level of sensitivities?
#5 X-file_mysteries, myths, the unknown, all stories to excite your curiosity to reveal...how'll you approach these?
#6 World Tour_after testing your sense of physicality, senses and thinking process, now it is time about making plans for experiencing imagined spaces and achieving goals to be defined by you.
Michael Ma is a certified Board game Tutor who has been leading countless educational sessions on learning through boardgames as well as hosting private commissioned training sessions for his patrons/ clients with profound mentorship bonding. He is the Co-Founder of Game Expert Hong Kong and the Chairman of Board game Competition Association. 2011 and 2022 are years that Michael spent well and contently as he won the Bronze Medal playing the game 'Lost Ruin of Arnak & Patchwork' of the Mind Sports Olympiad, and as the Consultant/ Designer, he had the Escape Room built for Fox in a Box, an entertainment business focuses on indoor game field located in Hong Kong.