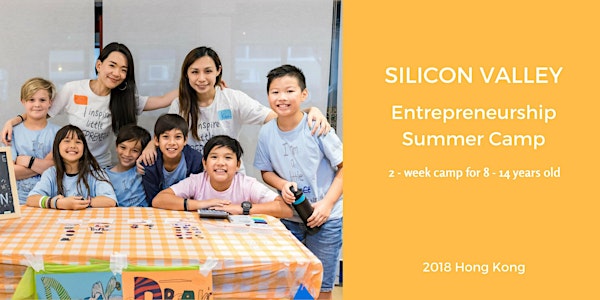 Coffee Chat (Central)-Silicon Valley Entrepreneurship Summer Camp (8-14yrs)
When and where
Location
Starbucks, Jardine House, Central, Hong Kong
Description
Join our event to learn more about the Silicon Valley BizWorld Entrepreneurship Summer Camp tailored for students between 8 - 14 years old in Hong Kong.
Suitable for parents who would like to send their children to the Silicon Valley BizWorld Entrepreneurship Camp this summer in Hong Kong. Meet us to learn more about the camp arrangement, learning outcomes and feedback from our parents and students from the previous programs.
About the Coffee Chat Session:
Format: casual chat
Medium: English/ Cantonese
Content:
- Brief introduction of the Silicon Valley BizWorld Entrepreneurship Summer Camp 2018 in HK
- Q&A
---
HK: Silicon Valley Entrepreneurship Summer Camp Details:
Audience: 8 - 14 years old
Schedule: Seven 2-week camps are running in July and August (Camp Schedule)
Multiple locations:
Kowloon Tong (Australian International School),
Homantin (King Geroge V School),
Pokfulam (West Island School) and
Sheung Wan (Co-working space Naked Hub)
Camps are open to students of any schools
Specially created for children 8 to 14 years old, these camps are a combination of experimentation, teamwork, skill-building and planning. Kids will be grouped in teams to come up with a plan to start, fundraise and build their own companies. The decisions that the companies make are entirely student-driven, which means they will have to work together, come up with a plan and execute that plan. Think of it as a step-by-step guide to becoming an entrepreneur!
Your kids will have so much fun learning they won't even realise they are actually honing their skills and building confidence. The educational camps, which include a fun sales bazaar, are designed to enhance your child's learning and leadership abilities, communication, teamwork, critical and logical thinking. And don't forget the added bonus of math skills when they are setting up budgets and reconciling accounts!
And since most kids think money just grows on trees, these camps are a great way to teach them about business and the financial world. They'll become financially literate while also learning to manage their money better. They'll also learn the importance of sharing and giving back to the community.
This parent and teacher favourite camp is one that will not only enhance your child's education but also be one with benefits he or she will use for years to come. It's been delivered to more than 680,000 students from more than 100 countries since 1997, so you know it's tried and tested thoroughly.
Visit the website for more details.
Visit Cityline for camp enrolment.
=====================================================================================
Feedback from students and parents:
"Talking to customers, whenever they buy a merchandise that we made ourselves, definitely boosted my confidence, made myself feel fortitude and astute."
Kennice Pong, Independent Schools Foundation
"My kid wants to have his own business in the future and this class has inspired him to think of different business plans to make his business a success. Thank you, Kids Biz Academy, Galvanize Group.'
Elsie, Mother of Rico from Renaissance College
====================================================================================
Why Entrepreneurship Education?
According to The Future of Jobs from World Economic Forum,

65% of children entering primary school today will ultimately end up working in jobs that currently don't exist.

According to Young People Need to Know Entrepreneurship Is Hard from Harvard Business Review, children who learn about entrepreneurship would become problem solvers, opportunity finders, better at communication, more persistent and more flexible and adaptable when facing obstacles.
In UK, over 20,000 primary school students run their own business in the Fiver Challenge led by the Government. Students are given £5 to start their business.
In Finland, entrepreneurship is a compulsory subject for primary school students.